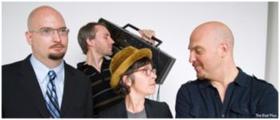 Fri. March 6 -- Just when we had The Bad Plus typed as knuckleballers, they flung an inside slider. Though the piano trio had long sprinkled grandiose Blondie, Queen, etc. covers among their beautifully intellectualized abstract originals, an actual vocalist did not seem likely. Now, both on their new "For All I Care" and live, they've added a +1 in the form of Minneapolis singer Wendy Lewis, and damned if it don't work. Her clean, straight delivery makes you hear the words of modern classics such as Nirvana's "Lithium," Heart's "Barracuda" and even the Bee Gees' "How Deep Is Your Love?" in ways you never did before, as bassist Reid Anderson, pianist Ethan Iverson and drummer David King lay down deceptively simple accompaniment, maybe adding/subtracting beats, reharmonizing the chords, kicking into a surreal coda. And then they spray off as an adventurous instrumental trio again, covering the modern masters who kicked their ass -- Stravinsky, Ligeti, Babbitt. Jazz needs people who think like this. At the Mint, 6010 Pico Blvd., LA 90035; 8:30pm; $27.50; (323) 954-9400.
Fri.-Sat. March 6-7 -- One long note from the tenor of Pharoah Sanders, and it's 1965 again. With pianist William Henderson, bassist James Leary and drummer Karon Harrison. At Jazz Bakery, 3233 Helms Ave., West L.A. 90034; 8 & 9:30pm; $30; (310) 271-9039; www.jazzbakery.org.
Fri. March 6 -- Hey, you know these two: Emily Hay & Brad Dutz, electronified flute & percussion from thains w/ brains. More avant types on the same bill, too. At the lounge of REDCAT, 631 W. Second St., downtown 90012; 7pm; www.redcat.org; FREE.
Fri. March 6 -- Several cuts above yer average lounge jazz -- the 5tet of fine-phrasing trumpeter Elliott Caine, who have some fine Latin-inflected originals, and saxist Carl Randall is a boss-elegant player. At Jax, 339 Brand Blvd., Glendale 91203; 9pm onward; (818) 500-1604; no cover.
Fri. March 6 -- Armored Saint rank as one of the stronger units from '80s Strip metal days in terms of melodic songcraft, and hey, they're hangin' with original Cali thrashers Death Angel. At the Key Club, 9039 Sunset Blvd., West Hollywood 90069; $23; 15+; www.keyclub.com; (310) 274-5800.


Fri. March. 6 -- Out of NYC, Elliott Sharp has long been a leader in reconceptualizing guitar -- its harmonics, percussive possibilities, tonal orchestrations; it becomes an instrument in a broader sense. Tonight he's jamming electric with the best of L.A.'s frontiersmen, drummer Alex Cline and bassist Steuart Liebig. At the Museum of Neon Art, 136 W. Fourth St., downtown 90013; 7:30pm, two sets; $10; (213) 489-9918; www.neonmona.org.
Sat. March 7 -- Elliott Sharp, solo acoustic. At Royal-T, 8910 Washington Blvd., Culver City 90232; 8pm; $10.
Sat. March 7 -- The people's choice for rad metal, Iowa's Slipknot, plus guitar geeks' choice Trivium and jamsters' choice Coheed & Cambria. At the Forum, 3900 Manchester Blvd., Inglewood 90305; $25-$45; www.ticketmaster.com.
Sun. March 8 -- Swedes with a message, not a massage: Soilwork (who ruin heavy grooves and strong structures with Tears for Fears vocal parts), Darkane (brilliantly all-encompassing technical metal; read my interview with drummer Peter Wildoer here), and hardworking L.A. thrash revivalists Warbringer. At the Key Club, 9039 Sunset Blvd., West Hollywood 90069; 6pm; $20; 15+; www.keyclub.com; (310) 274-5800.
Sun. March 8 -- Brokenhearted cosmic poets I See Hawks in L.A. head a great local roots show with The Honorable DHC opening. At Cinema Bar, 3976 Sepulveda Blvd., Culver City 90036; 8pm; FREE.
Sun. March 8 -- Jessica Catron & Daniel Brummel host a group sing, doing "shape note singing," an 18th-century form, says she, and you can participate. At Machine Project 1200 D N. Alvarado St., LA 90026; 8pm; FREE; (213) 483-8761.
Mon. March 9 -- Elliott Caine. At Jazz Bakery, 3233 Helms Ave., West L.A. 90034; 8 & 9:30pm; $20; (310) 271-9039; www.jazzbakery.org.
Thurs. March 12 -- Trippy fusion gods Ohm are home. Read my interview with guitarist Chris Poland here. At the Baked Potato, 3787 Cahuenga Blvd. West, Studio City 91604; 9:30 & 11:30pm; $20; (818) 980-1615.
Thurs. March 12 -- Golden Palominess Syd Straw sings real songs and has a spaced yet penetrating attitude you and your granny can both appreciate. She'll be with her guitar, her dog and god knows who else. At the Redwood Bar & Grill, 316 W. Second St., downtown; 11pm; $10; (310) 245-0273; www.theredwoodbar.com.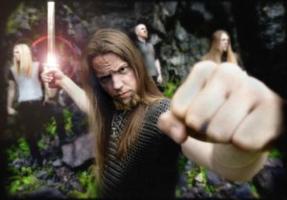 Thurs. March 12 -- Pagan metal is a great way to hoist flagons, praise your Nordic ancestors and kill your enemies without the messy necessity of cleaning up actual corpses; tonight you get Tyr, Alestorm, Suidakra, Statius, Phlegethon and Einvera. Read about it in the new Revolver and, for my sake, please do not wear a kilt. At the Knitting Factory, 7021 Hollywood Blvd., Hollywood 90028; 7:30pm; $15; http://la.knittingfactory.com.