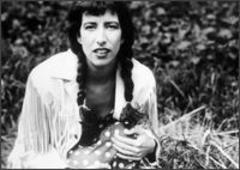 It was a pretty memorable scene, even if I didn't experience enough of anybody's music to pass regal Judgment.
We walk in, and it's a hole-in-the-wall. Or maybe it's a hole in a hole-in-the-wall. It's far enough down Sepulveda Boulevard (in Culver City) to retain a good old-fashioned dive feel, with a full bar sorta across from the stage and enough space between to lay a couple of dead stockbrokers end to end, and that space is packed with the maximum of bodies, i.e. about 40 post-bohos like us, not old enough to draw Social Security yet mostly too old to be employed in the current economic climate.
Finishing up a solo set is Cydney Robinson, a cute young vision of dark-haired whiteness who exacerbates our tinnitus with a voice like Big Mama Thornton. Her gospel-folk material isn't dangerous, but she should not be allowed to sing near a dam in flood season.
During the break, Kyle tells me the history of knowing Dean Chamberlain, a.k.a. The Honorable DHC, up next. The tale involves a rundown of '70s personnel changes in the pre-punk pop/rock band the Motels (a unit I admired in its early incarnation), so it takes long enough for 1.3 Coronas to pass down my gullet. Kyle has a good memory. And a bad attitude, though not bad for a drummer.
Robinson sticks around to accomplish some remarkably pretty four-part harmonies with DHC and the Righteous Sisters (Andee Nunn and Rosa Pullman) on covers of George Jones, Lyle Lovett and Johnny Cash, and an appealing minor-chord two-step by Pullman. Tall, skinny Dean's amazing nose almost sticks out from under his scary round black preacher hat as he bangs his Fender; that wavy-haired guy whose name I should remember plucks brickhouse bass, and behind them drummer Randall Marsh, who played with Dean a long time ago in Code Blue and before and after that with Tom Petty in Mudcrutch, lays down a nice full kick that Kyle is admiring, and another drummer in the audience, former Motel Robert Newman, doesn't seem to mind either.
Meanwhile, the late arrival of Syd Straw has been heralded by the entry of her large dog/constant companion, Henry, who weaves among the forest of knees with practiced nonchalance. Dean decides to divide his set so Syd can get right up there, which she more or less does.
A band whom I can't much see over the crowd piles onto the stage as "Whipping Post" spins on the juke, and Syd is warming up her crazy-auntie casserole, and Henry is wandering around the floor, and the barmaid spies him. "You cannot have that f*cking dog in here!" yells the barmaid, less friendly than before. Henry doesn't startle; he's heard that a lot. "He's not doing anything," whines Syd. "He's under 21," growls the barmaid.
So in her usual state of borderline upset, Syd starts warbling and strumming stuff from her current "Pink Velour" album -- rhythmic folk tunes and an old rugged waltz, words about papier mâché wrapped casually around invisible love like stormy Kandinsky. One song breaks down, and she ironically accuses the audience of being intolerant hipsters, and she snaps a string during another number, and halfway through another she humphs fake-aristocratically, "I cannot be bothered to finish this song." The band, whom Syd has dubbed the Foot Shooters, follow along rather eptly (it's mostly just two or three chords), and Robert Lloyd, hunching on the floor cuz there's no room onstage, contributes a sweet mandolin solo, and a soulful church organ drifts in from somewhere, didn't even notice there was a keyboard around. It occurs to me that Straw live often sounds surprisingly like the low-volume Velvet Underground of 1969, and I think it's because her right hand is strong yet open like Lou Reed's on "Ocean." Well, you can't say she's copying Lou. Minnie Pearl, maybe. She's fun.
Anyway, we could not be bothered to stay for the rest of the event; it was Sunday, and I don't mean morning (yet).