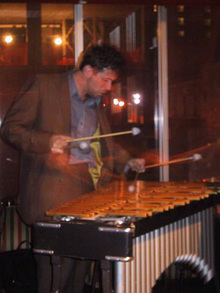 If the Valley's new L.A. Modern Jazz Series is any indication, thank god modernism is back. Postmodernism sucked.
I barged in toward the end of pianist Adrianne Duncan's set of perky, jauntily swinging jazz. The intelligent structures of "Gemini" left substantial room for improvisation -- Katisse Buckingham on clean yet fiery sax, then trading giddy solos on flute with John Tegmeyer's clarinet. (Great no-lapel suit on Buckingham; gimme.) Dan Lutz injected an unexpected funk element on electric bass; Duncan embodied relaxed precision on the keyboard and proved a warm, confident Mistress of Transition as vibraphonist Nick Mancini readjusted the mike for his own presentation.
The ever-bestubbled and New Yorkishly joshing Mancini was one of five musicians who staffed both of the night's ensembles. For Mancini's turn, Otmaro Ruiz usurped the piano seat, Lutz switched to standup, and the other guys stayed along with drummer Dan Schnelle, whose light, quick-footed kitmanship made it easy for both originals-oriented sextets to hang together.
Mancini kicked off with "Ginger Lily," kind of a cool-bop number sans the heroin; his vibes rolled fluidly while Buckingham's tenor ran fast & dry (with a drop of vermouth). "New's New Blues" felt like one of Mingus' tributes to Cotton Club-era Ellington -- the right spot for a knotty clarinet solo, and the curdled chords made a pliant foundation on which Ruiz could filigree his lemon-buttery piano blues with evil leprechaunish riffs & trills. The reeds of Buckingham and Tegmeyer jammed free after they'd proved their tuffness on the dense progressions and stunned staggers of the hard-swinging "The Jinx" (shades of George Russell). The sextet shrank to a quartet for "Winter Sun," a querulous, slightly medicated ballad pressed into action by Buckingham's soprano before lapsing back into window-staring mode. Pretty.
Mancini and Ruiz have been working out quite a bit as a duo, and they showed it by concluding Mancini's first set that way with "Loro." After starting the tune sad, they booted each other's asses via arrogantly upbeat, sometimes Latinized unison runs and harmonies that were so amazing, I forgot to take notes. The crowd, which had responded strongly all night, rewarded the intricate virtuosity with even harder clapping that shook this little black box of a room, which was nearly full. Sorry I couldn't stay for the last set, which followed an intermission.
First impressions of the Whitefire Theater: generally favorable. It's designed for plays, with seats ascending steeply, so everybody has an unobstructed view. The sound was clear. Series producer Duncan and the gang made their best effort at hospitality by offering beverages and cookies for sale in the lobby before the show and at intermission, but that area is too tiny for more than four patrons at a time to bend their elbows. The 7:30 start time made it hard to squeeze dinner in beforehand; maybe an 8:00 start and two sets instead of three would make more sense.
Anway, audiences in the Valley and adjacent areas oughta be jazzed to have a new jazz concert series in which jazzers may do further jazzing. The bookings (Katisse Buckingham in April and Otmaro Ruiz in May) look solid. Check out the series web site here.