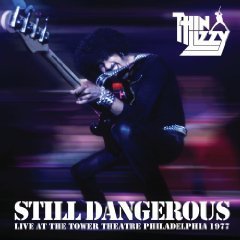 Thin Lizzy, "Still Dangerous: Live at the Tower Theater Philadelphia 1977" (VH1 Classic)
Scary dude, that Phil Lynott, bassist and singer of Thin Lizzy. In 1978, he was "Live and Dangerous," the title of the band's full-throttle double album recorded in 1976 at London's Hammersmith Odeon and in 1977 at Toronto's Seneca Fieldhouse (and then substantially overdubbed). Also in 1978, Lynott was dubbed "Live and Dangerous" for a VHS video filmed in 1977 at London's Rainbow Theater. Last year, though he died in 1987, he was again "Live and Dangerous" for a DVD/CD release that repackaged the 1977 VHS footage with a bunch of other stuff -- and used the same cover photo that adorned the '78 LP, while containing none of the same performances! Now, the late junkie is "Still Dangerous" in newly discovered audio from Lizzy's 1977 U.S. tour. You've heard that song "Jailbreak," right? Lynott is so enduringly dangerous, I believe no coffin can hold him.
The pitch: Glyn Johns -- the studio genius who knobbed the Who's "Who's Next," the Stones' "Sticky Fingers," the Faces' "A Nod Is As Good As a Wink," the Eagles' "Desperado" and way more landmarks -- creaks out of retirement to mix the 10 Philly tracks, thus pitting himself mano a mano against his old rival Tony Visconti, who bossed the original "Live and Dangerous" as well as T. Rex's "Electric Warrior," David Bowie's "Low," etc. Which prevails?
You'll be glad to have both, but I gotta give it to Visconti. Even if he cheated. Following the sacred example of 1975's "Kiss Alive," many "live" albums have intended to present, shall we say, the spirit of liveness rather than the letter, by offering the hits in tour-sharpened versions that trump the often tentative studio templates, and by squeezing out the most penetrating sounds possible. The latter purpose is tough to achieve onstage, where you've got a bunch of loud, unbaffled amps and drums all bleeding into one another's microphones, not to mention the echoes bouncing off the walls. So if a producer asks the guys to come back later and redo a thing or two, or howbout redo just about EVERYTHING (as Kiss did), he can get what Visconti got: crisp, hyped-up, totally rockin' sh*t, 17 songs' worth.
Which makes Glyn Johns' achievement quite remarkable -- the really live, single-concert, no-overdubs "Still Dangerous" actually sounds more like a studio album than the cherrypicked and doctored "Live and Dangerous." Since the show that became "Still" was being recorded for radio, Johns probably had 16-track tapes to work from, though the skimpy notes don't say. That was an advantage, as was the band's performance. Lynott's gruff vocals and thumping bass nail down the center. You get good separation between the guitars of Scott Gorham and Brian Robertson, whose famous twin harmonies peal out tight & right. (Sounds like primary lead man Gorham is on the right channel here, whereas "Live and Dangerous" found him on the left.) Johns milks an especially big, punchy bottom from the kick drum of Brian Downey, who whaps and slaps like a mad fishmonger on my personal favorite Lizzy tune, "Massacre." The whole band romps, sounding especially jazzed as a rampaging wah solo (by Robertson, I think) boosts the fast-and-loose "Opium Train" -- which, along with the moody "Soldier of Fortune," had just been introduced on 1977's "Bad Reputation" album; neither appears on "L&D."
Johns' studio skill (with Pro Tools help from Josh Blair) ranks as both a plus and a minus. On the plus side, he achieves the round, full sound that made his name. On the minus side -- hey, this is a rowdy ROCK band, served better by the more jagged, edgy energy of "Live and Dangerous."
Anyway, most of us codgers who'll want to hear "Still Dangerous" will enjoy its luxurious, weighty atmosphere. We aren't as overtly dangerous as we used to be. Which is why we're still alive.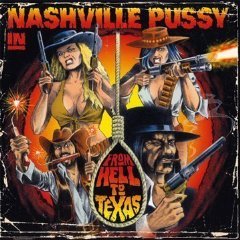 Nashville Pussy, "From Hell to Texas" (SPV)
If ZZ Top and AC/DC don't dump new product often enough for ya, you'd do well to fill in the gaps with Nashville Pussy, and you can start right here. For some 12 years, the two dicks and two sluts from Atlanta have been slamming out some of the sleaziest Southern-fried drunk rock on the planet, funny as hell and just as hot. On "From Hell to Texas," fave titles belched from the ulcerous maw of vocalist-writer-guitarist Blaine Cartwright include "Drunk Driving Man," "Lazy Jesus" and "Dead Men Can't Get Drunk"; the band raid the rock pantry for every riff & rhythm they can steal from the Stones at their Chuck Berryest, the Faces at their party-downest, UFO at their rock-bottomest and Led Zeppelin at their dirty-bluesiest. The biggest revelation is the fuel-injected axwomanship of Ruyter Suys, who has always ripped, but now she's tossing in all kinds of casually deft obbligatos and applying a guitar geek's wet dream of vintage tones to stinging, scalding and sensually shaded leads that encourage favorable comparisons to Angus Young and Rory Gallagher. Best Pussy yet.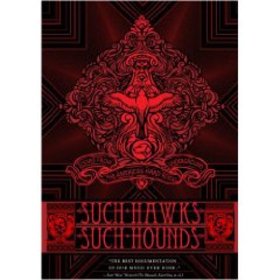 "Such Hawks Such Hounds: Scenes From the American Hard Rock Underground" (Long Song DVD)
John Srebalus' documentary film on stoner rock opened a basement concert (literally underground) I attended last weekend, and I was bonged enough by it to buy a DVD. The fatal determination and cinematic bone structure of Matt Pike (High on Fire, Sleep) make him the movie's star; plentiful footage of Wino Weinrich (The Obsessed, Spirit Caravan, The Hidden Hand) casts him as the gray eminence; shadowy shots of a hooded Greg Anderson (SunnO))), Goatsnake) endow him with the desired wizardly mystique. Interviews and live performances by Dead Meadow, Comets on Fire, Fatso Jetson, Kyuss and plenty more tell the story of desert/stoner rock's progress, from D.C. and S.F. to galaxies beyond, and if you dig the music at all, the variety of angles, the good sound and the steady pace will suck you in. It's not that the spokespeople are especially articulate or charming; they're T-shirted slobs with f*ck-it-all attitudes. It's just good to hear from artists -- I guess we gotta call 'em that -- who found a heavy, trancy sound they loved and rode it on down the road.