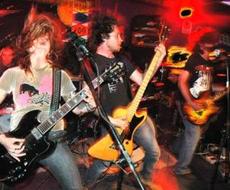 Fri. April 17 -- Super, super outmetal bill: Kylesa (pictured; read my review of their new album here, Intronaut (read my review of their current album here, creative noise/sludge from Portland's Black Elk, and femme-fronted art rock from Made out of Babies. At the EchoPlex, 1154 Glendale Blvd., Echo Park 90026; doors 7:30pm; $12; www.attheecho.com.
Fri. April 17 -- Drummer Alphonse Mouzon talks about his life with Herbie Hancock, Weather Report, McCoy Tyner, et al. in this installment of World Stage Stories. At the World Stage, 4344 Degnan Blvd., Leimert Park 90008; 8pm; $10.
Sat. April 18 -- Itai and Haggai, the trippinest, groovinest, most universalistic Israelis in L.A., have joined forces with vet drummer James Gadson and "very special guests" in the latest configuration of Maetar (6:30pm) at Topanga Earth Day. Other notables on the Saturday bill include Lili Haydn (7pm) and Big Organ Trio featuring Marc Ford. The event continues on Sunday. At Topanga Community House, 1440 N. Topanga Canyon Blvd., Topanga 90290; $10; www.topangaearthday.org.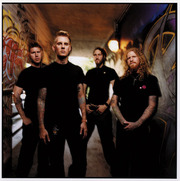 Sat. April 18 -- One metal band that the mainstream press and heaviness geeks agree upon: Mastodon. Read my review of their new album here. At Coachella Fest; http://coachella.com.
Sun. April 19 -- If you've dug in the soil of L.A. jazz, you've hit on pianist Nate Morgan in many situations, including associations with Nimbus West Records, which released records by him as well as those he played on by the Pan Afrikan Peoples Arkestra and Jesse Sharps. Morgan's friends are putting together a benefit for his medical expenses, and Morgan's friends can PLAY. At Hollywood Studio Bar & Grill, 6122 Sunset Blvd., Hollywood 90028; 3pm; be generous.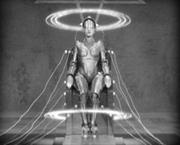 Sun. April 19 -- A great excuse to watch Fritz Lang's 1927 classic "Metropolis": The soundtrack will be improvised by toppermost L.A. freakers Bill Casale, Alex Cline, Jeff Gauthier, Will Salmon and G.E. Stinson. At Center for the Arts, 2225 Colorado Blvd., Eagle Rock 90041; 7pm; $10; (626) 795-4989.
Sun. April 19 -- Three groups of outmen band together for extra strength. At 7pm it's Agartha Trio (Casey Anderson, Brendan Carn, Ingo Deul). At 8:30 all hail Onibaba (Vinny Golia, George McMullen, Scott Collins, Daren Burns, Craig Bunch). And at 10pm, hang for Walsh Set Trio (Brian Walsh, Colin Burgess, Trevor Anderies). Video by Kio Griffith! At Tribal Café, 1651 W. Temple St. #A, LA 90026; $6 minimum; (213) 483-4458.
Sun. April 19 -- Take yer country-rock roots like a man with Stone Poneys/Linda Ronstadt vet Kenny Edwards, "Buy for Me the Rain" author Steve Noonan and Leonard Cohen thrush Julie Christensen. At Coffee Gallery Backstage, 2029 Lake St., Altadena 91001; 3pm & 7pm; $18; (626) 398-7917; www.coffeegallery.com.
Tues. April 21 -- Iron Maiden have fueled up the aircraft in every conceivable way in recent years -- cranking their stage set to '80s levels, touring the world with singer Bruce Dickinson flying the jet, dropping album after album and video after video, and now offering the L.A. premiere of "Flight 666," Sam Dunn & Scott McFadyen's hi-def, 5.1 surround-sound, big, loud film, which won the prize for best documentary at South by Southwest. It is open to the public for a limited engagement, so far today only. At Mann Chinese 6, 6801 Hollywood Blvd., Hollywood 90028; 8, 8:15, 10:30 & 10:45pm; $12.50; it appears that only the last show is not sold out here. Call (323) 464-8111 if you want, but you can't buy tickets on the phone; it's just a recording.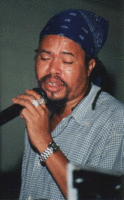 Wed. April 22 -- Wayback Jamaican reggae/dancehall DJ Brigadier Jerry toast/chats backed by Yellow Wall Dub Squad and mixed by Jah Hall of Fame dubmaster Scientist. At the EchoPlex, 1154 Glendale Blvd., Echo Park 90026; 9pm; $12; www.attheecho.com.
Wed.-Sat. April 22-25 -- You hear Eric Alexander play tenor, and it's not like he's imitating Dexter Gordon, it's more like his fertilized egg got frozen in 1928 but he wasn't born till 40 years later. He's a Midwesterner with the true feel, and the notice he's received since the early '90s has been well deserved. With pianist David Hazeltine, bassist Michael Zisman and a drummer TBA. At Jazz Bakery, 3233 Helms Ave., West L.A. 90034; 8 & 9:30pm; $30; (310) 271-9039; www.jazzbakery.org.
Read Brick's Picks in LA Weekly here and Don Heckman's picks here.