Fri.-Sat. April 24-25 -- You hear Eric Alexander play tenor, and it's not like he's imitating Dexter Gordon, it's more like his fertilized egg got frozen in 1928 but he wasn't born till 40 years later. He's a Midwesterner with the true feel, and the notice he's received since the early '90s has been well deserved. With pianist David Hazeltine, bassist Michael Zisman, and you can't go wrong with vet drummer Roy McCurdy. At Jazz Bakery, 3233 Helms Ave., West L.A. 90034; 8 & 9:30pm; $30; (310) 271-9039; www.jazzbakery.org.
Fri. April 24 -- Black Flag's Greg Ginn may not be a guitar genius, but he does have an original approach and a great tone. Yet another of his instro outfits is the droning, obsessive Jambang with Bobby Bancalari (mandolin), Steve De Lollis (drums) and Gary Piazza (keys). Opening is pretty much the same band, this time calling itself The Texas Corrugators but pulling off a lurching semiparody of Western swing. Mysterious. At Fais Do Do, 5257 W. Adams Blvd., LA 90016; 8:30pm; (323) 931-4636.
Sat. April 25 -- "The Heart Is a Drum Machine," Hans Fjellestad's film about the excitement that is music, is the 8pm portion of a free event sponsored by Nike and LA Weekly. This second day of LA Weekend also includes a restaurant panel with Jonathan Gold at noon, a writers panel with Jerry Stahl at 3pm, and Matt Sorum's celebrity band at 9:30pm. At 1615 Vine St.; check here and register at rsvp@laweekly.com; no guarantees you'll get in, but it's free, might be worth a try.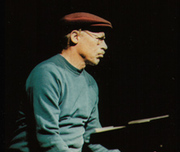 Sat. April 25 -- Zappa graduates & affiliates form Grande Mothers (Re-Invented), featuring windman-vocalist Napoleon Murphy Brock, bassist Roy Estrada, keyboardist-singer Don Preston (pictured), guitarist Miroslav Tadic and drummer Christopher Garcia. Opening is Not Your Fathers Mothers String Quartet, featuring violinist Harry Scorzo, violinist Tim Weed, violist Dan Weinstein and cellist April Guthrie. At Harbor College Music Recital Hall, 1111 Figueroa Place, Wilmington 90744; 8pm; $20.
Sat. April 25 -- The most juice I've ever seen from surf-jazz instrumentals: lap-steel guitarist Paul Lacques in Double Naught Spy Car. In the bar of Taix Restaurant, 1911 Sunset Blvd., Silver Lake 90026; 11:30pm; free; www.taixfrench.com.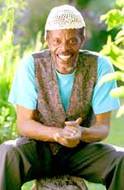 ***Sun. April 26 -- This year marks a milestone, the 10th year following the death of South L.A.'s great pianist, composer, bandleader and community activist Horace Tapscott. Tonight's 26-member version of Tapscott's boiling Pan Afrikan Peoples Arkestra includes Roberto Miranda, Jesse Sharps, Michael Session, Phil Ranelin, Kamau Da'aood and Dwight Trible. You will feel the spirit. Last weekend's Nate Morgan benefit, which I review here, was just a warmup. At Jazz Bakery, 3233 Helms Ave., West L.A. 90034; 8 & 9:30pm; $25; (310) 271-9039; www.jazzbakery.org.
Mon. April 27 -- New Music Monday, "Folk Meets Electronics." At South Pasadena Music Center and Conservatory, 1509 Mission St., South Pasadena 91030; 8pm; $5; free parking behind; (626) 403-2300; www.southpasadenamusic.com.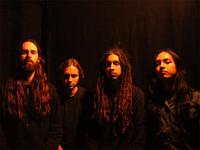 Mon. April 27 -- Fine underground metal from L.A.'s Exhausted Prayer (pictured) and The Funeral Pyre, plus Portland's Book of Belial. At the Blue Monkey, 5521 Hollywood Blvd., Hollywood 90028; 8pm; free; (323) 957-9000.
Tues. April 28 -- Bombastic Meatbats (Chad Smith, Jeff Kollman, Kevin Chown, Ed Roth) rip their last instrumental heavy funkrock local show before drummer Chad heads out with the new supergroup Chickenfoot. Watch for a new record from the Meatbats, just completed. At the Baked Potato, 3787 Cahuenga Blvd. West, Studio City 91604; 9:30 & 11:30pm; $20; (818) 980-1615; call for reservations now after 7pm or you won't get a table.
Tues. April 28 -- Vibesman Nick Mancini brings saxist-flutist Katisse, bassist Hamilton Price and drummer Zach Harmon to the last night of his every-Tuesday-in-April residency. At Pasadena Jazz Institute, 260 E. Colorado Blvd., Suite 206, Pasadena 91101; 8-11pm; FREE; (626) 398-3344; www.pasjazz.org.

Read Brick's Picks in LA Weekly here and Don Heckman's picks here.