Fri. April 3 -- Mega metal show: Lamb of God (read my review of their new "Wrath" here), As I Lay Dying, Children of Bodom (read my review of their "Blooddrunk" here), rhythm juggernaut God Forbid and fun superriff thrashers Municipal Waste. At Hollywood Palladium, 6215 Sunset Blvd., Hollywood 90028; 9pm; $42 (probably sold out); www.livenation.com.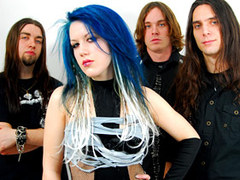 Fri. April 3 -- Swedes know how to do melodic death right; talkin' 'bout The Haunted. Plus Canada's The Agonist (pictured; read my review of their new album here). At the Key Club, 9039 Sunset Blvd., West Hollywood 90069; doors 7:30pm; $18; www.keyclub.com; (310) 274-5800.
Fri.-Sun. April 3-5 -- Omar Sosa can veer from beautifully pure piano improv and driving rhythm to rather generic whirled cheez, and his new "A Tale of Rhythm & Ancestry" unfortunately leans toward the latter. But this local gig finds him with a whole different outfit -- percussionist John Santos, adventurous saxist Peter Apfelbaum and bassist Childo Tomas. So I'm guessing you'll get the juicy jungle stuff like you find on track 2, "Glu-Glu." At Jazz Bakery, 3233 Helms Ave., West L.A. 90034; 8 & 9:30pm; $30; (310) 271-9039; www.jazzbakery.org.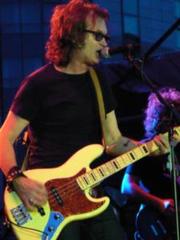 Sat. April 4 -- Deep Purple. Trapeze. Collabs with Tony Iommi. Many fine solo albums. One of the great rock/funk voices of all time (and a downhard bassist and magical songwriter), Glenn Hughes is hitting a career peak at age 57! The man was kind enough to inform MetalJazz about the lineup of his bonecrushing band: guitarist Jeff Kollman, keyboardist Ed Roth, drummer Steve Stephens and, for the encores, Chili Peppers drummer Chad Smith. G'damn! Hughes, by the way, masterminded some of the new mixes on the incredibly great-sounding reissue set of Deep Purple's "Stormbringer." Read my review of his current "F.U.N.K." here. See you there. Five Star Loser, Acidic, Frontrunner and Faded Spades precede Hughes' 11:15 set. At the Whisky, 8901 Sunset Blvd., West Hollywood 90069; $25; www.whiskyagogo.com; (310) 652-4202.
Sat. April 4 -- Wild fun for lovers of Zappa, Boingo and Mingus: Andrew Durkin's omnivorous 16-piece Industrial Jazz Group, plus superheated gypsy jazz from trumpeter Daniel Rosenboom and Plotz!. At El Cid, 4212 Sunset Blvd., Silver Lake 90029; 9pm; cheap; (323) 668-0318.
Sat. April 4 -- Dig this monster edge quartet: grand Mother pianist Don Preston, soulful violinist Harry Scorzo, L.A. avant forefather Bobby Bradford and everybody's favorite tuba saboteur, William Roper. At South Pasadena Music Center, 1509 Mission St., South Pasadena 91030; (626) 403-2300; probably free, certainly cheap.
Sat. April 4 -- Mars Volta keyboardist Ikey Owens loves his noise and his grooves, so he regularly gets a mess of his friends together to jam and calls 'em Free Moral Agents. On the front stage of the Knitting Factory, 7021 Hollywood Blvd., Hollywood 90028; playing last it looks like; $8; http://la.knittingfactory.com.
Sat. April 4 -- Saxist Matt Otto has an old-school tone, but he likes to play stuff that pushes the trad borders a bit. Smart, concise improviser. At Café Metropol, 923 E. Third St., downtown 90013; 8pm; $10 cover, $10 minimum; (213) 613-1537.
Sun. April 5 -- It's sparkly out there around Pluto with percussionist/electroman Nathan Hubbard, a bright light of San Diego alternamuzik. Opening is the unusual duo of vocalist/dancer Mitsu Salmon and accordionist Ryotaro. At Center for the Arts, 2225 Colorado Blvd., Eagle Rock 90041; 7pm; $10; (626) 795-4989.
Sun. April 5 -- We're country dudes too, man, and getting unricher all the time just to prove it. Bring a turnip or a live rodent to experience the stoned soul glory of Paul Lacques, Rob Waller and I See Hawks in L.A., along with some good country-rock songwriting from Old Californio, release-partying their second album. I think those two play last in the 5-9pm time slot at the Echo, 1822 Sunset Blvd., Echo Park 90023; FREE; (213) 413-8200; www.atthecho.com.
Tues. April 7 -- Epiphone guitars and Revolver magazine are slinging some hard-rock awards around and calling 'em the Golden Gods, with the trophy featuring a Stonehenge replica, which you gotta admit is funny. Real mini-set performances, too, from Megadeth, Killswitch Engage, Hatebreed, All That Remains and Suicide Silence, one of which I like. At Club Nokia, 800 W. Olympic Blvd., downtown 90015; 7pm; $31.50-$71.50; www.ticketmaster.com.
Wed. April 8 -- Bristly, uncompromised modern metal means Goatwhore, plus Crematorium and a bunch of others. At the Knitting Factory, 7021 Hollywood Blvd., Hollywood 90028; doors 7pm; $11; http://la.knittingfactory.com.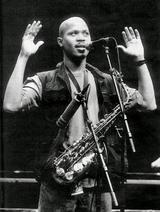 Wed.-Sat. April 8-11 -- Saxist Steve Coleman still represents the forward edge of jazz abstraction and mythology, which gives you an idea of where he was at 20 years back. His Five Elements this time include trumpeter Jonathan Finlayson, vocalist Jen Shyu, bassist Thomas Morgan and longtime drummer Marcus Gilmore. At Jazz Bakery, 3233 Helms Ave., West L.A. 90034; 8 & 9:30pm; $30; (310) 271-9039; www.jazzbakery.org.

R.I.P.: Reg Isidore, drummer on the first two (and best) Robin Trower albums, died March 22 of heart failure, age 60. Dude had a groove like a freight train. Thanks for the music.