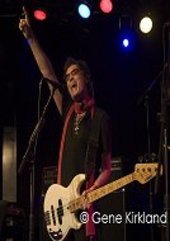 If a few citizens were standing around looking dazed, like they didn't know what was happening to them, you could understand that. Glenn Hughes (singer-bassist with Deep Purple, Trapeze, Tony Iommi and, like, Glenn Hughes) came at us in ways nearly forgotten. He slammed the rhythm, the hooks, the virtuosity and (good god) the Voice, and made us submit.
Many attendees had no history with most of the material, which was weighted toward cuts from Hughes' last three solo albums. But it didn't matter, because it's the kind of stuff that makes a strong first impression. Consider the brutal funk and wailing chorus of "Crave," the bastardly riff of the high-stepping "First Underground Nuclear Kitchen" and the slapdown hesitation and howling testimony of "You Got Soul" -- all the black stank of the 1970s, armored with metallic guitar bang.
And that was just the setup from Hughes, a wiry leprechaun raging behind amber lenses, four yards of red scarf and, of course, a big white Fender bass. Now that the sweat was breaking, he wrung us dry with spectacular screams and virtuoso melismas on Deep Purple's fist-waving blues "Mistreated," making us forget that the song was and remains a spotlight for the other Purple lungsman of 1974, David Coverdale. Hughes' voice throughout dripped with passion while held under his absolute rule -- theatrical, yes, but in service to the Life Force rather than to the demigods of cheap technique. One must bend a knee to Hughes' sound technician; his rapport engendered clarity and fullness, and the layers of echo trailed off just right at the end of phrases. Hughes was NAILING falsettos an arm's length from the mike.
Hughes lighted candles at major stations of his career, with shout-outs to the late guitarists involved: He bumped strong on the ax-whanging "Gettin' Tighter" (props to Tommy Bolin's short Purple tenure) and crooned delicately on the urban soul ballad "Coast to Coast," first recorded in 1972 with Trapeze (flowers for the band's recently deceased guitarist, Mel Galley) and then on Hughes' 1982 collaboration with Pat Thrall.
The band killed. Hughes exercised considerable low-end string authority while burbling underwater solo effects on the Rufus-like "We Shall Be Free"; he plucked the bottom in several unnatural positions; he even switched to guitar for a heart-straight lead on "Coast to Coast." Frizz-haired keyboardist Ed Roth, wearing a Harpo Marx expression, located chicken-waffling Fender Rhodes inversions not heard since the days of the Commodores, and busted out the Stevie Wonder horn charts of the giddy "Love Communion" with nothin' but his synth. Watching Jeff Kollman should be a part of every guitarist's education: the plutocratic tone from his Bogner amp, the mastery of effects (Hughes' psychedelic side did not suffer), the dead-on rhythm, the freaky yet listenable Arabic-inflected leads, the ease with which he did everything, from shuffling his feet to tuning Hughes' bass when they switched. Drummer Steve Stevens was just how Hughes described him -- "a bad, bad boy," flexible and so steady.
Before the encore, Hughes let us yell for five minutes, returning with a longtime pal who'd been boogieing in the audience -- Chili Peppers drummer Chad Smith, introduced as "Will Ferrell from 'Saturday Night Live,'" and you gotta admit there's a resemblance. Smith abused Stevens' kit with floorboard-shaking thuggery on the Hendrixy "Soul Mover" and the closing blowdown on Deep Purple's churning urn of "Burn," which managed to gas up crowd expectations yet show some personalized irreverence for the '74 harmonic structure.
If you're behind the classic rock/funk experience, be advised that Glenn Hughes ain't no oldies act, he is BRINGING IT with fresh boot all the time. Read my review of his latest album here.
Since the phrase "Whisky house band" conjures flashbacks to Love and the Doors, it might be better if Faded Spades would drop it. Still, after mangling Kiss' "Detroit Rock City," the goofball quartet rocked a set of entertaining '70s/'80s-style originals preceding Hughes. Their look, a clash of new-wave ties, glam hair and punk scarum, was calculated for ridiculousness. Even if the WeHo-muscled front man, Nicky Meade, couldn't sing much, he worked harder than five Iggys. And the main attraction was tall, Sixx-haired Lightning Lee Hamilton, who spun ace guitar in every possible pose while his slack-jawed face looked like he was watching cartoons on dope. Kind of ingenious.
PHOTO CRIBBED FROM GLENNHUGHES.COM.