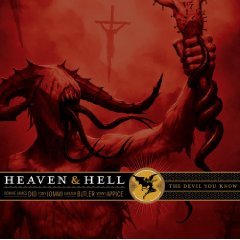 Heaven & Hell, "The Devil You Know" (Rhino)
This is a great album by anyone else's standards. By the standards of the Dio-fronted Black Sabbath, a.k.a. Heaven & Hell, it's only solid.
Guitarist Tony Iommi, bassist Geezer Butler, singer Ronnie James Dio and drummer Vinny Appice whacked out "The Devil You Know" in less than three weeks. Iommi suggests the idea was to avoid Axl-style extended vampirism; he wanted to keep the vibe fresh. But the vibe might have gotten a bit too comfortable. When Dio joined the band in 1979 for two studio albums, "Heaven and Hell" and "Mob Rules," the honeymoon period produced classic works such as "Children of the Sea," "Lady Evil," "Country Girl" and "Falling Off the Edge of the World." When they reunited for 1992's "Dehumanizer," the residual post-breakup friction generated "After All," "I" and "Buried Alive." The bar remained high.
Nothing but solo projects for 15 years. Then, hardly thinking about it, the quartet cranked out three fine new songs to cap the 2007 hits compilation "Black Sabbath: The Dio Years." So hey, this sh*t is easy! H&H blazed through a couple of long tours, documented with shocking excellence on last year's DVD "Live From Radio City Music Hall."
A whole new studio album, though, is scary -- like getting remarried. And even though "The Devil You Know" is a crushing, consistent statement, its highs can't compete with the best of the past.
Except for one song. "Bible Black," six and a half minutes in hell's most luxurious opium den, made a perfect teaser for pre-release. Before its trademark leather-slashing riff, it eases in with a folky "Stairway to Heaven" introduction; the vocal melody builds in majestic stages; so does the guitar solo, which starts with a key change and cycles through three distinct backdrops. "Here I go again," Dio desperately declaims; "I wish I could remember what I've done."
In the rest of the album, he remembers. And Iommi reminisces alongside. While Dio's lyrics here rank among his best, shining with a universal quality that makes each listener feel a personal connection, he often falls back on his familiar cast of characters -- the dream, the spider, the devil, the witch. And we can hear him struggling with his own melodic conventions: It's hard to keep coming up with new tunes in a universe based on riffs rather than on changes of chords and rhythms; there are only so many ways -- even given the resources of his virtuoso throatmanship -- that he can shorten a line or extend it with internal rhymes. This is exactly the Sab conundrum Ozzy used to complain about, and though Iommi has praised the way Dio can create vertical melodies by singing across the structures, you gotta give the guy something to work with.
Something other than riffs, of which Iommi arrived with an impressive arsenal. Many have marveled at the guitarist's limitless inventiveness in this area; he has said that although he's recorded hundreds of riff ideas just messing around, when he comes to a new project he finds it easier just to make up new ones. And damn, they're all massive on "The Devil You Know," the obstacle being that now and then, as on "Rock and Roll Angel" and "Neverwhere," the chorus sags or fights for air -- nobody's built space for it. Oddly, too, Iommi's solos rarely catch fire. He's fluid and rhythmically acute as always; he just doesn't have a lot to say.
Which might be because nobody's challenging him. In the accompanying press release, Butler expresses satisfaction that because band members arrived with recorded ideas, there was "none of that endless jamming about in the rehearsal studio until someone comes up with something" -- the magical method, in fact, whereby Black Sabbath used to create not just riffs but structures, textures, rhythmic variations, tempo changes. From 1969 through 1980 and occasionally thereafter, when the time came to jam, it really helped to have a Bill Ward around to stir the percussive pot. Vinny Appice is an ingenious heavy lifter in his own way, but he and Butler obviously agreed to concentrate on laying down an indomitable slow groove. (Faster numbers such as "Eating the Cannibals" and "Neverwhere" are not his forte.) The two succeed in spades; this album rocks you from beginning to end. It's just that there ain't no jazz.
Some songs rise above. The opening "Atom and Evil" groans and plods with excruciating delight; the climbing bridge can squeeze your ocular glands while poking you insistently with pizzicato synth. The tempo changes on "The Turn of the Screw" are a bit jarring, as if not thoroughly thought out, but that makes for a welcome midway shake-up. The low main riff on the melodramatic "Follow the Tears" has an ear-catchingly defiant rhythmic accent; the song's Renaissance bridge opens up like the clouds after a rain.
Odd lyrics to "Rock and Roll Angel": "Perfect strangers in the dark/Waiting for their lives to start." "Perfect Strangers" was Deep Purple's 1984 reunion album, signaling the first breakup of Rainbow, which Ritchie Blackmore had founded in 1975 with Dio as the original vocalist. Rumors of a Dio-Blackmore recombination surface yearly. And who's the last in line to be credited in Dio's list of booklet thank-yous? Blackmore, with whom Dio has not worked since 1978.
Meanwhile, Heaven & Hell have given the people what Tony Iommi thinks they want. For my part, I'm satisfied. But I remember that Judas Priest's 2005 reunion album, "Angel of Retribution," was a similarly safe though excellent stab, followed up by the explosively bizarre "Nostradamus." So I'm already curious about what's next for H&H. May they live forever.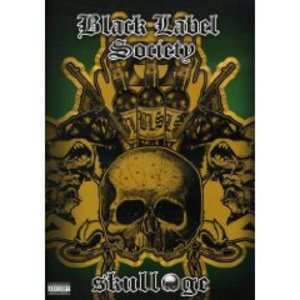 Black Label Society, "Skullage" (Eagle Vision DVD+CD)
So you got more Zakk Wylde product here. Never stops between tours with the Old Man (Ozzy o' course). Zakk did need to hang up his ax for a while after all the travelin' and drinkin', though, and this compilation is what happened. No studio album since 2006's "Shot to Hell," a title that said it all.
What's new? One video for "New Religion." One 30-minute tour of the Compound with our host. That's it, brother. What's old? Nine live songs, electric and acoustic, that came out on his other two DVDs. Four videos that were included on same. One Best Of Zakk CD, spanning his whole career, including the two pre-BLS albums. You say you already got a Zakk Best, 2005's "Kings of Damnation"? Now you got two, motherf*cker, and only a couple songs overlap.
You say every Zakk album is his Best, and anyone who hasn't bought 'em all is a pussy? That is correct. You say Zakk is the heaviest scumbag on earth as well as the most blubberingly sentimental, so he's got something for every occasion except a Blink-182 reunion? Check.
And now you're wondering if you really need this package. Where is your loyalty, c*cksucker? If Zakk Wylde sh*ts in a bag, you should buy it. And for the cost of a few six-packs, are you gonna pass up "Welcome to the Compound," where Zakk "waters the plants," strides around in a dress and talks to his doll collection? No, you are not. Christ.
Black Label Society plays the Wiltern on Saturday, May 2.