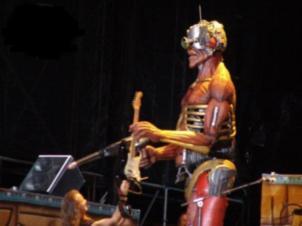 I hope this Maiden tour doc gets a decent theatrical release before its June 9 BluRay/DVD drop, because the way to experience it is BIG. On last year's four-continent "Somewhere Back in Time" excursion, the band flew around in a damn Boeing 757 with singer Bruce Dickinson at the stick, fergodsake, and you want to hear the whine of those giant engines as well as the gallopin' drive of the Iron five, and to behold the panorama of the snow-streaked Andes below the plane as well as the cartoon monstrosity of the band's 15-foot Eddie robot. Though the sound was wide and crunchy, the multiplex Chinese Theater screen on which I saw "Flight 666" wasn't big enough for me, and I'm not even a huge Iron Maiden fan.
True, you might shrink before the prospect of so many colossal, decrepit 50-some-year-old Limey musician faces, but if you could swallow the Stones' "Shine a Light," the Maiden horrorshow is a mere crumpet. And let's say it right now: Three huzzahs for the still-youthful-looking Dickinson's decision not to fix his crooked green choppers; they ROCK.
While it goes without saying these days that virtually the entire "live" soundtrack must have been not only mixed but re-recorded by longtime boardsman Kevin "Caveman" Shirley, that's no reflection on Iron Maiden's musicianship. The most revealing moment in the film arrives when founding bassist Steve Harris and drum warrior Nicko McBrain are warming up together before a show, and their groove meshes with the precise power of a Rolls-Royce transmission. The second most revealing moment shows guitarist Adrian Smith loosening his fingers pre-show with relaxed expertise on a basic blues, a form foreign to the Britfolk-derived Maiden metallosphere. Jolly-faced guitarist Dave Murray gets props for his Solomon-like wisdom, and a couple of showcased solos reinforce the band's opinion of third guitarist Janick Gers as the band's freakiest improviser.
Just a bunch of yobs from England's industrial Midlands, Maiden come off as easygoing and unpretentious, three of them climbing out of one tiny rental car for a gig, and several declaring their affection for golf, tennis and gardening. Onstage, they pack a major wallop, an impact that comes through despite the necessary song editing and the understandable desire of directors Scot McFayden and Sam Dunn to document Dickinson's leafy trousers, feathery headdress, Mountie jacket and various other sartorial augmentations as he tears around the stage, somehow avoiding collision with his bandmates' statuesque poses and energetic jaunts.
Maiden sucked up huge crowds and spastic adoration from Perth to Toronto, revisiting cities and set lists not tapped since the mid-'80s. Certainly their melodic-metal catalog, packed with landmarks such as "Run to the Hills," "The Trooper" and "Powerslave," ranks as among the world's hookiest and most formidable. But it's hard to pin down what exactly inspires such fervor from generation to generation. A kid in India says, "I freaked out on the artwork," and it's true that the obsessively detailed exaggeration of the Eddie visuals makes a fit complement to three-guitar interlacings; one South American minister (whose sympathies you'd think might not lie with the Beast) sports Maiden tats all over his middle-aged skin. "What people need is something that's real," suggests Dickinson, and while that might seem hilarious, it's true in the sense that by rock standards, Iron Maiden have remained a consistent, reliable quantity.
Maybe that's what makes Colombian kids camp out for days before a show and endure the theft of their food and phones by the military police; maybe that's what throws a fan into uncontrollable sobs of joy because he has captured one souvenir drumstick from the hand of a god. This world is full of outsiders, and they need a strong outsider identity that persists.
"I don't think Maiden cares about being relevant," says their tour manager. And neither does Satan.
MetalJazz was captured at the premiere by LA Weekly photographer Laurie Scavo. Left to right: guitarist Dave Van Heusen, party guy Greg Burk, and the drummer of the tribute band Iron Maidens, so I'm told, though you couldn't prove it by me; when tapped for a pose, I don't ask questions, I just grab the nearest babe and hope to avoid an iron fist. Thanks to Markus for the media tip.