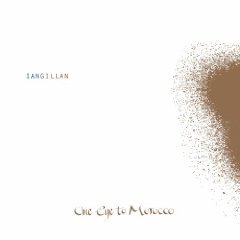 It's a groove album, quite a good one. And at first I didn't get it.
Certainly one knows better at this point than to expect a lot of shrieking insanity from Deep Purple's storied singer. But this album is so deliberately unweird that I found myself calling up words like contained and mannered and cushy, like those were bad things, when all it took to appreciate it was the right time of night and the right frame of mind.
From a songcraft point of view, "Morocco" makes a strong statement with the introductory title track, which finds Gillan lounging in a state of dreamy longing as sleigh bells shimmer, strings ooze, congas clonk and a snaky soprano sax writhes around his head -- fake exoticism at its finest.
The rest hews to more conventional forms. "No Lotion for That" and "Texas State of Mind" are clean rockers of Stonesy derivation, the former with a funny libidinous lyric and Bobby Keys-like sax from Joe Mennonna, the latter with a catchy up-and-down chorus and punchy horns. Nick Blagona's production goes for splashes of color -- blustery harmonica on the Staples-ish soul rocker "Change My Ways," orange lava electric slide on the lazy "Girl Goes to Show," kneading organ and saturated guit-wah on the urban pleader "The Sky Is Falling Down." Dobro here, a pretty trumpet solo there; you get the idea.
Gillan doesn't stray beyond the roots you'd expect from an artist of his generation. He does achieve something special: a beautifully homogeneous simplicity, the kind of thing veteran musicians appreciate more than anyone else. You can set your clock by Howard Wilson's drums and Rodney Appleby's bass; the guitars of writing partners Steve Morris and Michael Lee Jackson shove into the mix with classic authority. It's no accident that the album's best track is called "Ultimate Groove," because Gillan, a bit of a hand drummer himself and always a prime exponent of vocal rhythm, really loves to suck down into his plexus and ride that ol' thump-whack. He sounds relaxed and assured, singing 'cause it feels good. Can we get him to call up Al Green?
"One Eye to Morocco" is not morning music; it's meant for midnight, right around the third snifter. Cheers.