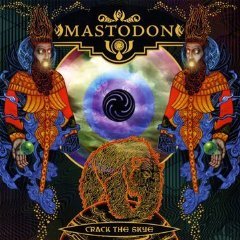 Mastodon, "Crack the Skye" (Warner Bros.)
You will never see a band sell out with more integrity than Mastodon. Hard to believe that two and a half years ago old-line fans fell a-whinin' about how signing to Warner had seduced the Atlanta prog-epicures into salting their ambitious myth-metal with excessive melody. But now that the suicide of drummer Brann Dailor's young sister has provided inspiration for "Crack the Skye," seems like the death crowd don't wanna give Mastodon the customary spanking for their near total replacement of voxbarf with heavily treated vocal tunepitch.
The shrinkage from criticism may come down to sensitivity -- at the family-death thing, and at the painful rehab of alcoholic guitarist-vocalist Brent Hinds. Or: This music may be just too damn hard to argue with.
Though the dominance of actual throatnotes will certainly reap Mastodon a heap of crossover wheat from the fields of melodic metalcore, the group remain untainted. First, Hinds' vocal approach -- stronger than bassist Troy Sanders' or drummer Brann Dailor's -- references not Killswitch Engage but Alice in Chains' Layne Staley, a guy you couldn't hate because he wasn't boo-hooing, he was REALLY THAT F*CKED UP. Second, Mastodon sing about themselves only indirectly, using hunks of elemental philosophy, myth and history (this record's got some weird Russian background) to make individual striving universal. And the electronic processing adds another layer of removal, so that we experience the voices almost as instruments.
This works well for Mastodon, which, despite all its noise and volume, is not a very emotional band; its ever-mutating forms and contrapuntal playing appeal mainly to the intellect. Without trying to be popsters, though, the guys have elected to apply the virtue of directness, and it was perhaps a lucky accident that their window coincided with that of producer Brendan O'Brien, who has helmed projects by Pearl Jam, Stone Temple Pilots, Train, AC/DC (last year's "Black Ice") and, uh, Killswitch Engage. The guys also surely know that listening to their previous music could be like swallowing a brick -- satisfying, but you don't need to repeat it often.
So many an ear will be grateful that, thanks to O'Brien, the 50 minutes of "Crack the Skye," including epics of 11 and 13 minutes, seem like a coffee break -- the thing ZIPS by. Melodies (not hooks) rule, hewing to the intellectual template. The dulled desperation of "Oblivion" makes for a beautiful opener. The proggy surge of "Ghost of Karelia" maintains a link to Mastodon's past and flashes on influences from Cynic to King's X (whose "Dogman" O'Brien produced). The biggest scope and the most powerful dynamics arrive in the Volga-bongmen vagaries of "The Czar," a four-part suite colored by uncredited organ and piano.
Guitarist Bill Kelliher's arpeggios and Hinds' falcon-gyring leads butt back and forth with characteristic chemistry; Sanders' doomed bass and alchemist-bookish voice make him a great team player. In service to clear communication, everyone reins in, none so much as Dailor, whose former jazzy spontaneity is the one thing I really miss on "Crack the Skye." We can understand he wasn't feeling too exuberant anyway, though his wrists are loose, and he gets his licks in -- some mighty double-kick here, a mighty press roll on the toms there. Note for the future: Discipline can be a bitch; however successfully this experiment turns out, I bet Mastodon get their freak on next time.
One more thing, in case you're wondering: "Crack the Skye" is heavy. Oh yeah.
Mastodon play the Coachella Festival on Saturday, April 18.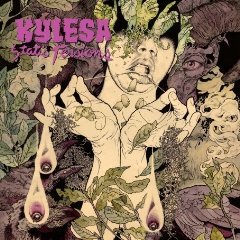 Kylesa, "Static Tensions" (Prosthetic)
Two drummers. Raging riffs. Pissed-off yelling. Georgia's Kylesa dump the big saltwater wave on yer head, so better roll with it.
The band's "Time Will Fuse Its Worth" was one of my favorite slabs from a couple years back, and the new one comes close. With Kylesa guitarist Phillip Cope producing, "Static Tensions" scrubs the sound a bit so you can grok the interplay between Cope and guitarist Laura Pleasants; same goes for the interaction of drummers Eric Hernandez and Carl McGinley. While the cleanup is great for appreciating Kylesa's elemental but effective musicianship, it renders the effect slightly less overwhelming --nothing a twist of the volume knob won't cure.
Love the constant cymbal wash of "Scapegoat." Love the "Summertime Blues" drum rumble of "Said and Done." Love the Irish-thorn riff and Sabby moil of "Only One." Love the way Pleasants' apprehensive vocals float around the background and foreground of the mix. Love the guitar tones, from psychedelic sustain to watery wah to crushing stoner mass.
Kylesa are a distinctive, exciting band any way you cut it, but live they owned me. If you're looking for a new massah, now is your chance.
Kylesa tops a fantastic bill with Intronaut, Black Elk and Made out of Babies at the EchoPlex, Friday, April 17.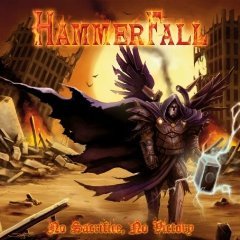 HammerFall, "No Sacrifice, No Victory" (Nuclear Blast)
Wiping the blood off my sword while listening to the new HammerFall album, I began to get an uneasy feeling. On the galloping opener, "Any Means Necessary," Joacim Cans was wailing his usual stuff like "I am born to kill . . . Slay and maim 'em," so that was good. And the next track was titled "Life Is Pain" -- so true. But it had this weird scoobee-doo rhythm, and I kept picturing Cans with a top hat and cane instead of a helmet and mace, so that was difficult, and these Queen-like harmonies piled up on the chorus, and when Cans sang "Ten thousand fish, they cannot be wrong," I felt that was arguable. Oh -- ten thousand FISTS? Okay.
There were things I liked, such as the boot-pounding beat and oh-oh chorus of "Punish and Enslave," and the jiggy Maiden-form instrumental "Something for the Ages," where guitarist Oscar Dronjak, new axman Pontus Norgren and guest keyboardist Jens Johansson take a flexy ride on bro Anders Johansson's earth-rumbling double-kick. Jens gets a huge pipe-organ sound on the intro to the moaner "Between Two Worlds." And when Cans shrieks "We bring destruction and death!" on the folky twin-guitar chest-beater "Legion," he really sounds like he's having more fun than a 4-year-old at Chuck E. Cheese.
The album's very musicianly throughout, and the sound rocks primo under the guidance of producer Charlie Bauerfeind (the man behind Saxon's wonderful new "Into the Labyrinth"), who felt the need to record in four studios in three countries. But "No Sacrifice" kept raising the creeping suspicion that, after seven albums, these Swedes' hearts might not be entirely engaged in the whole war-and-violence thing, which would be kind of a disappointment, because their music has inspired me to activities that have led to warrants in nine states. The Queen chorus thing resurfaced. The instrumental insanity level was low. In the group picture, Dronjak and Johansson looked like they were waiting in line at Pinkberry.
I even started to think that HammerFall were putting me on -- an impression that grew strong at the end. The record should conclude satisfyingly with the classic riffs, charging attack and epic arc of "One of a Kind," but after the song fades out, it isn't even four seconds before DUTTA-DATTA DUT-DAT, and the guitars are knocking into the bonehead riff of the final track, the Knack's "My Sharona," and though HammerFall betrays not a wink of irony, I'm now forced to picture Cans shaved, shorn and jerking around in a skinny 1979 new-wave tie, and that is a big, big problem.
There is a considerable chance that, regardless of the group's Gothenberg blood-cred, no one in HammerFall has ever killed or wounded a single person -- a dispiriting thought. Coincidentally, I just read a report on the band's current European tour, where "HammerFall have admitted to smashing up a Vienna hotel room." Good standard rock practice. But what was the comment from Anders Johansson, a musician for whom I previously harbored the deepest respect? "We are ashamed."
There you have it -- conclusive proof. HammerFall have become pussies.