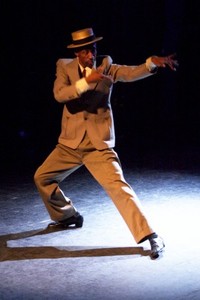 Nate Morgan was laid up in the wake of all his kidney problems and strokes and whatever; too bad the great jazz pianist couldn't be here to see his friends make a fuss about him. The place was full. The vibe was positive. The music was inspiring. Nearly three thousand bucks was raised, according to World Stage stalwart Jeffrey Winston, who served as MC and stage manager and lived to tell about it.
So I walked in an hour late, like 4 in the sunny afternoon at this hallowed strip mall, and there was writer-educator Steve Isoardi talking to bassist Nick Rosen, and Steve informed me that I had just missed Nick supporting the maxi-shred of saxist Azar Lawrence's ensemble, so nyaah nyaah. Well, Steve had to leave early, so I got the last laugh.
Generations of tradition collapsed as loose-limbed Chester Whitmore (above) trotted out his veteran tapdance steps on Miles Davis' "All Blues," tugging up his pants so we could observe his flying feet as they complemented the rhythms of drummer Eddie Sticks.
Edythe Bronston of California Jazz Foundation got up to plug her organization, just three years old, which is proving so valuable in situations just like this. So visit here and donate.
Poet S. Pearl Sharp described in verse the musical qualities with which God endowed Her animals, and how She paused for special consideration when She created Nate Morgan.
Yaakov Levy, whom I'd previously known only as Joshua Spiegelman, briefly put flute and yarmulke at the service of a fleet, soulful solo improvisation, and stuck around for later.
And the masses started to coalesce. Harold Land Jr. brought together an ad hoc ensemble with David Cousins on bold bass and Bill Madison on swinging drums (giving way to Fritz Wise on light snare and feathery cymbals); Land laid down his trademark cushiony touch in a two-chord vamp as trombonist Phil Ranelin (69) and saxist Randall Fischer (18) felt their way. Fischer, in flattop, glasses and white T-shirt, made quite an impression in multiple situations all afternoon with his sure rhythm, tasteful note choices and extensive knowledge. Fuasi Abdul-Khaliq upped the energy on fluidly blazing soprano.
Now Lorca Hart (son of Billy) took the drum stool, and sportjacketed Lenny Davis came up to sing, inspiring the most applause thus far with his crisp enunciation and unforced depth on "Misty" and "On a Clear Day" ("You'll see where the hell you are"). Yeah, he snapped his fingers a couple of times, just for form.
As diminutive flutewoman Maia (Ma-ee-ah) blew fluttery obbligatos, World Stage founder Kamau Da'aood applied his rumbly diction to a poetic panegyric about the evening's beneficiary, repeatedly roaring, "I am Nate Morgan, and I am not for sale!" and pouring out as much grit, gale and passion as I've ever heard from him, which is saying something. "The Ark is here!" he shouted, and it was true: Many of the musicians who had built a scene with Horace Tapscott's Arkestra and/or Nate Morgan were crowding around: Don Littleton on drums, Trevor Ware on bass, and a raft of saxes -- Session and Fischer plus Jesse Sharps, Kamasi Washington, Justo Almario. Steve Smith stuck great boppin' trumpet, too; each horn soloed in turn, and in between they dropped into a Dolphy-Trane-type African riff. It was spinning so high that I actually could not stay in the room, and outside . . . there was soul-jazz muezzin Dwight Trible, soaking up the atmosphere with Levy.
And I had to leave before it was over, because I did not deserve it.
Many of these same musicians pay tribute to the late Horace Tapscott at the Jazz Bakery this Sunday, April 26.