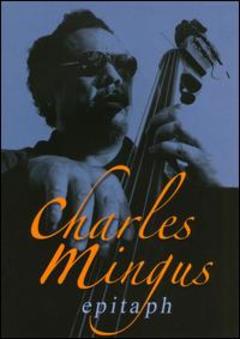 Charles Mingus, "Epitaph" (Eagle Eye DVD)
Even if Mingus doesn't play on it, this 1989 orchestral bangup is one of my favorite Charles Mingus concerts. Great to see it out on DVD.
And what a story! Going through Mingus' old scores in 1985, musicologist Andrew Homzy found many labeled "Epitaph," the title Mingus applied to the ever-evolving masterwork he hoped would fill the same kind of career niche as "Black, Brown and Beige" did for Duke Ellington. Mingus recorded one semi-abortive version of it at New York's Town Hall in 1962, available as the intermittently brilliant "The Complete Town Hall Concert" (not to be confused with Mingus' 1964 "Town Hall Concert" from Minneapolis). But when he died in 1979, he had not realized his dream of executing the full two-hour opus.
"Epitaph" was a unified piece, though, only in the sense that it was a new orchestration -- mostly of music Mingus had composed, performed and recorded here and there since he was a teenager, including "Chill of Death," "Peggy's Blue Skylight" and "Better Get It in Your Soul" (plus a theft of Vernon Duke's "I Can't Get Started"). The sheet music lay in a state of Dead Sea Scrolls confusion when Third Stream classical-jazz innovator Gunther Schuller shouldered the enormous task of turning it into something playable, and then conducting the 30-piece ensemble himself.
That first happened in 1989 at New York's Alice Tully Hall, a concert captured on the double-CD "Mingus Epitaph," one of 1990's best jazz releases. The visual presentation has appeared occasionally on PBS, but this is the first time "Epitaph" has been available on home video.
If you're wondering what's the point, it's surprising how much the images add. The cameras, directed by Humphrey Burton, move around the big stage briskly and appropriately. Of course they're right there when somebody takes a solo, but you might not have noticed the importance of the kettle drums in one passage if not for an opportune closeup; same goes for another tight shot of a single tambourine, not just holding its own but virtually driving the whole orchestra. Schuller, looking like a stuffed laundry bag with his green jacket and gray mop of hair, swings the baton with vigor as he courses through the pages of his labor, which are laid out in a giant looseleaf binder. There are nice moments: pianist John Hicks giving Schuller a little wink as he coasts out of a pretty solo, saxist George Adams sweating under an African cap as he blasts an atonal gusher. "How the hell do you follow that?" Schuller gasps after Adams, saxist John Handy and friends have slopped wildly through the uproarious "Better Get It in Your Soul" in the concert's most Minguslike turn -- Adams and Handy played in Mingus' bands, and they know the master would never have wanted it "tight."
Schuller knows it too. Though his classical training didn't permit him to countenance a Chazzian level of chaos, he allows the music to breathe -- a tribute to his own understanding as well as to the all-encompassing swing of the great Victor Lewis, the only trapsman on the stage. Not that swing is always called for. Listeners who know Mingus mainly from his bluesier albums, such as "Mingus Ah Um" and "Blues & Roots" (both 1959) may not be aware that he had deep roots as a neoclassical composer, leading a band called Symphonic Airs as a kid in 1949, and writing Stravinsky-influenced material such as "Half Mast Inhibition," an early large-ensemble piece that had to wait till 1960 to be conducted by none other than Gunther Schuller.
For all the instrumental firepower enlisted -- Roland Hanna, Bobby Watson, John Abercrombie, Britt Woodman, Wynton Marsalis, et al. -- the real star of "Epitaph" is the scoring. While the dissonances introduced by early-20th-century Austrians such as Schoenberg and Webern could seem chilly in Euro hands, the new (dis)harmonies pumped fresh blood when driven by Ellington or Mingus. Mingus and Schuller take full advantage of their forces to create vast overlapping clouds, mass stings, terrifying blares, gorgeously twisted romantic melodies. This is music that can truly saturate, and the demands on your ears can be too much over extended periods unless, as here, your eyes can take on their share of the experience. The sound quality is excellent; play it LOUD.
Mingus grew up in Los Angeles -- studying with Lloyd Reese, serving an apprenticeship under Buddy Collette, collaborating with Eric Dolphy. So it's painful to contrast the audience response on this video with the one I witnessed in 1991 at the Hollywood Bowl, which hosted one of the few "Epitaph" performances ever staged. The difference lies in two modes of standing: in New York, a prolonged standing ovation; in Hollywood, half the audience standing and leaving after less than an hour. I know -- the Bowl crowd, largely season subscribers, didn't know what they were getting into. But they also didn't know what they were getting out of.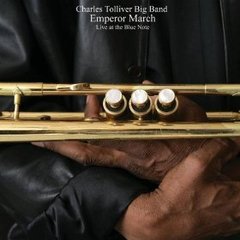 Charles Tolliver Big Band, "Emperor March" (HalfNote)
Trumpeter Charles Tolliver made his first big entrance on Impulse Records' "The New Wave in Jazz," the live '65 concert where John Coltrane introduced a disbelieving world to the avant gang of Archie Shepp, Albert Ayler, Grachan Moncur and the rest. As Michael Cuscuna's fine liner notes to "Emperor March" document, Tolliver's activities since then have included several incursions into the taxing large-ensemble format; this recording from NYC's Blue Note last year is an excellent example.
A big band makes for a strange dichotomy -- it's unusually personal because the arranger has so many options, yet unusually communal because of the number of participants. I once asked Texas-L.A. jazzman John Carter about the abundance of detail in the upper regions of his arrangements, and he said that, being a clarinetist, he just heard those frequencies really well.
You could say the same thing about Tolliver. With 20 pieces involved, his sound could easily ring dense, but it doesn't come off that way. He's got a dance going on in the upper-middle register -- trumpets and flutes blending a cool sheen or pecking your eardrums with sharp incitements. Down low he's blessed with Reggie Workman, Coltrane's best bassist, groovin' strong with a round, burly tone beneath the busy drums of Gene Jackson, whom you might've dug with Dave Holland or the Mingus Big Band. This band's lightness stems mainly from the air in the low midrange: Unlike Gerald Wilson (with whom he has worked) and unlike Mingus, Tolliver situates his five trombones mostly in their upper octaves or mixes them back. Ears vary, but audiences seem to prefer Tolliver's kind of spread.
Tolliver hits a home run in the leadoff spot with the exotic "On the Nile," a dark blend of danger and energy that dates back to 1965 -- hang on to your lobes when those piccolo-flute stings scream out, and ride along with Marcus Strickland's muscular tenor solo and Tolliver's free Spanish excursion. (Tolliver had to conduct and everything, but the record coulda used more of his horn -- like the storm he whips up here and the angry falcon-flap he adds to the strutting/static "Chedlike.")
Returning from Egypt, Tolliver spends the rest of the album in New York. The title tune (with Todd Bashore's long gabbling alto workout) and "Toughin'" crackle with vintage urban energy and a subtle Latin subtext. "In the Trenches" gives everybody a shot at a blues spotlight. And Tolliver's testoster-take on the lovely Billy Eckstine ballad "I Want To Talk About You" retains none of Coltrane's sensitive "please"; with Billy Harper's tenor blowing edgy and fast, it's more like "No, really, we're gonna talk. Or at least I am."
In ancient times, people used to seek out a big band when they wanted something to wake them up. Well, here ya go.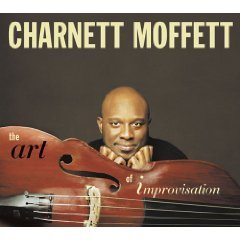 Charnett Moffett, "The Art of Improvisation" (Motema)
Bassist Charnett Moffett's dad, Charles Moffett, played drums with Ornette Coleman. Charnett himself has been playing with Ornette for quite a few years. He is named after his father and Ornette. The title of his new album riffs on an Ornette title, "The Art of the Improvisers."
Okay, enough about Ornette. Cuz this record has almost nothing to do with him.
It does have a lot to do with Charnett Moffett's love of Indian music. Several songs are almost-solo bass workouts in a general raga mode -- a drone string plus some wild improvising that includes hot & tangy Eastern microtones. If that sounds boring, it's not, since Moffett possesses monster chops, a lot of passion and a substantial melodic imagination. Variations on the theme include "We Pray" (which adds Will Calhoun's pattering drums and somebody's sandy slide textures) and "Call for Peace" (which adds the scary pain & purity of Tibetan singer Yungchen Lhamo, veering from Himalayan warble to World Cowboy Blues).
There's stuff from other parts of the world, too, like the minor-key Algerian funk of "Moses" and the gypsy blunt of "Swing Rock," where Charnett cops the three-note bass riff of Hendrix's "Third Stone From the Sun" to jam with his light-wristed drummer son, Max. It's fun! Less fun is Charnett's workout on "The Star Spangled Banner," but with Zakk Wylde and Jimi in that ring, one is likely to get slammed.
Charnett Moffett sounds as if he wanted to be spontaneous, and since he's really good, that worked out into something fresh and fine. For musicians less talented, though, he's setting a rotten example.
The Charnett Moffett Quartet plays Catalina's Tuesday and Wednesday, May 26 and 27.