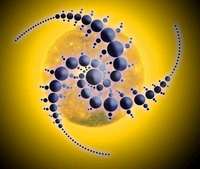 Fri. May 15 -- Tool drummer Danny Carey cuts loose the jamz with Volto. At the Knitting Factory, 7021 Hollywood Blvd., Hollywood 90028; 9pm; $20; http://la.knittingfactory.com.
Sat. May 16 -- The current re-re-re-re-re-reissue of Miles Davis' classic "Kind of Blue" inspires a fine bunch of musicians to pay tribute: trumpeter Josh Welchez arranges for tenor man Matt Otto, trombonist Matt Zebley, pianist Gary Fukushima, bassist J.P. Maramba and drummer Tim Pleasant. At Spazio, 14755 Ventura Blvd., Sherman Oaks 91403; (818) 728-8400; www.spazio.la.
Sat. May 16 -- Biggies in Scandinavian metal: arty battering with silk draperies from Sweden's Opeth, and one of the more rock-based and varied veteran units, Norway's Enslaved. Probably other bands too, but I can't figure out who. At Avalon, 1735 Vine St., Hollywood 90028; doors 6:30pm; $32; (323) 467-4571; www.avalonhollywood.com; www.livenation.com.
Sat. May 16 -- Nels Cline and Carla Bozulich, a.k.a. Scarnella, stir up a tornado of abstract noise, opening for Mikael Jorgensen's Wilco spinoff Pronto. At the Mint, 6010 Pico Blvd., LA 90035; 10pm; $15; (323) 954-9400; www.themintla.com.
Sun. May 17 -- Scarnella improvise a soundtrack to Lon Chaney in the no longer silent film "Laugh Clown Laugh." At Center for the Arts, 2225 Colorado Blvd., Eagle Rock 90041; 7pm; $10; (626) 795-4989.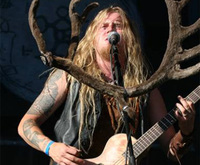 Sun. May 17 -- I don't wanna see a lemon wedge on the rim of your ox-horn flagon when you're swilling beverages at Paganfest, where men are men even when they wear kilts and crank metallic versions of European folk music. With Korpiklaani, Primordial, Moonsorrow, Blackguard and Swashbuckle. At House of Blues, 8430 Sunset Blvd., West Hollywood 90069; 6pm; $22.50; (323) 848-5800; www.ticketmaster.com.
Sun. May 17 -- Guitarist Joe Bartone brings his effects pedals, his electric sitar and his wide-ranging approach to jazz & Jamaica when he agglomerates the quite entertaining Thelonious Dub. Also playing, according to the venue site, is the quietly intelligent quartet Slumgum, but it doesn't say that on Slumgum's site. A fitting way to conclude American Craft Beer Week. (T.Dub play here the next several weeks as well.) At Blue Palms Brew House, 6124 Hollywood Blvd., Hollywood 90028; 7pm onward; no cover; (323) 464-3227; wwwbluepalmsbrewhouse.com.
Wed. May 20 -- Vibesman Nick Mancini has a lot of talent and works really hard at his adventurously listenable modern jazz. Catch him before you can no longer afford him. Tonight he leads sextet, quartet and duo ensembles drawn from the roster of windman Katisse Buckingham, clarinetist John Tegmeyer, pianist Otmaro Ruiz, pianist Mahesh Balisooriya, bassist Hamilton Price, bassist Greg Swiller, drummer Jimmy Branly and drummer Dan Schnelle. I have seen most of these guys play, and they are tops. Me to Mancini: "When do you sleep?" Mancini: "During the bass solo!" At Jazz Bakery, 3233 Helms Ave., West L.A. 90034; 8 & 9:30pm; $25; (310) 271-9039; www.jazzbakery.org.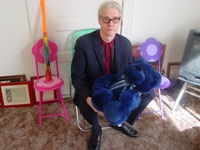 Wed. May 20 -- There is no more precise symbolic representative of Hollywood music than impresario Kim Fowley, and his events are always entertaining. Tonight, Kim Fowley's Lipstick Orgy features "Beat Killers, Fabulous Miss Wendy, Bad Things, Kim Fowley, Zombelle, Soul Veil, hosted by Mistress of Ceremonies Christine Blood plus All-Girl Midnight Jam & Lesbian Slave Auction." I saw Fowley walking on the street the other day; he's still tall and thin. He had his hair dyed blond, and he was using a cane -- as a prop or an aid, it was hard to tell, cuz he's a showman. At the Knitting Factory, 7021 Hollywood Blvd., Hollywood 90028; 8pm; $8; http://la.knittingfactory.com.
Thurs. May 21 -- Countryrockjazzfolk singer Julie Christensen hits yer heart, backed by pianist Karen Hammack. At Genghis Cohen, 740 N. Fairfax Ave., LA 90046; 10:15pm; $10; (323) 655-8666; www.genghiscohen.com.
Thurs. May 21 -- Celebrate next week's birthday of our fine trombonist Phil Ranelin (and that of Miles Davis) with Ranelin's ensemble. At the Crowne Plaza LAX Hotel, 5985 Century Blvd., LA 90045; 6-10pm; cheap.
Thurs. May 21 -- Laetitia Sonami uses an electronic glove to create abstract sound out of thin air. Santiago Latorre has made one of the more original records I've heard lately, "Órbita," which does quite attractive ambient things with saxophone, gentle grooves and electronic effects. And noisician Conure (Mark Wilson) churns up some real good rumbly textures. Swell lineup. ResBox at Steve Allen Theater, 4773 Hollywood Blvd., Hollywood 90027; 8pm; $10; BYO.
Thurs.-Sun. May 21-24 -- Multiple Grammy nominee Billy Childs delves deep into a fresh concept with his Jazz Chamber Ensemble, featuring the pianist with drummer Antonio Sanchez, bassist Scott Colley, guitarist Larry Koonse, windman Bob Sheppard, harpist Carol Robbins and the string group Ying Quartet. Quite an event. At Jazz Bakery, 3233 Helms Ave., West L.A. 90034; 8 & 9:30pm; $30-35; (310) 271-9039; www.jazzbakery.org.

Read Brick's Picks in LA Weekly here and Don Heckman's picks here.
It's okay to start getting excited about this year's Angel City Jazz Fest, September 9 at the John Anson Ford Theater. Check the great lineup and listen to clips of the artists here.