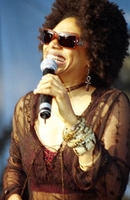 Thurs.-Sun. May 7-10 -- Rachelle Ferrell's voice is both a virtuoso instrument and a conveyor of deep, personal emotion and soul -- a combination you will find almost nowhere else. She's been making a living singing standards, but I hope she includes some of her great originals. No joke, she will kick your ass. At Catalina Bar & Grill, 6725 Sunset Blvd., Hollywood 90028; 8 & 10pm; $25-$40, with a special Mother's Day brunch at 12:30pm for $57 sponsored by Patrón tequila (ding-a-ling); (323) 466-2210; www.catalinajazzclub.com.
Fri. May 8 -- Larry Karush is a self-invented piano virtuoso, and I don't use the term lightly. He'll play his own compositions, reinvent standards and improvise in the company of flutist Danilo Lozano and percussionists Randy Gloss and Brad Dutz. A special show. At Boston Court Performing Arts Center, 70 N. Mentor Ave., Pasadena 91106; 8:30pm; $20; (626) 683-6883; www.bostoncourt.com.
Sat. May 9 -- The bookers of the Eclectic Stage at the South Pasadena Eclectic Music Festival & Art Walk have assembled quite a lineup: Stan Ridgway (9pm), I See Hawks in L.A. (8pm), USC Early Music Ensemble (7pm), Double Naught Spy Car (6pm), keyboard Mother Don Preston (5pm) and the trio of raga improviser Zach Harmon (4pm). Severin Browne and many others on nearby stages, too. At South Pasadena Music Center and Conservatory, 1509 Mission St., South Pasadena 91030; 8pm; free parking behind; (626) 403-2300; www.southpaschamber.com; FREE (wha?).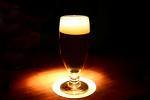 Sat. May 9 -- Craft Beer Fest presents 26 artisanal California brews, exotic bar snacks, beer panels and local bands. Cover includes everything; proceeds benefit Dave Eggers' writing workshop for children, who could learn the source of literary inspiration right here if they were allowed inside. At the EchoPlex, 1154 Glendale Blvd., Echo Park 90026; 2-9pm; $30; www.attheecho.com.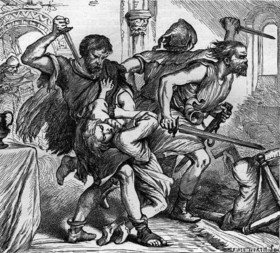 Sat.-Sun. May 9-10 -- The metal extravaganza Murderfest headlines Dying Fetus on Saturday and the return of EyeHateGod on Sunday. At the Knitting Factory, 7021 Hollywood Blvd., Hollywood 90028; starts 2pm Saturday, 1pm Sunday; $35 per day; http://la.knittingfactory.com.
Sun. May 10 -- Happy birthday, Richard Meltzer. Read an excerpt from the unpublished next novel by American literature's great contrarian here.
Wed. May 13 -- I quote Dub Club DJ Tom Chasteen: "Upstairs in the Echo there will be 2 acts: Fools Gold (local Afrobeat heroes) and Extra Golden (Thrill Jockey recording artists who fuse a unique blend of Kenyan Benga music with American rock). Downstairs in the Echoplex, the opening act will be Youssoupha Sidibe, a traditionally trained kora player from Senegal whose music is a hybrid of African and dub sounds; the headliner will be reggae legends The Meditations, one of the premier harmony trio vocal groups in roots music, who are still going strong with all original members. The audience will be able to walk between the 2 rooms all night, the Dub Club DJs will be spinning, and it should make for a very memorable evening of music and culture." Enter at the EchoPlex, 1154 Glendale Blvd., Echo Park 90026; 9pm; $15 ($10 before 10pm); (213) 413-8200; www.atthecho.com.
Thurs. May 14 -- The exceptional new Modern Jazz Series continues with the quartet of jammin' pianist Otmaro Ruiz, featuring bassist Greg Swiller, drummer Jimmy Branly and saxist Ben Wendel; pianist-singer Catina Deluna opens. At Whitefire Theater, 13500 Ventura Blvd., Sherman Oaks 91423; 8pm; $20; click here.
Thurs. May 14 -- Fusioning/jamming bigsters Ohm and Umphrey's McGee have fused to form OhmPhrey, featuring Chris Poland and Robertino Pagliari of the former, and Jake Cinninger, Joel Cummins and Kris Myer of the latter. They've got a new album coming May 19 (check out its heft, rumble and lyricism here); their set falls midway between those of Big Light and North Indiana All Stars. At the Roxy, 9009 Sunset Blvd., West Hollywood; 9:30pm; $16.50; (310) 278-9457; www.ticketmaster.com.
Read Brick's Picks in LA Weekly here and Don Heckman's picks here.
It's okay to start getting excited about this year's Angel City Jazz Fest, September 9 at the John Anson Ford Theater. Check the great lineup and listen to clips of the artists here.