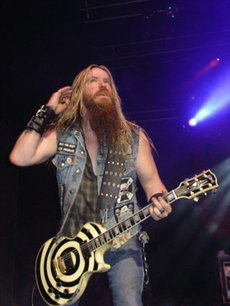 The heaviest mother in metal introduced his set with a recording of Patsy Cline bleeding the classic weeper "Crazy." Which was written by Willie Nelson. Who is a country outlaw. Who sits around with his friends smoking weed and drinking Jack Daniel's. Which has a black label. It's kind of like a Black Label Society.
All right, that's my link. You could also say that beneath Zakk Wylde's biker vest beats the heart of a brokenhearted cowgirl. Or that he's got a song called "Crazy or High." Or that he's crazy for loving us, and vice versa. Or that he's the funniest man in music as well as one of the most musically diverse -- metalman, sh*tkicker, balladeer, fusionist. Mr. Wylde is a complicated dude.
But when Zakk finishes a BLS set, complications are the last thing on your mind. You just feel you've been crushed like a bug by this monolithic talent. You're only waiting for the janitor to come along and hose you into the sewer.
This was the fifth time I've experienced the live Society, so the situation was familiar. Many fans arrived in the official Black Label attire, some of them unrepentant assholes -- the downside of offering nominal "membership" to anybody with a credit card.
The music was familiar, too -- even the songs I didn't recognize reeked with Wyldeness. For Black Label Society, Zakk has a formula of riff-rockers and soulful dirges. If they sound similar, it's not a problem: The riffs rule, the solos are insane, and Zakk's voice pours forth with gruff ease up and down the scale. He plays behind his back and with his tongue because he can; he thought it was fun when he saw such as a kid, and it's still fun, like the pyro jets that flamed up periodically with eyebrow-scorching heat, penetrating all the way to the back of this inappropriately beautiful Art Deco palace.
Of course Zakk, behind Craig Nunenmacher's mole-cudgeling beat, cranked up the rockers, like the gallumphing "Junkies on Genocide," the country-tinged "The Blessed Hellride" and the sludgy Alice in Chains-influenced "Stillborn." And of course he moaned the mournful Dimebag Darrell tribute "In This River," with which he scored a surprise hit in 2005. (Zakk had been heading in a more reflective direction even before the December 2004 murder of Dime with the release of "Hangover Music" earlier the same year; fans carped about too many ballads on 2006's "Shot to Hell.") But Zakk's midset segment on piano, commencing with "Damage Is Done" from "Hangover," really turned on the light -- he tossed off impressive key flourishes and sang like a born-again beat-again teenage dawg as he settled behind an electric 88 draped with a BLS banner. Good vocal harmonies from bassist J.D. DeServio, too, and second guitarist Nick Catanese got to shoot off some skyrocket solo work for a change.
Zakk crossed himself and kissed the sky a lot. He star-spangled the place. He bro-hugged his bandmates. It was hog & cog, log & Magog. It was gnash & gash, passion trash. It was polluted coots & looted roots.
The encore chants of "B-L-S!" sounded like anti-Lakers crowds in other cities demanding "Beat L.A.!" And really, that's what Zakk did -- he beat us. Even though he lives somewhere around here. So he beat himself, too. If he was sober, it didn't matter.
* * *
Read my review of Black Label Society's new "Skullage" here.