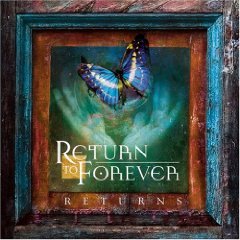 Return to Forever, "Returns" (Eagle)
My expectations were low, cuz reunions of circa-1970 Miles orbiters tend to be wanky. And not in the good ole way, like coked to the gills, loaded with notions and busting with rockdick energy. More like ommmmmmmcleeeeeeeeearzzzzzzzzz. So imagine my disappointment when I failed to hate a single minute of the double-disc album assembled from last year's tour by Chick Corea, Lenny White, Stanley Clarke and Al DiMeola, who had not been known as Return to Forever for the previous quarter-century.
These old soldiers were plainly delighted to lock shields again, and for good reason, because you find this kind of ensemble magic almost nowhere. Though they tap mostly the hits of their late'-'70s glory days, RTF aren't "falling back" on the past; they sound as spontaneous as if they just wrote the tunes, and as tight as if they've been touring 'em for years. The performances, in fact, sizzle so hard that I assumed the gang must've recorded every show and picked the best, but scrutiny reveals that the 15 tracks were drawn from only three gigs.
Corea's keyboards and DiMeola's guitar show a special affinity -- the gamboling fast unisons on "Romantic Warrior," the aggro counterpunches on "Hymn of the Seventh Galaxy," the dual leads on "Sorceress" that make for an effect like random echo. Corea dishes out his full historical vocabulary, from Monk to funk, as well as his full sonic bag, from crisp semiacoustic to talking wah. On electric and acoustic, DiMeola gets the crowds screaming for his speed and sighing for his Spanish subtlety.
The scariest solos belong to Clarke, who works out on both rubber-bullet electric and amazingly precise, sometimes dissonant standup -- even poking us in the ribs during "El Bayo de Negro" when he grinds suddenly from long-tone vibrato and rapid pizzicato to a fatback Willie Dixon duh-DAH-doo-dat, and then takes off hyperslapping like Moe Stooge in fast-forward. It couldn't hang together, of course, without White's unobtrusively heavy slog. Just focus on him during the wide-wandering "Duel of the Jester and the Tyrant": He guides the mood from sci-fi wonder to perky counterpoint to gypsy caravan, pumping the groove with ever greater urgency while allowing himself just a touch of counteraccent elasticity. Genius.
The music isn't crazy, but it's emotional. And confident, powerful. Middle is a good age.
This reviews the CD; the DVD just came out. Read Brendan Mullen's 2008 live MetalJazz review of Return to Forever here.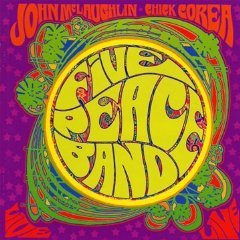 John McLaughlin-Chick Corea Five Peace Band, "Live" (Concord)
Chick Corea had enough coal in his furnace to undertake another tour last year with another band, from which he got another double live record. If it doesn't measure up to RTF's, it nevertheless has its moments.
The best plants here have the oldest roots. "In a Silent Way/It's About That Time" flashes back to Corea's first collaboration with John McLaughlin in service to Miles Davis in 1969: McLaughlin's guitar maintains the original's spacy raga fantasia (and he's in tune now); Corea and guest Herbie Hancock sound like two hemispheres of the same keyboard brain as they chug through the pushy main riff. And Corea's expansive arrangement of Jackie McLean's "Dr. Jackle" makes for an unexpectedly true tribute to '50s blues and bop.
Most of the rest, including a couple of newly written tunes on Disc 1, meanders with pretty niceness, good if you want a nap. The low octane is no reflection on drummer Vinnie Colaiuta (keeping constant motion on a whappingly tuned kit) or on bassist Christian McBride (whose electric and acoustic mastery often challenges that of The Great Clarke Himself). And Kenny Garrett's saxes repeatedly provide the album's dirtiest, ballsiest and most dissonant crank injections.
No, I must report that the laggard is Mahavishnu John. His heavily phased and echoed guitar sound makes you think he's about to launch into "Crazy on You" by Heart, which is the wrong kind of nostalgia. Worse, though, he just sounds uncommitted, even when he's ripping really fast. Probably he considers this fushion sh*t old hat, and 10 years ago (even 20) he would have been right. "The only thing I gave to the creation of the band," McLaughlin grudges in the booklet notes while bestowing the obligatory smooch upon Chick's gluteus, "was its name!" And the name ain't much of a credit.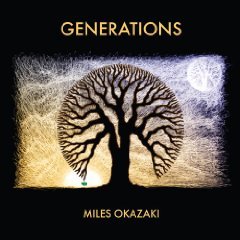 Miles Okazaki, "Generations" (Sunnyside)
Freshness is the rarest commodity in an info-saturated world. Steve Coleman's guitarist has it; see if you can figure out where he grabbed it.
Gotta have a versatile drummer -- Okazaki finds gold in Dan Weiss, who's recorded with Rudresh Mahanthappa, Rez Abbasi, David Binney and Okazaki himself. Bassist Jon Flaugher has no problem with his role: Anchor things and don't crowd.
The artful strangeness asserts itself with the rest of the instrumentation, gathered from previous associates: Three alto saxes (Binney, Miguel Zenón and Christof Knoche) and vocalist Jen Shyu share the front line with Okazaki's wiry electric guitar. Five instruments in such a narrow range would cause congestion if not for the way Okazaki arranges. The saxes play simple riffs in harmony, hang together for gauzy sustained chords, solo one at a time, or improvise spare fugues together. Shyu interweaves abstract syllables, or pairs lines with a sax or the guitar. The guitar is the wild card -- smearing chords with the volume knob, tangling silken threads, soloing cleanly with technique that can range from Jim Hall post-bop to severe angularity to precise triple-picking, all within the space of half a minute ("Ghosts").
The impression is one of lightness, constant motion, easy/quirky rhythm; the message is that energy and intelligence can complement a certain sadness. Lessons from Henry Threadgill, John Zorn, Abbey Lincoln and João Gilberto peek through unassertively; Okazaki has created his own aesthetic. Few can do that and keep you listening; he can.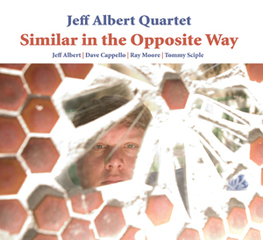 Jeff Albert Quartet, "Similar in the Opposite Way" (Fora Sound)
Ornette Coleman is from East Texas, which is next to Louisiana, which is where his drummer Ed Blackwell was from. Jeff Albert is from Louisiana, too, and he plainly digs Ornette. How natural music can be.
Albert is the Don Cherry in this quartet, except Albert plays spontaneous trombone instead of trumpet. The Ornette is alto man Ray Moore, who sports a Colemanlike tone and a kindred way of bending notes. The Blackwell is drummer Dave Cappello, though he plays straight more often -- nice lagging groove. The Charlie Haden is bassist Tommy Sciple, a punchy prodder.
And they swing. Whether waltzing ("Folk Song"), start-stopping ("Chalk & Chocolate"), rushing-bumbling ("I Was Just Looking for My Pants") or dirging ("Subtle Flower"), the Albert Quartet stroll along with congenial grace. Which is another attitude they have in common with Coleman, especially early O: a feeling of warm humanity. It's a Southern thing.