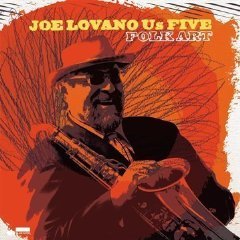 Joe Lovano Five, "Folk Art" (Blue Note)
To hear Joe Lovano play sax these days, you wouldn't think it was tough. His ideas seem to spill out like warm water out of a jug, dripping over your ears and down your chest and wherever, a physical stream with endless natural varieties of density and color, full of surprises yet familiar as an old friend.
Hearing Lovano alongside younger musicians, though, emphasizes the experience it takes to acquire that kind of ease and spontaneity. The discrepancy is what makes "Folk Art" a pretty lopsided record.
Lovano isn't shy about his own influences. We hear him slurring and swinging from the hip like Archie Shepp on "Powerhouse," bending and shading like Ornette on tenor alongside James Weidman's shambling piano round on the 10-minute title track, and jaunting freely Ornette-style on "Dibango." To saddle up with Coltrane is second nature, and Lovano visits Trane's free-and-peaceful side on "Wild Beauty," his blue-improv side on "Drum Song," and his open, melodic side (contrasting structure with loose jamming) on "Page 4." Working out on tenor, alto, tarogato and aulochrome ("a double soprano saxophone with one keyboard down the center"), Lovano never fails to tap the flowing source of life.
Individually. His band, though, rarely does more than support him. And with both Otis Brown III and Francisco Mela teamed up on various drums, things oughta get stirred up more often. The most adventurous track is "Us Five," which stop-starts, steps into a quick Latinish groove and leaves space for Lovano to blow masterful runs with just a touch of squeal and indulge in a little bebop clown-horning; bassist Esperanza Spalding has a rare standout turn as she wriggles in and out of the rhythm in her solo.
I liked this record best when I was paying least attention to it. Which is not always a bad thing. It sounds as if this group went for spontaneity on their first outing; next time I bet the popcorn will pop.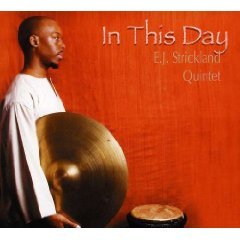 E.J. Strickland, "In This Day" (Strick Muzik)
Write what you know, they say, and E.J. Strickland (drummer for Ravi Coltrane, Marcus Strickland, Russell Malone) knows he's making his first album as a leader. The titles say it: "Find Myself," "New Beginnings," "Abandoned Discovery," "Wrong Turn," "Illusions." The music, with its aura of getting off the bus in a strange town, says it too.
Strickland ain't lost, he's just surveying the territory, a task he undertakes with brisk energy. Alto saxist Jaleel Shaw is his eyes, sweeping around in quick, perceptive circles. Tenor saxist Marcus Strickland is his brain, tripping along with the adventure but putting up a strong front and breaking up the momentum to allow experience a guiding hand.
Even though Strickland's hustling grooves and the saxes' clean melodic structures dominate the record's timescape, they don't make the strongest impression. For that you need a heart, which beats deepest when the congas of Pedro Martinez join the party. Traps and slaps get together on "Asante (For the Tribes of Ghana)," a low rumble aggravated into hair-raising action by Shaw's confrontational alto. Horns vacillate between uncertainty and optimism on "New Beginnings," but its prelude and its main beat ignore all obstacles in favor of pure Pedrito-E.J. rhythmic cookery, the same African foundation that makes the sweet-tart flute of Tia Fuller coalesce so nicely with Hans Glawischnig's open-ended bass on "Illusions." I'd like to hear a whole album of jams featuring Strickland, Martinez and a bunch of low-strung Moroccan gimbris.
The album's other highlight is a genuinely pretty ballad, "Find Myself," gently roused by E.J.'s restrained brushes and delivered via his brother's simple, emotional tenor; Glawischnig's staggered bass provides unexpected forward motion. Luis Perdomo's Wurlitzer decorates the spaces throughout; a couple of Cheray O'Neal's self-narrated poems break things up with positive thinking and a strange undercurrent of doom. Ravi Coltrane's production is so clean, you can see the future in it.
Where are we going? Not sure. But we ain't dawdling.