Fri. June 12 -- Happy birthday, Belle.
Fri. June 12 -- World Stage Stories presents the great flutist and composer James Newton. The L.A. avant would hardly have kept its engine idling into the '80s without this guy; currently he conducts the amazing Luckman Jazz Orchestra at Cal State L.A. Hear him talk. At the World Stage, 4344 Degnan Blvd., Leimert Park 90008; 8pm; $10.
Sat. June 13 -- Fine mainstream jazz with eddies of adventure from the quartet of Matt Otto (tenor sax), Andy Langham (piano), the always technically intriguing Edwin Livingston (bass) and full-thumpin' drummer Lorca Hart. At Spazio, 14755 Ventura Blvd., Sherman Oaks 91403; (818) 728-8400; www.spazio.la.
Sat. June 13 -- Cool out with the trio of trumpeter Elliott Caine, featuring pianist Gary Blumer and bassist Peter Marshall. At Left Coast Wine Bar, 117 E. Harvard St., Glendale 91205; 8:30pm-12:30am; no cover; (818) 507-7011.
Sun. June 14 -- Extreme vocalist Bonnie Barnett is famous for her Group Hums, where random humans including you get together in appropriate spaces and reweave the fabric of reality. At Sea and Space Explorations, 4755 York Blvd., LA 90042; 2:30-4pm; (323) 445-4015.


Sun. June 14 -- I just found out from the Wiki entry of guitarist's guitarist George Lynch (Dokken, Lynch Mob) that he was born in Spokane, Washington (where I went to college) and raised in Auburn (five miles from my folks' Federal Way house, in Western Washington). Now he's got an art series featuring canvases with his pic and physical handprints on 'em, and I don't. Lynch's band Souls of We features singer London LeGrand (Brides of Destruction), bassist Johnny Chow (Fireball Ministry) and drummer Jordan Mancino (As I Lay Dying). It will rock hard. At the Knitting Factory, 7021 Hollywood Blvd., Hollywood 90028; after 9pm probably; $16; http://la.knittingfactory.com.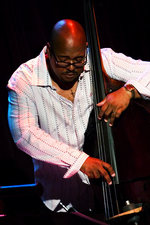 Wed.-Sat. June 17-20 -- The busiest bassist in jazz (cuz he's the best), Christian McBride assembles the touring version of his new Inside Straight ensemble: superb saxist Steve Wilson, vibesman Warren Wolf Jr., pianist Peter Martin and drummer Ulysses Owens. Their new album, out Tuesday, is "Kind of Brown." Expect swingin' intellectual stuff. At Catalina Bar & Grill, 6725 Sunset Blvd., Hollywood 90028; 8 & 10pm; $20-$35; (323) 466-2210; www.catalinajazzclub.com.
Thurs. June 18 -- Throwing her voice to places even Brett Favre couldn't reach: Anna Homler, with longtime cello collaborator Michael Intriere and electroman Jorge Martin. Plus the superintuitive trio of Emily Hay (voice, flute, etc.) Motoko Honda (electrokeys) and Brad Dutz (percodrums) -- read my review here. And singer/violinist Josie Roth. ResBox at Steve Allen Theater, 4773 Hollywood Blvd., Hollywood 90027; 8pm; $10; BYO.

Read Brick's Picks in LA Weekly here and Don Heckman's picks here.
It's okay to start getting excited about this year's Angel City Jazz Fest, September 9 at the John Anson Ford Theater. Check the great lineup and listen to clips of the artists here.