Fri.-Sat. June 26-27 -- The L.A. Jazz Collective link shields to garrison original local jazz; they deserve your support at this, their own personal festival. Friday lines up three groups featuring the fine tenor saxist Matt Otto (who's moving away, dammit): a Tom Waits Tribute, Otto's trio Joeless Shoe, and The Matt Otto Quintet; you'll be seeing a lot of drummer Jason Harnell and bassist Ryan McGillicuddy. Saturday it's the trio of drummer Brian Carmody, the quartet of pianist Gary Fukushima, and Sigmund Fudge (Harnell, McGillicuddy, keysman Joe Bagg and guitarist Jamie Rosenn). At Café Metropol, 923 E. Third St., downtown 90013; 7-10pm; $15 cover ($20 for both nights), $10 minimum; (213) 613-1537; reservations recommended.
Fri. June 26 -- NewTown presents a most intriguing high-concept night highlighting inventors who have created machines that make music (other than guitars and pianos and such). Installations by Jim Bumgardner, CArl Burmeister, Joe Cantrell, Frank Pahl, Joe Potts, Gary Raymond; performances by most of those guys plus the house quartet of Joe Berardi, Lewis Keller, Jessica Catron and Cat Lamb. At Greater L.A. Agency on Deafness, 2222 Laverna Ave., Eagle Rock 90041; installations open 6pm, performances begin 8pm; $10.
Fri. June 26 -- One word: Aretha. At the Hollywood Bowl, 2301 Highland Ave., Hollywood 90068; 8:30pm; (323) 850-2000; www.hollywoodbowl.com.
Fri.-Sun. June 25-28 -- Line up with every jazz guitarist in town to pay homage to Kenny Burrell. At Catalina Bar & Grill, 6725 Sunset Blvd., Hollywood 90028; 8 & 10pm; $20-$30; (323) 466-2210; www.catalinajazzclub.com.
Fri. June 26 -- Trumpeter Elliott Caine mixes jazz originals, Latin jazz and standards with his quintet, featuring the effortlessly muscular blowin' of tenor man Carl Randall. At Jax, 339 Brand Blvd., Glendale 91203; 9pm onward; no cover; (818) 500-1604.
Sun. June 28 -- Looks like Emily Hay put this night together, so it's obviously gonna line up the finest local electroacoustic improvisational adventurers, including Hay, Carey Fosse, Motoko Honda, Joe Berardi, Anna Homler, Karlheinz Stockhausen, Pythagorus of Samos . . . At Tribal Café, 1651 W. Temple St. #A, LA 90026; 7pm; $6 minimum; (213) 483-4458; www.tribalcafe.com.
Sun. June 28 -- My colleague Bill Bentley told me his son drums in a metal band, and I'm going that's nice, but then I check out the MySpace page of Statius and discover that they're an absolutely rippin' black-metal outfit, and Wyatt Bentley has a ton o' chops. His old man's a drummer too, y'know. With a buncha bands at Cobalt Café, 22047 Sherman Way, Canoga Park 91303; doors 6:30pm; $8; all ages.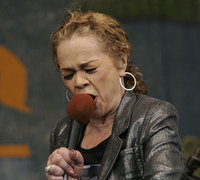 Sun. June 28 -- I guess everybody but me knew that this Adele is a pretty damn good and extremely popular Brit traditional R&B-pop singer, but how anybody under the age of 60 could headline over Etta James is beyond me. A lotta folks will get an education. Janelle Monae opens. At the Hollywood Bowl, 2301 Highland Ave., Hollywood 90068; 7pm; SOLD OUT; (323) 850-2000; www.hollywoodbowl.com. JUST HEARD THAT ETTA JAMES HAS CANCELED DUE TO ILLNESS AND IS BEING REPLACED BY CHAKA KHAN. GET WELL QUICK, MS. JAMES.
Sun. June 28 -- Thelonious Dub wrap up a month of Sunday jazz-reggae trip-outs, with some other bands too I think. At Blue Palms Brew House, 6124 Hollywood Blvd., Hollywood 90028; 7pm onward; no cover; (323) 464-3227; www.bluepalmsbrewhouse.com.
Mon. June 29 -- The Honorable DHC does a solo acoustic thing, puttin' the hook on that country-folk-blues thing. Also on the bill, Dogweed and Rosa Pullman. At Cinema Bar, 3967 Sepulveda Blvd., Culver City 90036; 8:30pm; free.
Mon. June 29 -- Tim Garland ain't afraid to go outside with his bass clarinet and other winds; highly acclaimed in Britain and a former sideman of Chick Corea and Bill Bruford, he's making inroads here with his Lighthouse Trio, featuring pianist Gwilyym Simcock and percman Asaf Sirkis. At Catalina Bar & Grill, 6725 Sunset Blvd., Hollywood 90028; 8 & 10pm; $15; (323) 466-2210; www.catalinajazzclub.com.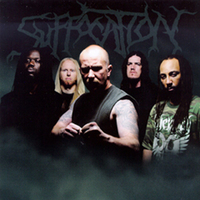 Tues. June 30 -- No need to wait for global extinction; death is here with the all-out metal Summer Slaughter Tour, featuring Necrophagist, Suffocation, Ensiferum, Darkest Hour, Winds of Plague, Dying Fetus and a bunch more. For a limited time, Suffocation are streaming their whole new "Blood Oath" album on their MySpace page, and I can't turn it off -- lotta angles shooting and lurching in all directions but held in a powerful balance of squealing, darkening doom, really satisfies my metaljazz jones. The latest by Darkest Hour, "The Eternal Return," is a good'un too, focusing into a concise zone of jagged-edged post-thrash. Winds of Plague got a new prog-epic release coming in August. At House of Blues, 8430 Sunset Blvd., West Hollywood 90069; 7pm; $22.50; (323) 848-5800; www.ticketmaster.com.
Wed.-Fri. July 1-3 -- Drummer's drummer, king of fusion, all-around musical ear: Steve Smith & Vital Information. Band currently features Tom Coster (keyboard), Baron Browne (bass) and Vinny Valentino (guitar). At Catalina Bar & Grill, 6725 Sunset Blvd., Hollywood 90028; 8 & 10pm; $20-$25; (323) 466-2210; www.catalinajazzclub.com.
***RIP Sky Saxon. You were as crazy as Jacko and as sick as Farrah, but didn't get as much attention, not that you didn't try. My favorite Seeds song: "Can't Seem To Make You Mine" -- downright twisted sleazy squirmy pants-too-tight caterwauling. I played piano with you once at the Orpheum in 1977. And I do not play piano.
Read Brick's Picks in LA Weekly here and Don Heckman's picks here.
It's okay to start getting excited about this year's Angel City Jazz Fest, September 9 at the John Anson Ford Theater. Check the great lineup and listen to clips of the artists here.