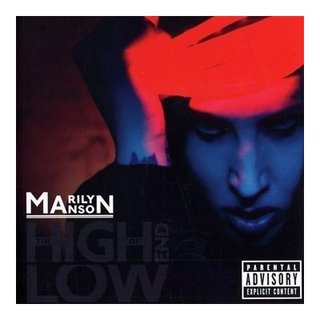 Humans listen to Marilyn Manson with emotions more than with ears. A poet, an actor and a visualizer as much as a musician, he invites that. But the compound personality generates responses that bounce all over the place. One fan digs "The High End of Low" because the pissed-off lyrics remind him of "Antichrist Superstar"; another one hates it because it doesn't have good tunes like on "Mechanical Animals." Some pussy wants Manson to grow up; some dick wants him to be a child. What Manson wants is not always clear.
Now that "High End" has been out a month, I figure the time has come to write about it. It's not the kind of album that grabs -- more of a mood thing. Makes me wish I were depressed. (Ain't.)
In its slowness, its repetition, its steadiness, even its title, "High" recalls Nine Inch Nails' "The Downward Spiral" more than any previous record by Manson himself. No surprise given Manson's current crew: The Man has admired the Nails for 20 years; knobsman Sean Bevan has labored on both artists' recordings (including "Spiral"); keyboardist/programmer Chris Vrenna tours with NiN. Despite all the jizz over bassist-guitarist Twiggy Ramirez's reunion with Manson after a six-year split, the Twig personality doesn't dominate.
But then, not much pokes its head out of this murk. The feeling is like riding a conveyor belt on some dark disassembly line in company with Joy Division ("Pretty as a $"), "Heaven's Door"-era acoustic Dylan ("Running to the Edge of the World") and, because of the persistent aura of emotional exhaustion and drug struggle, "Plastic Ono Band"-era John Lennon. Despite the 1994-specific soundscape, the record's source material loads considerable variety: We get zombie disco ("Wow"), industrialized Deep Purple crank-up ("We're From America") and even smokestack Strauss ("I Have To Look Up Just To See Hell").
Ramirez's simple guitar parts make for welcome distractions on the album's most memorable few tracks. An Allman Brothers-style acoustic pluck provides ingenious counterpoint to the deadly thump and twittering noise of "Four Rented Horses." The elemental riffs in the long setup of "I Want To Kill You Like They Do in the Movies" arrive straight outa Ten Years After; its nine minutes of mindless mantra gather into a powerfully smothering embrace that one-ups the Stooges' "We Will Fall."
Manson transmogrifies "Hotel California" for about the third time in his career with "Into the Fire," and continues his tradition of marrying metal crush with Aznavour-Zucchero Euro balladry on one of my favorite tracks, "Unkillable Monster." You want something really familiar? "Arma-godd**m-motherf**ckin-geddon" grafts the future-blues bass line of "The Dope Show" onto the Nazi march-beat of "The Beautiful People."
Once again: While my rundown makes "High" sound like an eclecto-fest, the production and tempo unify this carefully constructed opus. If you've got a continuous 70 minutes, that's the way to listen.
Manson always wrings every drop from his torn vocal cords, and "High" makes no exception; he's burned and determined. The lyrics reveal motivations of spite, pain, love -- and hatred, both for Woman and for himself. Sometimes his couplets echo past wordplays too closely: "You're not afraid of getting hurt/And I'm not afraid of how much I hurt you." But most of the time his bitterness rings resonant, even funny: "Everyone will come to my funeral to make sure that I'm dead." He comes across as someone you'd want to know. But not live with.
I would've liked to hear more freedom from Ginger Fish, whose drums have contributed such rhythmic depth to every Manson effort. But this isn't that kind of album. And several of the songs could have stood more development. But it's not that kind of album, either. It's an album to roll with, drink with, soak up and pass out to. You feeling bad? At least you're feeling.