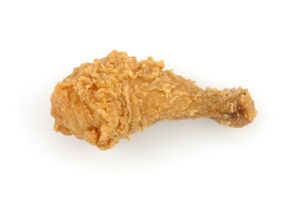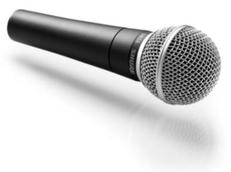 Dudes are easier to please when it comes to food. Not undiscriminating, just more satisfied with the basics. My wife, now, insists on sophistication and then doesn't eat anything. But our friend Mr. M. knows that all barbecue comes from God, who rarely ruins it even on His lesser days. And before seeing the dub documentary, Mr. M. and I want barbecue.
Not too much parking in the trashed east-of-Hollywood neighborhood around Territory BBQ & Vinyl, 534 N. Hoover St. 90004, but manageable. Can we smell it two blocks away? Of course. Walk up; there's a counter in front, and in back a patio with a few tables, separated from the sidewalk by an open lattice. Small-town simplicity. Menu on a chalkboard, not the same every day: pork ribs, fried chicken, catfish, chopped brisket; dinner including kandy-kolored soda under $15.
A smiling young goddess with flower tattoos all over her arms takes our orders. It's my second time there, so I know the potato salad is ace, and I add a side of magenta pickled eggs to my kinda small catfish po' boy sandwich, which turns out to be properly extra-crispy and armed with a spicy mini-cup of what looks like Thousand Island but sure ain't. Mr. M. gets the chopped brisket -- bland but chewier than what I had before, served with Wonder bread -- and slaw pulverized so fine it looks like horseradish.
It's all more than serviceable. I always sample whatever hot sauce is lurking -- the house one is too sweet, but they've got a darker, pepperier squeeze-bottle that rocks. With the brisket, you'll want to ask for extra BBQ sauce, undistinctively tangy but you won't leave any behind.
While we're waiting on the patio, up strolls Carlos Niño along with his son, who must be about 8 now. With the protection of his big ol' beard, Carlos deejays on KPFK, deejays clubs, produces jazz and trip-hop records, mines plutonium on Pluto itself. For broadcast consideration, Mr. M. tells Carlos about his in-store book reading, and Carlos radiates his usual vibe of universal positivity. You can keep my pen, Carlos.
Three Southern expatriates lounge at the next table quelling their barbecue jones; one of them had been consigned as a youth to the nasty military academy in the very Georgia town where Mr. M. grew up. The Dixians have fried chicken coming at 'em, and it looks perfect, with a DARK brown jagged crust you could use to scrape barnacles off your hull. Getting that texture requires HOT oil, bro, just like they used on the catfish. Health food, y'know. The pork ribs are a messy edible red, but I don't eat those, cuz pigs are family.
The Territory vinyl shop around the corner is big enough to swing a dead skunk, but not a dead snake. Cheerful neo-hippies usually slouch behind the counter, and today is no exception -- this music-loving gent says he used to master CDs for Rhino, and is less than thrilled with the label's new Emmitt Rhodes reissue. He's spinning a Rhodes LP right now, and it settles well among the '60s/'70s/'80s mostly rock selections that fill the bins; I've never seen a music store with a lower percentage of crap. (Territory's founders include the singer of Bad Wizard and the former head of a stoner record label, so it's not just a job to them.) I pick up original gatefolds (protected by plastic sleeves) of Deep Purple's "In Rock" and "Fireball," plus the soundtrack to "The Warriors." Mr. M., after discovering he has several musical acquaintances in common with the counter guy, snags a double album of Blue Note Hammond organ. There's T. Rex, Delaney & Bonnie, lotsa Byrds; prices generally float well under $10. Good store, good people. Maybe they'll get a phone one of these days.
The chairs in the subterranean EchoPlex are almost empty at 9pm when "Return of the Rub-a-Dub Style is scheduled to screen, and all filled when it actually does at 9:30. (Knowledgeable clientele.)
This is a real homegrown L.A. product, directed by music-video maker Steve Hanft and produced by Tom Chasteen, lead selector at the Echo's Wednesday Dub Club nights. "Return" combines perspectives on how rub-a-dub toasting -- a DJ (vocalist) rapping/singing over a rhythm track -- started in the 1960s with the likes of U-Roy and branched out to include many of the interviewees, who were conveniently available to talk (sometimes in the cab from the airport) because they were booked for a Dub Club show. So we hear from performers such as Brigadier Jerry and Sister Nancy, from Dub Club hosts such as Eddie Ruscha and Jason Mason, from dub innovator Scientist, from clubgoers and plenty more. Luckily for us, given the challenge of Jamaican-accented English, the filmmakers do not stint on the subtitles.
The most remarkable thing about "Return" is the live music. The vocalists' widely varying styles prove no obstacle to presenting a unified listening/viewing experience: Over a period of five years, Hanft and Chasteen filmed on one familiar stage with consistent attention to loud and clear sound recording, and the editing is so tight that it sometimes seems as if several different singers are performing different verses of the same song in the same key.
Why does "Return" succeed as a music documentary? Because it's made like music.

"Return of the Rub-a-Dub Style" comes out on DVD in August, with accompanying soundtrack CD.