Fri. July 24 -- The Bad Plus have been trying to sell out for years, but they're just too creative, and whenever these three explosive/inspired Midwestern jazzers mutate another pop standard (by Blondie, Nirvana, Black Sabbath, etc.) or add a female vocalist (as they've done now), it just adds another dimension. After almost a decade, this sort of looks like a career. And our pal Brick Wahl is emceeing. At Grand Performances in California Plaza, 350 S. Grand Ave., downtown 90071; noon & 8pm; FREE, but they pass the hat.
Sat.-Sun. July 25-26 -- This year's Central Avenue Jazz Fest closes Saturday with vet singer Bill Henderson at 5:15 and finishes big on Sunday with Kamasi Washington (2:30), The Gerald Wilson Orchestra (3:55) and Jazz on the Latin Side All-Stars (5:30). Our community. Central Avenue at 42nd Street; FREE; www.centralavejazz.com.
Thurs. July 30 -- L.A.'s own Angus Khan rock their vintage biker sleaze; no prisoners taken. Read my review of their new album here. At the Echo, 1822 Sunset Blvd., Echo Park 90023; around 10:30pm I'm guessing; $5; 18+; (213) 413-8200; www.atthecho.com.

Thurs. July 30 -- The three (four?) dudes and one chick of Montreal's The Agonist put together a remarkably orchestral and rhythmically sophisticated metal noise. Read my review of their latest record here. This little bar is an odd venue for them, and the gig is listed on the band's MySpace page but not on the club's lagging calendar, so call ahead. At the Scene, 816 E. Colorado St., Glendale 91205; (818) 241-7029; www.thescenebar.com.
Thurs. July 30 -- "When Will the Blues Leave?" asked Ornette Coleman some 50 years ago, and it ain't happened yet; applying the blue tourniquet to what ails us are the singin' and jammin likes of Dave Gleason, The Honorable DHC, Rosa Pullman et al. At the Redwood Bar & Grill, 316 W. Second St., downtown; (310) 245-0273; www.theredwoodbar.com.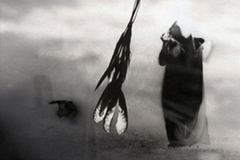 Thurs.-Sat. July 30-Aug. 1 -- Conceptual art/music, you aesthetes. Video collider Carole Kim projects the images while Oguri does his intense butoh dance thing, Alex Cline orchestrates a galaxy of percussion, and Dan Clucas electronifies his trumpet etc., all in service to the currently resonant myth of Narcissus. And Jennifer the Leopard "aims to fuse feminism and cock-rock" multimedia-style. At REDCAT, 631 W. Second St., downtown 90012; 8:30pm; $18; www.redcat.org.
Read Brick's Picks in LA Weekly here and Don Heckman's picks here.
It's okay to start getting excited about this year's Angel City Jazz Fest, September 9 at the John Anson Ford Theater. Check the great lineup and listen to clips of the artists here.