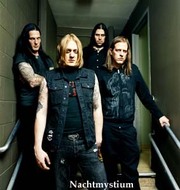 Fri. July 3 -- Can't go much further back into the history of American doom metal than Maryland's Bobby Liebling and Pentagram, in action and destruction since 1971. Out of Chicago, blackened psychedelic thrashers Nachtmystium (pictured) will keep you guessing. What further can I say about L.A.'s Intronaut, surely among the most creative metal abstractionists out there? And Radio Moscow are Midwestern kids revisiting the crude psychelelic wah-wah Sabbathisms of about 1969, and sounding quite authentic. At House of Blues, 8430 Sunset Blvd., West Hollywood 90069; 6:30pm; $22.50; (323) 848-5800; www.ticketmaster.com.
Fri. July 3 -- Pianist Larry Nash is a veteral traditionalist with deep roots and taste; he's got saxist Rickey Woodard, trumpeter Bobby Rodriguez and "an all-star rhythm section," which probably will be an accurate description given the wide-ranging credentials of the leader. At LACMA, 5905 Wilshire Blvd., LA 90036; 6-8pm; FREE.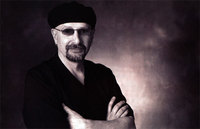 Fri. July 3 -- Drummer's drummer, king of fusion, all-around musical ear: Steve Smith & Vital Information wrap up their stand. Band currently features Tom Coster (keyboard), Baron Browne (bass) and Vinny Valentino (guitar). At Catalina Bar & Grill, 6725 Sunset Blvd., Hollywood 90028; 8 & 10pm; $25; (323) 466-2210; www.catalinajazzclub.com.
Fri. July 3 -- Poet Dottie Grossman calls; trombonist Michael Vlatkovich responds, and it's beat, bro. With the ragin' trio of electric guitarist Tom McNalley. A natural. At the Museum of Neon Art, 136 W. Fourth St., downtown 90013; 8pm; $10; (213) 489-9918; www.neonmona.org.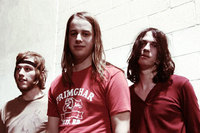 Sat. July 4 -- Local doomsters Ancestors and young pschegoomsters Radio Moscow (pictured; see above) gather with a bunch of other heavy bands for a Tee Pee Records barbecue smokeout. At Nomad Gallery, 1993 Blake Ave, L.A. 90039 by the Los Angeles River near the junction of the 5 and 2 freeways; 2pm; all ages; FREE; www.nomadlosangeles.com.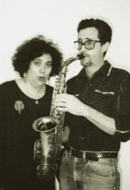 Sun. July 5 -- This edition of The Bonnie Barnett Band features the extreme vocalist plus Richard Wood (winds), Hal Onserud and Ken Filiano (basses), and Garth Powell (drums), performing Barnett's Gertrude Stein epic. And doing a free-improv thing: Shelton Berman Walter, i.e. windman Aram Shelton, cornetist Josh Berman and drummer Weasel Walter; read my review of a recent Weasel record here. At Center for the Arts, 2225 Colorado Blvd., Eagle Rock 90041; 7pm; $10; (626) 795-4989.
Sun. July 5 -- Pure, pure four-part harmony singin' in the folk tradition: Voco, featuring Moira Smiley, Jess Basta, Christine Enns and Jessica Catron on voices and various instruments. Three other acts too. At Echo Curio, 1519 Sunset Blvd., Echo Park 90026; doors 8pm; $5.
Sun. July 5 -- The groovin' strangeness of Thelonious Dub is inhabiting every Sunday night here. At Blue Palms Brew House, 6124 Hollywood Blvd., Hollywood 90028; no cover; (323) 464-3227; wwwbluepalmsbrewhouse.com.
Wed. July 8 -- Volto jams hard and acidy with Tool drummer Danny Carey, Tribal Tech keysman Kirk Covington, Don Henley bassist Lance Morrison and Pigmy Love Circus guitarist John Ziegler. At the Baked Potato, 3787 Cahuenga Blvd. West, Studio City 91604; 9:30 & 11:30pm; $25; (818) 980-1615.
Read Brick's Picks in LA Weekly here and Don Heckman's picks here.
It's okay to start getting excited about this year's Angel City Jazz Fest, September 9 at the John Anson Ford Theater. Check the great lineup and listen to clips of the artists here.