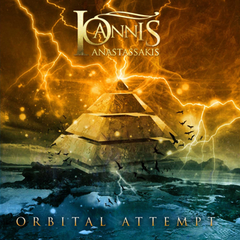 Ioannis Anastassakis, "Orbital Attempt" (Wild Rose Angel)
Amazon.com's 1,352,441st-ranked recording deserves to move up at least a million notches. Having burned the midnight fretboard studying with half the list of Hottest '80s Guitarists (Vinnie Moore, Steve Vai, Frank Gambale, Marty Friedman, Mike Stern, et al.), Ioannis Anastassakis has earned his tech stripes. Not only that, though; he's got something of his own to say.
Sure, there's chugging fist-pump stuff on "Orbital Attempt" that sounds like a Dokken backing track, and that ain't half bad. But when Anastassakis fully indulges himself in whatever feels right, look out. "Weird Thing," for instance, moves from a shreddo introduction into a bumping rhythm that makes you want to knot your shirt above your navel, then grows ever heavier, dissonant even at times, till the party gets disrupted by smoking volcanic fallout and the revelers have to flee (instrumentally) screaming -- a hilarious effect. And on "Progressive Minds," Anastassakis reaches into the closet and yanks out everything he can lay his mitts on: a Balkan Festival Rave-O-Matic, a Derek Sherinian Monster Bridge, a Keith Emerson Imperial Glory Flag, and even an incredible string-bending metal banjo hoedown, all mixed up with key shifts, tempo changes and multiple solos. Download those two tracks and you got 19 minutes of world-fusion circus entertainment for 2 bucks -- watta deal!
Anastassakis' electric pickin' runs slick as a greased eel, often perfectly double- and triple-harmonized. His indispensable partner, keyboardist Bob Katsionis, comps and trades solos using a variety of settings both meaty and attractively cheesy, while also programming the electronic drums, on which he doesn't settle for simple whap-thud but locks in a lot of creative fills, tweaking the individual sounds so you might even like them better than their acoustic templates -- I especially enjoy the strange fuzzy dinging he supplies here and there in lieu of high hat. The whole spacecraft rocks clean and heavy.
Just so you know Anastassakis holds even more impressive acoustic/classical credentials than fusionistic ones, he tosses in "A Mi Madre" and "Veridiana," flamencoid solo pieces that showcase his sensitive pull-offs, vigorous slapping, passionate strumming and intense buzz-picking. When he arrives at the end of "Veridiana," there's applause -- hey, not only was it live, but the audience were DEAD QUIET while Anastassakis played. I'm guessing they actually wanted to hear him; others out there in the galaxy may feel the same.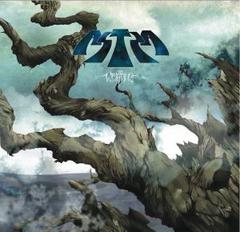 Astra, "The Weirding" (Rise Above)
The only thing wrong with this record is that it wasn't made in 1971. At 79 minutes, it would have been a double LP in that year, and in any off-campus hippie pad inhabited by youths with hair just like these San Diegans', it would have shuffled through the LP rotation right alongside its models -- better than Ultimate Spinach and Hawkwind, almost as good as Pink Floyd and Yes. Praise the Lord and pass the bong.
So what's wrong with locating "The Weirding" in 2009? I guess it's just that the hippies were looking forward, and Astra are looking back. But then, the hippies thought they had something to look forward to.
Such philosophical sh*t should not get in the way of the music. How can I complain, when one of the first sounds I hear is that of an honest-t'-gawd FLUTE? Not a syntho-flute, but one of those shiny metal tubes you gotta blow across the top of, and it's tooted quite nicely by the emeffin' DRUMMER, David Hurley. There's flutter, and echo, and a two-note bass groove from Stuart Sclater, and a Moody Blues Mellotron kneaded by Conor Riley, and harmony guitars from Richard Vaughan and Brad Ellis. They all play simply and well.
Five of the songs range from 9 to 17 minutes, and they are not jams but structured excursions, which means everybody's gotta pay attention. So the most remarkable thing about "The Weirding" is how relaxed it is. Beats bump along like oxen; guitars chime and drift; the sun shines over the mythic kingdom; at the end, we all link arms for a grand procession into the sunset, after which, the lyrics suggest, a horrible doom awaits us in the night. Good thing we're wasted, cuz otherwise our demise would be a hell of a bringdown.
It's clear that Astra have spent many an hour absorbing Pink Floyd's epic 1971 track "Echoes," an influence most noticeable in the languidly sensitive singing, often in two-part harmony. Neopsychedelians could worship at no lordlier altar, but it took Floyd five or six albums to attain that level of melody, coherence and easy dynamism. So if Astra ain't quite there yet on this, their first recording, it's no failure. Let's hope the world lasts long enough to see their second.