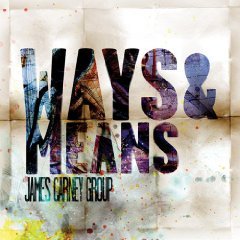 James Carney, "Ways & Means" (Songlines)
How to listen. More than Carney's other four recordings, "Ways & Means" made me consider the right way. The New York pianist-composer keeps giving us more and more to think about -- somebody trying to swallow this as a single work could gag. In truth, what we've got here is about four albums' worth of experience. So I think it's best to take it in chunks.
Carney calls this a virtual film score (movies real and imagined are his specialty), but it's actually several. His seven-man ensemble starts with "Nefarious Notions," Ralph Alessi's trumpet intro establishing the mood of quiet apprehension before we're roused by distinctively sparse horn harmonies, and rhythms that expand and contract like nervous lungs; a fragmented fugue ensues, lightly driven by Mark Ferber's drums; Tony Malaby blurs a nuanced solo into the mix; tension builds; Carney's final low piano note brilliantly undermines everything he's established.
Carney switches from acoustic to creatively effected electric piano in the course of "Squatters," a brokeleg dance open to clouds of improvisation. The electricity gets pushed into realms of synthetic insect devourment on the quick-jammy "Legal Action." And a couple of beautiful tunes lift the album's end: "Fallout" waltzes with Southern high humidity behind Carney's string synth, bassist Chris Lightcap's bowed bass, Josh Roseman's sensual trombone and Peter Epstein's butterfly soprano sax; the wistful "Gargoyles," simply pretty on introduction, develops into a kicky contrapuntal New Orleans picnic that would have delighted its inspiration, the late drummer Dan Morris. Three four-minute group improvisations are hardly filler, as they showcase the sensitive unity of musicians who've been learning one another's minds for many years.
My favorite track: "Onondaga," named after a reservation outside Carney's Syracuse birthplace. It's a melodic semi-drone sprinkled with pianistic spirit dust, gradually growing into a rumble and a sorrowful stroll, Epstein's soprano letting loose with avian pain before Carney's ever-dispersing piano fades over the horizon. True emotion.
James Carney has arrived at a point where he must be acknowledged as one of America's finest abstract musicians, a man with his own path and his own set of tools. Check out his sounds here.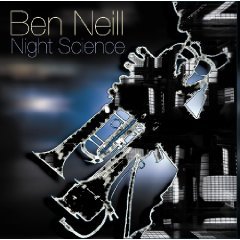 Ben Neill, "Night Science" (Thirsty Ear)
Since Ben Neill has been developing his syntho-charged Mutantrumpet invention for decades, you can't accuse him of being just another plugged-in lonely-horn guy following the skein first spun by '70s Miles Davis and spliced into the '90s and beyond by Nils Petter Molvaer, Erik Truffaz, Cuong Vu and a bunch more. Yet the form has its limitations; Neill's challenge is to do something distinctive with it.
Which he does. Strangely, Neill's individuality doesn't reside primarily in his ultrasimple playing -- though his instrument allows him the unique option of employing two different trumpet voices at the same time, even live. And it doesn't spring from his echoing, panning and other processing, which would sound at home on many another musician's recordings. The main trademark of "Night Science" is the variety and complexity of its beats.
The beats seem to be programmed, which makes their effectiveness all the more remarkable. There's a roots reggae thing on "Futura," a toasting riddim on "Hearthrob," off-accented jazz on "Afterimage," postmodern cha-cha on "Gaugear," hip-hop breakbeat on "Menace Ultimo." Neill doesn't go with a loop-it-and-let-it-roll option, either; the beats drop out dubwise, often for long stretches, allowing interior rhythms to develop out of the melody and bass riffs.
By the way, for jonesers of the low end (count me in), Neill gets a density and bigness from his synthbass that will please the most devout vibrationphile. And if some of the outworldly lines remind you of vintage analog synthesizer, it will come as no surprise that Neill worked out some of his early interface tech with the help of Robert Moog. Neill is spatially creative, too; listeners with surround-sound amps will do well to check out the dimensions Pro-Logic can add. Loud, of course.
The mood of "Night Science" is alienated, opulent, decadent, doped, dark and sometimes evil. This is music, in other words, that faithfully represents its place and time.