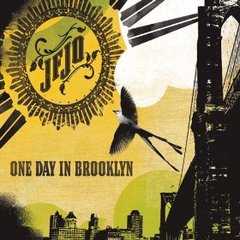 Pianist Brian Haas keeps proving that jazz can both live and be alive. He doesn't constrict his sphincter about its hallowed traditions. He allows all known music to intersect at one time. He likes to mess around and have fun. Which must be why I still think of him as one of the kids, even though he must be pushing 40 and, as propellant of the Oklahoma-born Jacob Fred Jazz Odyssey, has heaped up a quantity of records. Since the Od men this year switched longtime bassist Reed Mathis for Matt Hayes and added Chris Combs on lap steel guitar, you might wonder what's up. Well: same newness, plus color.
The minty-fresh quartet had balls enough to plunk down this six-song, 35-minute "EP" (that used to be the length of an LP) quickly without overdubs, hitting upon an attractive mix of melody and adventure. Haas sounds crisp yet free on acoustic piano, eschewing yesterday's electronifications. And the slide slips in like melted cheddar. On the opening cut, an inventive splice of a couple of Rahsaan Roland Kirk tunes, Combs goes from lamenting Old Ned to zipping around like a mongoose. He locks into loose unison with Haas and spreads cosmic echo over the comet tail of the woozy spring romp "Country Girl," and smears alien goo across the rampaging breakdown with which Haas demolishes the knitbrowed seriosity of "Drehoven" (Dr. Dre plus Ludwig Van).
Hayes' bass assumes a low profile behind the rumbly weight of essential teammate Josh Raymer's drums, which maintain energy without resorting to simple rock thwackery; Raymer guards the word jazz in the band's vocabulary.
Given the personnel restructure, it's appropriate that this "Brooklyn" record highlights a tension between new and old, most artfully expressed on Thelonious Monk's "Four in One." The composition is Monk's transformation of an old-timey feel into a witty modern statement, but JFJO smoothly jam the gears into double-reverse with Raymer's loungy tick-a-boom rhythm and Combs' idyllic Hawaiian guitar. It's kind of like when Bob Dylan sprinkled disjointed and surreal lyrics over the straw-hat music of his "Love and Theft" album -- you're not quite sure what decade you're in. Similarly, the minor-major switchbacks on Abdullah Ibrahim's "Imam" strand you between Arabic complaint and comic perplexity, eventually even getting pretty damn catchy.
The lovely, dramatic cover of the Beatles/Lennon ballad "Julia" approaches its material obliquely yet with the correct measure of respect and understanding. Any mother would be proud.
The record's 6 bucks on Amazon; the band are touring. Buy it and go see 'em.

Jacob Fred Jazz Odyssey play Catalina's on Wednesday, September 9.