Fri. Sept. 18 -- Long Bitchin' this weekend? See "Brian Eno: 77 Million Paintings" at CSULB's Art Museum, then plug into the electronifications of Tom Recchion (assorted old wired junk), Kris Tiner (effected but not affected trumpet) and Mitchell Brown (loopy stuff usually). At Gerald R. Daniel Recital Hall of Cal State University Long Beach; park in Lot 12, Atherton at Palo Verde; 8pm; $5.
Sat. Sept. 19 -- Or perhaps San Pedro? Challenging yet appealing vibesman Nick Mancini invites Cal-cool guitarist Larry Koonse into his cabal with clarinetist John Tegmeyer, pianist Otmaro Ruiz, drummer Nate Wood and bassist Greg Swiller. At Rosalie & Alva's Performance Gallery, 1417 W. Eighth St., San Pedro 90732; 8pm; $20; (310) 833-3281.
Sat. Sept. 19 -- The "Partikel" music series presents post-postmodern laptop/electronic musicians and abstrakt visuals in a comfortable modern theater with drinks available between sets. Tonight it's Nalepa Dub Orchestra, Subversive Element (featuring John Von and Steve Tavaglione), Sequenox and Lack of Sleep, with screen splatter by VJ Synesthete and FOC:EYE. You don't gotta be German. At Goethe Institut, 5750 Wilshire Blvd. Suite 100, Miracle Mile 90036; 8pm; $10; free parking below.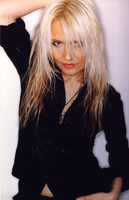 Sun. Sept. 20 -- Doro bangs out that simple German hard rock, knocking you to the floor with her vibrating vocal strength/vulnerability and embracing you before the sword thrust. Her sets have gotta be long to accommodate her many hits, which I hope this time will include the doom-stomping "Night of the Warlock" and the passionate power ballad "Herzblut" from her current "Fear No Evil." At the Key Club, 9039 Sunset Blvd., West Hollywood 90069; doors 6pm with five bands before Doro; $20; 15+; www.keyclub.com; (310) 274-5800.
Sun. Sept. 20 -- Dean Chamberlain does the country-folk-blues thing accompanied by Rosa Pullman and John Christian, the latter of whom, along with Gary Eaton and others, staffs John Ramey & Orchestra, who play next. At Cinema Bar, 3967 Sepulveda Blvd., Culver City 90036; 8:30pm; free but the Stetson will be passed.
Sun. Sept. 20 -- Beloved local vibraphonist Richie Hass died of cancer last year, but the medical bills keep rolling in. An incredible lineup has lined up to throw this benefit for the International Myeloma Foundation: Mike Watt, Sylvia Juncosa, Nels Cline, Jon Wahl, Carnage Asada, Legal Weapon, Bag:Theory. At the Knitting Factory, 7021 Hollywood Blvd., Hollywood 90028; 8pm; $12; http://la.knittingfactory.com.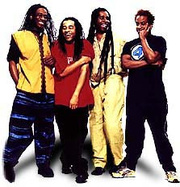 Thurs. Sept. 24 -- Guitarist Vernon Reid's Living Colour return to suggest that their '80s black-hard-rock thing was no fluke. They've just delivered their first new album in five years, from which I sampled "Behind the Sun," whose unusual AC/DC-disco-blues rocks quite beautifully and severely. This is apparently an established lineup of the group, with Corey Glover, Doug Wimbush and Will Calhoun -- an early version featured some jazzers I respect, Geri Allen and Pheeroan akLaff; Reid himself, of course, can blaze like a demon. And I finally bothered to find out why Reid spells Colour with a U: He was born in England though reared in New York. At the Key Club, 9039 Sunset Blvd., West Hollywood 90069; doors 8pm with three bands opening; $23; 15+; www.keyclub.com; (310) 274-5800.

Read Brick's Picks in LA Weekly here and Don Heckman's picks here.