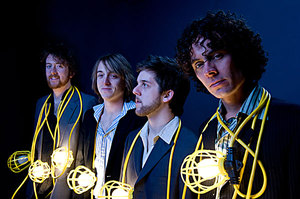 Here we are, settling in for a set of post-traditional piano jazz from Jacob Fred Jazz Odyssey, when three non-pianists looking like refugees from an Amsterdam ganja bar take the stage to the announcement, "Please welcome the Eartha Austria Trio!" Did I mangle my calendar? (Not impossible.) No, we are soon informed that we are witnessing an opening act at Catalina's "for the first time in history," i.e. over 25 years. And these experienced locals earn their pie.
Behind the drums, the beefy cragster with the bushy ponytail turns out to be none other than Chris Garcia, who has jacked up the expressions of Quarteto Nuevo, Continuum, Alex Cline, Vinny Golia, the Grande Mothers, Dottie Grossman and your uncle the bartender. (And he credits Sab tubsman Bill Ward as an influence.) So it's no wonder that even though the trio's fusionistic concept seems to emanate mainly from the electrified stringmen, Garcia draws deferential glances from this younger pair -- Robert Anderson ripping on distorted/effected violin, and Jacob Szekely equally extreme on space-age five-string cello . . . "Don't call it a bass!" admonishes Anderson, defying the fact that Szekely tends to pluck it like a double-B.
The rhythms jerk, lurch and syncopate, yet retain a flow. Anderson's violin complains wah-wise and blares ferocious metal riffs. The cello responds to Szekely's nimble fingers and deft bow work while bleeding stompbox atmosphere. Eartha Austria (I dunno what the name means unless it's got something to do with Ms. Kitt and Joe Zawinul) revive and update 1972 Mahavishnu without stint except for Garcia, who taps more of a 1958 Philly Joe Jones feel, especially during a melodic all-acoustic kit solo. They do Mike Stern's "Play," Josh Redman's (I think) "Jazz Crimes" and a Garcia original. They cook with pure gas, and the crowd yells. They're locals; catch them around town.
Jacob Fred Jazz Odyssey originated in Oklahoma, which is not as improbable as it might seem given the state's paternity of Bob Wills, Jay McShann and Leon Russell -- genre mixers all. This being a release party, JFJO lean on their new "One Day in Brooklyn," and we get to lay peepers on the new band lineup. Bookending the stage are the established members: wide-eyed speed-freak pianist Brian Haas rattling around in a loose Hugo Boss pinstripe suit, and slacker-bearded Josh Raymer poking around the drums. Between them, Aryan youth Matt Hayes looks amazed to be there as he pulls at his standup bass, and in a plaid cowboy shirt, big, unkempt Chris Combs adopts his natural slouch as he settles into a chair with his lap steel guitar, which soon generates sweat spots on his, y'know, lap.
Funny, I never thought of JFJO as a chops band till now, but that's because their records succeed in sounding casual while they pull together some quite amazing combinations. Live, Haas shows why he was originally regarded as a teen prodigy: Flinging hands and elbows high and wide, he attacks the keyboard with possessed inspiration and precision, his rhythms sloshing with Russian passion amid the relaxed framework of Raymer's pattering kitwork. Hayes is a more foundational bassist than his predecessor, Reed Mathis; he's also the author of "David," a flowing ballad that merges into some kind of tango. As the wild card, Combs indeed makes a winning hand out of just about anything as he slides his steel into all the right places, causing high-concept art to blossom into dimensions of color and smoke. Picking him up was a very, very smart choice.
As an added attraction on a torch blues by Beck and on Charles Mingus' dainty Cotton Club pecker "Fables of Faubus," JFJO bring up Annie Ellicott, a Tulsa girl in a black mesh dress and a big red belt to match her lipstick. Doing a little hip-shake, she looks as if she oughta be chewing bubblegum, but turns out to possess a voice that moves easily from rural roughness to powerhouse scatting. And when not singing, she and her girlfriends dance in the audience to inspire the musicians.
The lucky crowd gets hayseed jazz (my wife Deb's term), repackaged Satch, love combat, Mideast intervention, lots more, all living together in some kind of harmony. Closing with wild cadenzas from their Roland Kirk catalog and encoring with a hopping accelerando, JFJO keep the energy high and the customers satisfied. If their unceasing devotion to pastiche emphasizes entertainment over emotion, that's okay, we need that sometimes. (And their records show they can cry some now and then.) May this Odyssey sail on without shipwreck.
Read my review of Jacob Fred Jazz Odyssey's "One Day in Brooklyn" here.