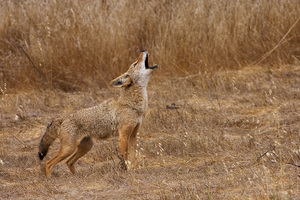 Right out in front of God and everybody. When Los Angeles' lovers of the daring and abstract in improvised music got to enjoy their own outdoor festival for the second year in a row, it felt historically weird. It was kind of like 313 AD, when Constantine issued his edict of religious toleration and Christians stole out of the catacombs to worship in the light of day. It was kind of like 1870, when African-Americans cautiously entered voting booths in the wake of the 15th Amendment. It was kind of like 1978, when the best-looking babe at the party consented to make out with me under a pile of coats. Kind of.
What a location: a virtual movie set backdropped with real trees and infused with real summer air, where you could kick back in the amphitheater with a refreshing Che beer from Angel City Brewing, or step outside for a snack. What a vibe of family love. And what a lineup. Though I was able to catch only half of the 12 sets over a two-day stretch, each one burned permanent memories into my cortex.
The Nels Cline Singers with Jeff Parker were on fire, and the Oakwood kids in the audience headbanged in tribute. The guitars of Cline and Parker bounced off each other with rambunctious glee; the drums and bass of Scott Amendola and Devin Hoff grooved like thundering bison. They toured through a history of snaking, funking, blasting West Coast jazz, from Cline originals through samples of Bobby Bradford, Ornette Coleman and Gabor Szabo, finally joined by Alex Cline and Jim Black (on a world of percussion) and trumpeter Ron Miles (trumpet) for a mud-and-stars thumpdown on Joe Zawinul's "Boogie Woogie Waltz." Hair-raising.
When Bennie Maupin led a sextet in interpreting "Out to Lunch"-era Eric Dolphy compositions, we got a taste of what Dolphy could have achieved in the last year of his life if he'd consistently led his own working band instead of choosing to stoke the furnaces of John Coltrane and Charles Mingus as a sideman. What comes across in Dolphy's extant recordings is the intellectuality; the vision of Maupin (who tore it up on tenor sax, soprano sax and bass clarinet) brought out the sensuality and warmth. Nestor Torres attacked his flute with technical precision and spiritual inspiration. And Jay Hoggard, Billy Hart and Darek Oles spread out a blanket of vibraphone, drums and bass that lent ideal comfort and support.
The Larry Goldings Trio was a canny choice to satisfy the folks I heard last year complaining, "Where's the jazz?" The Hammond organist's in-the-pocket soul massage made for a perfect festival soundtrack, guitarist Peter Bernstein and drummer Bill Stewart milking the tradition without insulting anybody's intelligence. Great music for breathing.
Billy Childs is undeniably brilliant, but his classically influenced chamber jazz just doesn't git me in the gut. The pianist's sextet-plus-string-quartet nevertheless had to be the fest's most ambitiously arranged and composed project, and anyone who couldn't find something to appreciate in this tonal and rhythmic smorgasbord simply doesn't like music.
A couple of things really did sock my plexus. One of them was the scaled-down but not toned-down version of The Gathering (normally 20-plus pieces) led by the still-revolutionary windman Jesse Sharps, who's made a welcome L.A. return in recent years. The ensemble's rendition of the artfully stumbling Horace Tapscott waltz "Sketches of Drunken Mary" was a great flash. Thomas Stones and Cameron Graves dazzled on flute and piano. Miguel Atwood-Ferguson sawed his viola with headlong passion. The man who really showed how to seize an audience, though, was Dwight Trible, whose roundhouse voice behind a simple bass riff invoked the power of ancient Africa; his wordless moans tore at our hearts, and when he flat-out screamed "THE PROMISED LAND!" . . . it was more than passive hope, it was an outright demand.
The other serious jolt came from the sensitive fingers of pianist Motoko Honda, who stirred up an intense accumulation of classical discipline, jazzy beauty, rhythmic momentum and soul-deep emotion. The other half of her expression came from the butoh dancer Oguri, gradually edging from the back of the stage, riding the currents of piano, until he stood at the front with mouth twisted open to the sky in a silent howl of agony. Absolutely devastating. An image: Honda's bare feet on her pedals, Oguri's feet as he crouched nearby, exactly two millimeters of each shoe tip in contact with the floor.
Promoter Rocco Somazzi must have been embarrassed at being repeatedly called a hero from the stage; co-promoter Jeff Gauthier, who had opened the second day playing violin in Alex Cline's band, was not embarrassed to be seen slaving as a roadie for his friends later in the night -- his identity as a working man has solidified in his 10 years of running Cryptogramophone Records. Dudes -- we appreciate it.

COYOTE PHOTO BY GREG COPE.