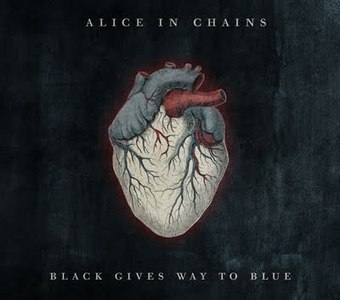 I hope Jerry Cantrell likes this album. He ought to; it sits right at the level of the three previous LPs and two EPs he's rocked in the studio with Alice in Chains, and draws better ear than his 1998 and 2002 solo albums, where he scared up good grooves & textures while kinda neglecting the hooks. But unlike the situation with other artists one could name, it's easy to understand why 13 years have slipped by since the last Alice studio recording. The planets have not been aligned.
If you're Cantrell, it looks like this. First your crucial co-singer and front man, Layne Staley, goes into mid-'90s drug seclusion. Then, in 2002, Mr. Staley, of course a close friend, ups and overdoses; so long. You yourself are no stranger to the medicine cabinet; your resultant inertia, your grief and the umpteen million units you've sold leave you little motivation to push product. If you install a new singer, the fans will whine that it's not the same -- and truth be told, you don't want it to be. Maybe you should've put together that project with Glenn Danzig, but how dark do you really want to get? Anyway, in addition to swinging a creative instrumental ax, you enjoy singing and you're good at it; people don't even know that you moaned lead on half the Alice tunes.
Wheels turn, and you decide to give the industry what it wants: more brand-name goods. You pick up a new band member, William DuVall, who can sing Staley's harmony & lead parts as well as play second guitar; he's a swell guy, even if he does pump his fist to rev up the crowd, an activity always below Alice in Chains' coolness threshold. You make some trial appearances, craft a new AiC record and head out on tour.
Everything depends on the strength of that record and how much it resembles catalog staples such as "We Die Young" that you cranked out two decades ago, when you were . . . young. Risky. Scary. Maybe not that artistically rewarding.
Well, if Cantrell is faking, he sure fooled me. "Black Gives Way to Blue" makes a case for the possibility that the classic Alice in Chains sound retains enduring power. A lot of far less talented bands have copied it -- one sign of immortality. More important is how well Cantrell's individual virtues have stood up under his own guidance.
First is vocal harmony. Literally a champion choirboy in his teens, Cantrell owns a trained understanding of note relationships. Not only do his melodies snake all over the place, even when set against bone-simple chord structures, but the third/fourth/fifth/sixth/seventh gaps between the parts often vary from beat to beat with intuitive elasticity; his vocal harmonies are the rock equivalent of Benny Golson's jazz arrangements for horns. Check for instance the chorus on "Private Hell," a song that could've registered as merely pretty if subjected to formula music wisdom.
Ditto for the multitracked guitars. And Cantrell's instrument prevails not just via notes; he layers string sounds the way a painter layers colors -- acoustic, fuzzy, clangy, ponderous, clean. As usual, his heavy riffs -- the sick slack one on "Check My Brain," the sluggish low-voltage shock of "A Looking In View" -- are unobvious, yet memorable. If he bothers with a solo, such as the rip-and-fade turn on the rhythmically schizophrenic "Acid Bubble," it's always a model of economy, a miniature song within a song. Listen to the guitars individually, and they sound elementary. Together, they're chamber music.
Cantrell wrote nine of the 11 songs by himself, building in hooks that settle into your skull within a couple of listens. Choruses struggle up out of their mucky surroundings to shine like gold while losing none of the enervation and despair that spawned them. Cheerful music this ain't, yet beauty is its byword. No throwaways -- one of the best tunes, "Take Her Out," doesn't arrive till track 9, riding an almost optimistic electric riff and drummer Sean Kinney's decisive reverberative clobber.
Kinney is right there with bassist Mike Inez throughout, laying down the relentless Alice in Chains groove they helped invent, this time under the production of Nick Raskulinecz, who continues to set the standard for big, crushing hard rock (Danzig, Velvet Revolver, My Ruin, not just Foo Fighters). Kinney and Inez don't reap much credit in musician circles -- not because they aren't great, but because, like everyone in this band, they sublimate their egos to the Sound.
And that's another factor in the group's timelessness. Alice in Chains stand for sophistication, hooks, surface simplicity, roughshod groove -- and selfless maturity. They've never come off as only a youth band, even though they whined about drugs a lot; their persona has been humanity in the grip of fate, and they delivered emotional messages that were hard to pin down, hence hard to dismiss. Ambivalence is adult, eternal. Even now, 17 years after collaborating in a Staley composition called "Hate to Feel," Cantrell writes both "I want to feel alive" in the mantra-like introductory song, "All Secrets Known," and "I don't want to feel no more" in the final track.
Which, despite the presence of Sir Elton John on piano and its status as the title cut of "Black Gives Way to Blue," is the album's weakest song. It's a ballad about Layne Staley, "forcing a goodbye" when, even after seven years, Cantrell knows in his heart it's not time yet. Maybe it never will be. But that's okay.