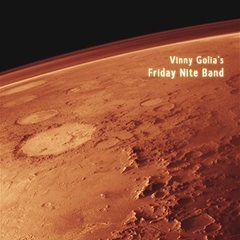 Vinny Golia's Friday Nite Band (Redline Park)
What a fine mess our local wind porcupine has gotten himself into. Seems some musicians approached Golia out at CalArts, where he teaches, with the idea of forming a small ensemble to perform his compositions. From the evidence here, he would have been nuts to refuse. And even if he's chosen to be a lifelong avantist, Vinny Golia is not nuts.
This unit has everything. Starting from the top, it's got a strong foil in Gavin Templeton, an alto player with a distinctively rough, throaty sound and an ability to twine with the five instruments Golia blows here through every kind of unison riff, harmony part and free duel, as well as to solo with startling spontaneity, jumping from melodic sympathy to avant density in a heartbeat. Equally versatile is guitarist Alex Noice, who plays the roles of both atmospheric electronic colorist and distorto provocateur. And I can't say enough about the rhythm dudes: Sam Minaie's electric bass (well recorded to lay a broad, solid foundation) and Andrew Lessman's drums keep me thinking of basketball and boxing, the way they generate a groove out of reciprocal action rather than lockstep union.
The obvious star is the opening track, "Gary's Visit Tells the Tale," a spooky calypsoid thing that showcases everybody amid a drama of intense energy. Subliminal Bo Diddley resonances drive "The Cooler King" and its reprise. I love "Inal Udati," with its smoky suspension and Golia's mysterious Bulgarian kaval (flute).
Golia's compositions, with his improbable note sequences and the rhythmic puzzles he likes to pose, are instantly identifiable; this time they had me calling up a few memories of early Grachan Moncur III. More than most writers, Golia makes unsettlement and demolition of preconceptions primary goals, so that even if (because) the thematic material is deliberately prickly, it gets his collaborators excited, and the best stretches are the ones where the whole band seems to be discovering new worlds together. The music dances, boils, breaks down, recoalesces -- you can hear why these performers wanted to nab Golia: They're having fun. They're also, in the truest sense, playing jazz.
NOTE: This record arrives via an interesting download-only internet label, Redline Park. Darryl Kanouse and friends have carefully curated a wide range of releases that have little in common other than high quality and an outside point of view. The catalog offers extreme jazz, electronic, experimental and punk, mostly new but also some worthy reissues. Though I hadn't been familiar with many of the artists, a sampling of the albums (complete versions of which are posted for free streaming) revealed serious musicianship and distinctive points of view. To check out the music and subscribe for unlimited downloads (only $5.99 a month), visit here.
Andrew Lessman, the drummer in Golia's band, plays in Daniel Rosenboom's trio this Saturday, October 3, at the Pasadena Central Library's Donald R. Wright Auditorium, 285 E. Walnut St., Pasadena 91101; 2pm; free.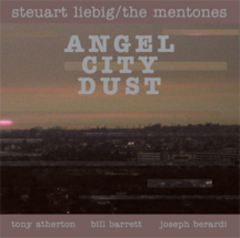 Steuart Liebig/The Mentones, "Angel City Dust" (pfMentum)
This one of those albums that brings out the unrealized drummer in me, where I'm just beating a hole in the clipboard with pen and palm instead of taking notes. Vigah, that's what it's got.
The Mentones are bassist Steuart Liebig's blues band, ha. That is, he and drummer Joseph Berardi apply approximations of roots grooves -- railroad boogie, jook jerk, Otis Redding soul rave, Chicago roll & tumble -- to Liebig's postmodern Zappa-Beefheart riffs. And then harmonicat Bill Barrett and alto saxist Tony Atherton douse the thing with kerosene and set it on fire.
Whether executing unisons, harmony lines or solos, Barrett and Atherton keep the energy up. In case you don't know Barrett, he's one of the world's most accomplished and powerful harp exploders. By cocking the chromatic harmonica's slide and gassing its reeds in exactly the right way, he can generate terrifying LOUD harmony blasts, twitters and superwheezes that assault your earholes as no other instrument can. Atherton doesn't lag behind, spitting out a level of raunch rarely heard from an alto. Liebig's technique on six-string electric bass is unsurpassed -- dig for example the sweet little chordal riff he plucks/strums on the tugging "Slow Burn Fever," sounding as if he's overdubbing himself, but I know he ain't. Berardi's drumming is a friendly combination of whiskey-bar feel and jazz precision, the latter quite valuable considering the frequent split-second accents the music demands.
Liebig butts some disparate animals together: Foghat meets Schoenberg on "Headlock"; a polite waltz meets a barbiturate overdose on "Out, Down and Over." And it coheres. Probably one other aspect was present before, but this third Mentones album is the first in which I noticed it, namely a particular visual quality, where I often pictured a scene while listening: an awkward blind-date conversation during "Lonelyheart" (I swear I didn't look at the title before making this observation), for instance, or a drunk sobbing and stumbling down the street during "Wool."
Strong as the record rolls -- play it loud -- it does not compare to the live Mentones experience. Too bad this churchlike venue serves no booze (or anything else); I recommend that you smoke some dust outside.
The Mentones play this Sunday, October 4, at Center for the Arts, 2225 Colorado Blvd., Eagle Rock 90041; 7pm; $10; (626) 795-4989.