Fri. Oct. 23 -- Our excellent, often surprising local trombonist-composer-arranger Phil Ranelin celebrates the release of a new live CD, bound to include some Latin, swinging post-bop and Trane travel. His crack band features windmen Keith Fiddmont and Louis Van Taylor, pianist Mahesh Balasooriya, guitarist Jinshi Ozaki, bassist Ryan Cross, drummer Kenny Elliott and percussionist Don Littleton. At the Culver Club for Jazz in the Radisson Los Angeles Westside Hotel, 6161 Centinela Ave., Culver City 90230; 7:30 & 9:30pm; no cover, $15 minimum; validated parking; reservations recommended at (310) 649-1776 x4137.
Fri. Oct. 23 -- Pianist Larry Karush incorporates everything from Indian music to ragtime in a comprehensive mind-meld all his own. With bassist Chris Colangelo, percussionists Randy Gloss & Joey De Leon, and flutist Danilo Lozano. On the patio at LACMA, 5905 Wilshire Blvd., LA 90036; 6-8pm; FREE.
Sat. Oct. 24 -- Thelonious Dub celebrate the release of their new reggae-jazz album, which is a winner; read my review here. The Brad Rabuchin Trio also plays, I dunno in what order. At Home Restaurant, 2500 Riverside Drive, LA 90039; 7pm-midnight; no cover; (323) 665-0211.
Sat. Oct. 24 -- This lineup of L.A. Guns has got guitarist Traci Guns and singer Jizzy Pearl, topping a bill of 152 bands. An exercise in imagination. At the Knitting Factory, 7021 Hollywood Blvd., Hollywood 90028; $19; http://la.knittingfactory.com.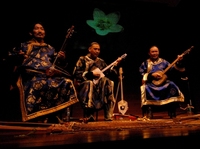 Sun. Oct. 25 -- Persian folk extrapolations don't run any deeper than those of Lian Ensemble; great bill with the group of Tuvan throat singers and pluckers who call themselves Chirgilchin (pictured). At the Hannon Theater of Mount St. Mary's College, 12001 Chalon Road, LA 90049, kinda Bel Air west of the 405 above Sunset Blvd.; 7:30pm; $50; (310) 473-3466.
Mon. Oct. 26 -- Trombonist Michael Vlatkovich improvises; probably got some daring pals with him. At South Pasadena Music Center and Conservatory, 1509 Mission St., South Pasadena 91030; 8pm; $5; free parking behind; (626) 403-2300; www.southpasadenamusic.com.
Tues. Oct. 27 -- Hard-rock essentialists UFO continue their fruitful partnership with guitarist Vinnie Moore; read my review of their latest album here. With the complementary shreddin' boogie of Travis Larson Band. At the Key Club, 9039 Sunset Blvd., West Hollywood 90069; doors 8pm; $26; 15+; www.keyclub.com; (310) 274-5800.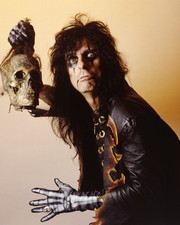 Wed. Oct. 28 -- "I'm Eighteen." "Under My Wheels." "Billion Dollar Babies." The voice. The rock. Alice Cooper cannot suck. My realistic request: "Ballad of Dwight Fry[e]." Maybe Slash will show. Halloween starts now. At Nokia Theater LA Live, 777 Chick Hearn Court, downtown 90015; 7:30pm; $50-$60; www.ticketmaster.com.
Wed. Oct. 28 -- Thelonious Dub. At Blue Palms Brew House, 6124 Hollywood Blvd., Hollywood 90028; 7:30pm; no cover; (323) 464-3227; wwwbluepalmsbrewhouse.com.
Wed. Oct. 28 -- The Claudia Quintet lays on the int'lekshul New York abstractions and textures, but with a rustling groove, cuz it's led by a drummer, John Hollenbeck, with superbassist Drew Gress, vibesman Matt Moran, accordionist Ted Reichman, deep-feeling windman Chris Speed and guest pianist Gary Versace. Should be real good. At REDCAT, 631 W. Second St., downtown 90012; 8:30pm; $20; www.redcat.org.
Thurs. Oct. 29 -- The reliable L.A. Modern Jazz Series presents The William Galison Quintet, featuring the cabaret-jazz harmonica ace with toppermost locals: pianist Otmaro Ruiz, clarinetist John Tegmeyer, bassist Greg Swiller and drummer Dan Schnelle. At Whitefire Theater, 13500 Ventura Blvd., Sherman Oaks 91423; 8pm; $20; click here; advance purchase recommended as the place ain't huge.
Thurs.-Sat. Oct. 29-31 -- The ambitious USC wonderboy pianist Eldar settles in with an as yet undisclosed ensemble. Lotta energy, lotta chops, as exemplified on his current "Virtue," which has Joshua Redman and Nicholas Payton guesting. Got a tune called "The Exorcist" he can play for Halloween, but it's a hard-charging original prog-fusion number, nothing to do with Mike Oldfield or tubular bells. At Catalina Bar & Grill, 6725 Sunset Blvd., Hollywood 90028; 8 & 10pm; $30-$40; (323) 466-2210; www.catalinajazzclub.com.
Thurs. Oct. 29 -- Slipknot grind out their periodically melodic masked death metal for an adoring world. They originated in my birth state and are playing in my neighborhood; maybe I should invite them over for watercress sandwiches. If any other bands are on the bill, damned if I can find out. At Hollywood Palladium, 6215 Sunset Blvd., Hollywood 90028; sold out I guess; www.livenation.com.


Read Brick's Picks in LA Weekly here and Don Heckman's picks here.