Sat. Oct. 3 -- The South Pasadena Arts Fest features several artists including master percussionist and modern composer Brad Dutz. At South Pasadena Music Center and Conservatory, 1509 Mission St., South Pasadena 91030; 6-10pm, Dutz 7pm; $5; free parking behind; (626) 403-2300; www.southpasadenamusic.com.
Sat. Oct. 3 -- Performing its leader's "Ideology Suite," the outland trio of trumpeter Daniel Rosenboom includes bassist Graham Chapman and drummer Andrew Lessman, the last from Vinny Golia's Friday Nite Band (read my review here). At the Pasadena Central Library's Donald R. Wright Auditorium, 285 E. Walnut St., Pasadena 91101; 2pm; free.
Sat. Oct. 3 -- Rosenboom's excellent wide-ranging Balkan jazz sextet Plotz! includes another excellent member of the Golia band, saxist Gavin Templeton. At Tribal Café, 1651 W. Temple St. #A, LA 90026; 9pm; $6 minimum; (213) 483-4458; www.tribalcafe.com.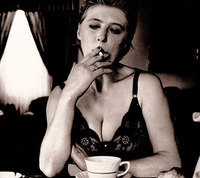 Sat. Oct. 3 -- Marianne Faithfull has built a career as a cabaret/rock artist out of a chaotic life, and she's got the authority, bubba. With an ace band: bassist Greg Cohen, guitarist Smokey Hormel, keyboardist Rob Burger and drummer Joey Baron. A UCLA Live presentation at Royce Hall; 8pm; $40-$60; www.uclalive.org.
Sun. Oct. 4 -- A five-star show of unusual loudness for this venue: bassist Steuart Liebig's bluestwisty Mentones (read my review of their new album here) plus the tangled barbed wire of guitarist Tom McNalley's superb trio, which also stars Liebig and drummer Alex Cline. Wow. At Center for the Arts, 2225 Colorado Blvd., Eagle Rock 90041; 7pm; $10; (626) 795-4989.
Tues. Oct. 6 -- Adventurous modern chamber jazz? Why, sure. The Ben Wendel Group encompasses the cool-toned saxist plus the great bassist Darek Oles, longtime Oles guitar collaborator Larry Koonse, Rhodes clanger Adam Benjamin, pianist Tigran Hamasyan and drummer Nate Wood. At Barnsdall Art Park Theater, 4800 Hollywood Blvd., Hollywood 90027; 8pm; $20; (323) 434-0659.
Wed. Oct. 7 -- Finnish melodic power duels = the somewhat awesome Stratovarius. Read my review of their latest album here. With a bunch of other bands. At the Key Club, 9039 Sunset Blvd., West Hollywood 90069; doors 7pm; $38; 15+; www.keyclub.com; (310) 274-5800.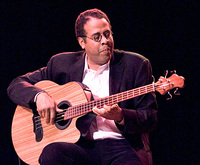 Wed.-Thurs. Oct. 7-8 -- The Stanley Clarke Band includes the most amazing bassist of all time plus the sometimes quite wild pianist Hiromi, as well as Clarke's Return to Forever mate Lenny White on drums. Acoustic! At Catalina Bar & Grill, 6725 Sunset Blvd., Hollywood 90028; 8 & 10pm; $30-$35; (323) 466-2210; www.catalinajazzclub.com.
Thurs.-Fri. Oct. 8-9 -- Wait a minute, another fusion mainman is playing seven miles away on the same Thursday night? Well, guitarist Frank Gambale has his hands full with his own supergroup, rassling bassist Bunny Brunel, drummer Simon Phillips and keyboardist Otmaro Ruiz. At the Baked Potato, 3787 Cahuenga Blvd. West, Studio City 91604; 9:30 & 11:30pm; $25; (818) 980-1615.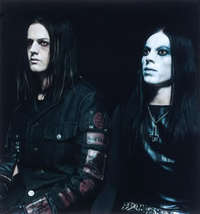 Thurs. Oct. 8 -- Satyricon are one of my favorite Norwegian black-metal bands because they've got melody, noise and art, and their press material still uses hype I wrote about them seven years ago. Thrashy/croaky SoCal metalists Bleeding Through have gotten damned popular. Portland's Toxic Holocaust thrash for your moshing pleasure. And can Taiwan's Chthonic really be opening? They play all kinds of metal with extreme virtuosity, they look good, and (is this the problem?) they don't sweat. Furthermore, how come this show is the day after Stratovarius at the same club with a better lineup, but costs half as much? At the Key Club, 9039 Sunset Blvd., West Hollywood 90069; doors 6:30pm; $20; 15+; www.keyclub.com; (310) 274-5800.
Read Brick's Picks in LA Weekly here and Don Heckman's picks here.