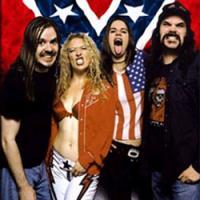 Fri. Oct. 9 -- Motorhead: The Delphic oracle has been quoted as observing that Lemmy rocks. And his bass made the jumpabilly of The Reverend Horton Heat drive a lot harder when I saw him sit in with them at the Wiltern a year and a half ago on a bill that also featured the ever-drinkable filth & roll of Nashville Pussy (pictured). All three bands sweat tonight. And opening are Chelsea Girls, who include big blond bassist Corey Parks, formerly of N. Pussy; Samantha Maloney, drummer of Hole (and quite strong in Motley Crue for a minute); Allison Robertson of the Donnas; and opera/rock singer Tuesdae. Huh. At Club Nokia, 800 W. Olympic Blvd., downtown 90015; 7:30pm; $33; www.ticketmaster.com.
Fri. Oct. 9 -- Love it, hate it or both, KPFK represents a continuing voice of the left on the radio airwaves, and it's celebrating its 50th anniversary with a benefit. Good lineup: reggae from Ziggy Marley, world sangin from Luciana Souza, jazz from Christian McBride, Latin from Poncho Sanchez. Lotta other celebs drifting around, too. At the John Anson Ford Amphitheater, 2180 Cahuenga Blvd. East, Hollywood 90068; 7pm; $35-$150; www.fordtheatres.org.
Fri. Oct. 9 -- Guitarist Frank Gambale (from Chick Corea's band) has his hands full with his own supergroup, rassling bassist Bunny Brunel, drummer Simon Phillips and keyboardist Otmaro Ruiz. At the Baked Potato, 3787 Cahuenga Blvd. West, Studio City 91604; 9:30 & 11:30pm; $25; (818) 980-1615.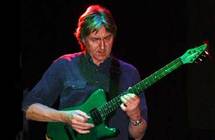 Sat. Oct. 10 -- Allan Holdsworth plays electric guitar with his mind; his hands are in there somewhere too, but I can't see them. With bassist Jimmy Johnson, drummer Gary Husband. At the Baked Potato, 3787 Cahuenga Blvd. West, Studio City 91604; 9:30 & 11:30pm; $25; (818) 980-1615.
Sun. Oct. 11 -- LATE ADD: In conjunction with today's Part Time Punks Music Fest (www.parttimepunks.com), Part Time Punks Word Fest features readings from those who know, in alphabetical order here but I dunno what the real order is: Kid Congo Powers, Cole Coonce, Gordy Grundy, John Tottenham, Don Waller, Margaret Wappler, Pete Weiss, Annette Zilinskas. At Stories Bookstore, 1716 Sunset Blvd., Echo Park 90026; 3-6pm; (213) 413 3733.
Sun. Oct. 11 -- Behind the Orange Curtain or not, this series has a lot of great shows, so I have to keep plugging them. The trio of Joey Sellers offers an outlet for the San Diego trombonist's wild compositions; cornetist Dan Clucas always finds a penetrating tone and an unusual twist on the avant -- he leads an ensemble here. A presentation of the O.C. Creative Music Collective in the basement of the Episcopal Church of the Messiah, 614 Bush St., Santa Ana 92701; 6:30pm; FREE; keep up with the OCCMC here.


Tues.-Thurs. Oct. 13-15 -- Bob Dylan and His Band. Rollin' and mumblin'. What the man does just can't be explained in standard musical terms. I guess he's human, but I'm not sure. At Hollywood Palladium, 6215 Sunset Blvd., Hollywood 90028; 7:30pm; around $60; www.livenation.com.
Wed. Oct. 14 -- LATE ADD: Vet windman Charles Sharp leads a quartet with Jeff Schwartz (bass), Anthony Shadduck (bass too) and Andrew Lessman (drums), playing in and out. Dr. Sharp, sometimes known as C. Sharp, is the author of a valuable 500-page dissertation on the history of L.A. extreme music, which he hopes once again to post online after an absence due to technical challenges. I'll let you know. At Cycleway Coffee, 5526 Monterey Road, Highland Park 90042; 6:30pm; (323) 256-0200; www.cyclewaycoffee.net.
Thurs. Oct. 15 -- Please consider the vocalextension-sax-beat quartet of Bonnie Barnett, Richard Wood, Hal Onserud & Garth Powell; the poetry-trombone-drums trio of Dottie Grossman, Michael Vlatkovich & Rich West; and electronic twitter plus abstract visuals from San Francisco's Elise Baldwin. Mark your calendar for the third Thursday of every month for ResBox at Steve Allen Theater, 4773 Hollywood Blvd., Hollywood 90027; 8pm; $10; BYO.
Read Brick's Picks in LA Weekly here and Don Heckman's picks here.