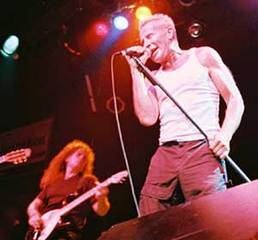 The working man demands his blues-rock straight and hard; for nearly 40 years, UFO have been serving it up like stevedores, and nobody ever asks for his money back. We sure didn't, and we didn't even mind the wait.
Local journeymen Scarred opened with a kind of Tony Martin-era Sabbath thing, grinding low riffs and not neglecting the melodic arpeggios. Sturdy ironwork, minimal charisma. Singer Eric Claro looked as if he were practicing his Dio gestures in a mirror rather than reaching out to grab us by the nutsack. Drummer Andy Salas bashed with his tongue out and cunningly slipped in some devil-disco. Ray Solorio -- where else will you discover a metal bassist finger-plucking deft Rickenbacker? In a face-to-face buddy jam, the long-locked Solario made an incongrous pair with slick-pickin' founding guitarist John Toscano, a burly shorthair sporting my mechanic's short-sleeved shirt and my accountant's weekend trousers. First rule of metal: NO CARGO PANTS.
Sorry my preview touted the appearance of the Travis Larson Band; I failed to notice on the UFO site that their Key Club date was not starred with the Larson asterisk. Instead we got Frontrunner, a quartet of good-lookin', whip-thin 19-year-old Angelenos whom I renamed Nugemother because of their '70s boogie proclivities and because two of 'em had big curly scalp explosions. (Zach Cosby, the shirtless Tommy Lee drummer clone in neckerchief and red pants, thought maybe it should've been Cruemother.) Boyish Jack Gallagher's full-throated vocal enthusiasms came off more direct when he handed his bass off to keyboardist Alex Canter. Though his rhythm riffing was a tad fuzzy, goldtop guitarist Sam Dongier's leads rang sharp and strong. Frontrunner's songs: pretty grabby. At first the group's air of Valley privilege nettled me, but their rock-puppy attitude got them over.
By the time UFO came on, the Key Club was too crowded to scratch yer ass, forget about taking notes, so this part will have to be from memory. Singer Phil Mogg has evolved into a strange visual combination of an old English gardener's face on an Olympic boxer's body. His gruff expostulations ("Rock bottom! Rock bottom!") still hit with the impact of a rubber mallet; between songs, he roped in the crowd with casual musings about pussy and perversion. When guitarist Vinnie Moore toted a rubber Halloween figure of a misery-gnome over to greet him, Mogg said it reminded him of a certain former axman in his band whose name, he didn't have to remind us, rhymes with canker. We missed the goatish clowning of ailing original bassist Pete Way, but Rob Deluca stood in with solid energy, if that's not an insult. Classic drummer Andy Parker looked like a white-haired pub crawler and smashed his kit like a street brawler, striking the ideal combination of mobility and heft while inflicting new dents upon his warrior cowbell. Paul Raymond embodied the virtues of the ultimate time-server, always banging out exactly what was needed on keyboards and left-handed second guitar, and still wearing the exact same brown semi-shag haircut he had with Chicken Shack in 1970. Odd: the whole set I kept thinking Vinnie Moore -- who can chunk out the blues (or anything else) as well as any stringbender, and whose layerings contributed so much to UFO's fine current "The Visitor" album -- was spieling nothing but bluegrass, flawlessly fluid and a bit sterile. Maybe he just contrasted too much with the recorded music UFO chose to set up the show: Muddy Waters' "Mannish Boy," which can make most anything else sound bleached.
The acoustic-to-electric blues "Saving Me," the first track from "The Visitor," made for a swell set-starter; the band liked the new stuff well enough to include the fiery "Hell Rider" and another one too, I think. Naturally, though, the chamber was loaded with the mighty '70s hits, from the balladic misty green and blue of "Love To Love" through all the riffin' and jammin' of "Mother Mary," "Out in the Street," "Only You Can Rock Me," "Shoot Shoot," "Doctor Doctor" . . . Well, despite a gale of audience demand, UFO did not lavish the final encore that would have whipped up the galloping signature "Lights Out." But they worked like slaves for close to two hours, and hey, we've heard that one. It was after 12:30 on a Tuesday; women were dragging their men out the door. Lights out already.