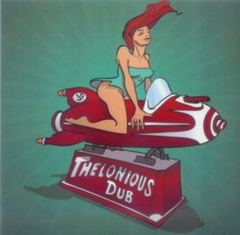 I was wondering how guitarist Joe Bartone's reggae/jazz concept -- so loose, open and attractive in a live setting -- would translate to the studio. And of course it works great: If you can pull off all those electronic trip-outs and dynamic ups/downs when you're only pretending to have faders under yer fingers, the mix will be a snap when you've actually got 'em.
Though the lineup here is different from what you'll hear onstage these days, Bartone's arrangements ensure a level of consistency. And just as Jamaican musicians of the '60s and '70s adapted American soul and pop to their own rhythms, Bartone proves that jazz standards (often by Thelonious Monk) can take a special shine when subjected to an island buffing.
Bartone accents the angles of "A Night in Tunisia" with pushy off-rhythms, turns the perky "Well, You Needn't" triumphantly spacy, even dares to add his own nursery-rhyme interpolation to the structure of "Blue Monk." Every tune makes its own distinctive use of horns and effects, and each progresses through substantial changes. My favorite is the hyperabstract take on Wayne Shorter's "Footprints," which nearly submerges the lazy/spooky melody in slow dub tides while framing the wash with sharp little percussion touches. Not surprisingly, the only anomalous number is Bartone's sole composition, the revved-up urban boogie "Nanotite," whose spaced-out middle, a pleasant rush in itself, sounds like a de rigueur conceptual nod in this context.
For a bandleader, Bartone isn't much of a show-off, restricting his atonal leads to tasteful commentaries endowed with original, well-chosen amp tones. He's also adept on that reggae staple the melodica (keyboard harmonica), applying its simple lines with a rhythmic confidence that would not shame master Augustus Pablo. For color, he also blends in sitar and electronic keyboards. Among the eight fine sidemen, Sean Rainey stands out for subtlety and sensitivity on the drum kit.
With a notion like this, one is always wary of cuteness, a grinning imp that could brand Thelonious Dub with the unwelcome tag of novelty music. That never happens, though. The sound is lighthearted at times, but always worth taking seriously. We're lucky to have Bartone knocking around L.A. restaurants and clubs, usually for free. Check here for song samples and appearances in your area. And buy a copy of this record.

This Saturday, Oct. 24, Thelonious Dub play their official release party at Home Restaurant, 2500 Riverside Drive, LA 90039; 7pm; no cover.
T. Dub also appear Wednesday, Oct. 28, at Blue Palms Brew House, 6124 Hollywood Blvd., Hollywood 90028; 7:30pm; no cover; (323) 464-3227; wwwbluepalmsbrewhouse.com.