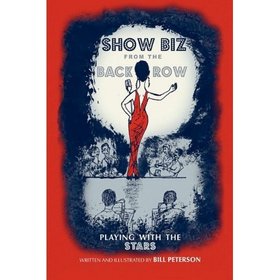 There's something to be said for a musician writing his own damn biography. With a pro writer, you might get structure, pace, something like objectivity. What you won't get is the consistent sound of the subject's voice.
When you read the story of Bill Peterson -- a trumpeter who played a million club and studio dates, and who became president of Los Angeles Musicians Local 47 -- it's like meeting the guy; he gives off a very personal/personable vibe. Peterson is a voice from the era of Frank Sinatra, Ward Cleaver and John McCain; the time of highballs, Brylcreem and Brooks Brothers suits. The middle-class son of a San Berdoo meat dealer, he has no use for flower children or beatniks; he is not hip or hep. He is a show-business pro who feels lucky to have nailed down that prize gig for so long.
Peterson worked with and admired the biggest singers and players of his generation -- Nat "King" Cole, Dean Martin, Lena Horne, lots more. And his experience gives perspective; reading about the glitzy nightclubs and swaggering gangsters, you can't help but flash on how much the stars of the 1950s resemble today's industry-groomed Justins and Beyoncés, and how much they disresemble the edgier Jaggers and Dres of intervening decades.
Peterson doesn't like everyone he played for. You can tell he thinks Tony Martin was a dick, Madonna was a bitch and Helen Reddy was a zero. He despises Phil Spector's Wall of Sound and calls Frank Zappa's music "BS." But he tells it all, good and bad, with the same boyish grin you see in his pictures -- the man embodies the all-American optimist. It's a matter of personal philosophy; he's not much for spilling his guts. Here's Peterson condensing the conclusion of one relationship: "Rita gets a job driving a forklift at a brewery. She divorces me in 1980."
As an observer, though, Peterson exercises his sharp memory obsessively; he offers not only Martha Raye's wardrobe malfunction and Henry Fonda's joint-rolling prowess, but everybody's brand of car and choice of liquor. (Other notable encounters include Doris Day, Bob Dylan and Blondie.) The precision extends to his illustrations, which, even if they don't demonstrate technique on the level of his horn chops, capture many moments with the eye of a natural caricaturist.
Historians and everyday music fans will be glad to make the acquaintance of this well-traveled entertainment soldier. Despite having worked his way up to the top chair at one of the nation's most influential unions (a subject he could have explored further), he makes you feel he's just a nice guy who happened to be hanging around. It's kind of lucky that Bill Peterson didn't hire a ghostwriter and sell his story to a stuffy publisher. It's the singer, they say, not the song.
"Show Biz From the Back Row" is available at Amazon.com, Xlibris.com and a bunch of other places.