Fri. Nov. 13 -- That Mother of a keyboardist Don Preston leads a trio of beauty and adventure with drummer Christopher Garcia and bassist Anders Swanson. At South Pasadena Music Center and Conservatory, 1509 Mission St., South Pasadena 91030; 8pm; $5; free parking behind; (626) 403-2300; www.southpasadenamusic.com.
Sun. Nov. 15 -- Brendan Mullen memorial. Brendan died suddenly of a stroke last month; his friends gather to talk, play, hold an Irish wake and miss his mouth. At the EchoPlex, 1154 Glendale Blvd., Echo Park 90026; doors 4pm, memorial 5pm; city parking lots above on Sunset Boulevard; www.attheecho.com.
Sun. Nov. 15 -- Steuart Liebig's Seconda Prattica presents attractive chamber-jazz jams with the electric bassist's superfine mates: trombonist Michael Vlatkovich, saxist Bill Plake, cornetist Dan Clucas and drummer Alex Cline. You will dig. A presentation of the O.C. Creative Music Collective in the basement of the Episcopal Church of the Messiah, 614 Bush St., Santa Ana 92701; 6:30 & 8pm; free but donations accepted; keep up with the OCCMC here.
Sun. Nov. 15 -- Outer Limits Afternoon for electronic and 'spearmintal improv: Walsh Set Trio (Brian Walsh, Trevor Anderies and Colin), Tracy Caldwell/Daren Burns Quartet (with Josh Charney and Craig Bunch), and Armless Strongman (Jon Armstrong, Andrew Lessman, Kari Seekins and Billy Mark). At REDCAT, 631 W. Second St., downtown 90012; 12:30pm; FREE; www.redcat.org.
Mon. Nov. 16 -- The relentless GWAR fart, spew and dress for Halloween; Job for a Cowboy are getting ever bigger and better in crazy deathville; get there early and don't miss the ingenious jagged postjazz abstractions of The Red Chord. At House of Blues, 8430 Sunset Blvd., West Hollywood 90069; doors 7pm; $25; (323) 848-5800; www.ticketmaster.com.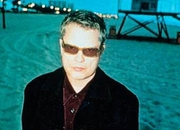 Tues. Nov. 17 -- Charlie Haden has never been content just to be one of jazz's greatest bassists. Here he shows off his childhood hillbilly roots with family (his triplets Tanya, Rachel and Petra plus son Josh) and friends (bluegrass singer-guitarist Dan Tyminski, mandolinman Sam Bush and dobroon Jerry Douglas). They say Jack Black's gonna be hanging too. At Walt Disney Concert Hall, 111 S. Grand Ave., downtown 90012; 8pm; $45-$100; (323) 850-2000; www.laphil.org.
Tues. Nov. 17 -- Electric cellist Alison Chesley, a.k.a. Helen Money, hits yer gut with extreme yet listenable art-noise; her new album, "In Tune," attains a new peak of concept and recording. At the Fold at Bootleg Theater, 2220 Beverly Blvd. near Alvarado, LA 90057; 8pm; $10.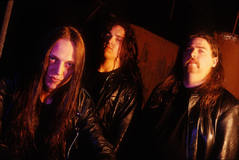 LATE NOTE: HYPOCRISY HAS DROPPED FROM THIS TOUR DUE TO VISA PROBLEMS. Wed. Nov. 18 -- Ensiferum dance the Euro folk-metal; my faves Hypocrisy (pictured) drive hard & heavy Swedish stakes with a touch of melody; Italy's Ex Deo give you some Latin high mass with your battle ax. At the Key Club, 9039 Sunset Blvd., West Hollywood 90069; doors 6:30pm; $23; 15+; www.keyclub.com; (310) 274-5800.
Thurs.-Fri. Nov. 19-20 -- One of the best and most consistent metal lineups of the year. Read my record review of Mastodon here, my record review of Dethklok here, and my 2005 interview with High on Fire here. Also with Converge, who made original inroads into the abstract punk-metal thing two decades ago. At Hollywood Palladium, 6215 Sunset Blvd., Hollywood 90028; 9pm; $40; www.livenation.com.
Thurs. Nov. 19 -- Fun neothrash boogie-board beer swillers Municipal Waste seem to be opening for electro-rapsters Ghostland Observatory, for some reason. At the Key Club, 9039 Sunset Blvd., West Hollywood 90069; doors 6pm; $12; 15+; www.keyclub.com; (310) 274-5800.
Thurs. Nov. 19 -- Sound artist Steve Roden was one of the first to put microphones on rocks; sound artist Yann Novak also performs a solo set; plus you get Ice Cream, the synth-harmonica (!) duo of Hans Fjellestad & Amit Itelman with live visuals by VJ Fader. ResBox at Steve Allen Theater, 4773 Hollywood Blvd., Hollywood 90027; 8pm; $10; BYO.

Read Brick's Picks in LA Weekly here and Don Heckman's picks here.