Sat. Nov. 28 -- Here's an ambitious afternoon show with something to excite or disgust most everybody, with the nation's top machine metal, technical metal, death metal, mewl metal, energy metal, punk metal, black metal, etc. of Hatebreed, Trivium, Cannibal Corpse, Chimaira, Unearth, Whitechapel, Born of Osiris, Hate Eternal, Dirge Within. At Hollywood Palladium, 6215 Sunset Blvd., Hollywood 90028; 2pm; $30; www.livenation.com.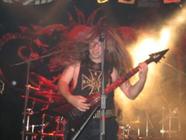 Sun. Nov. 29 -- My metal pick for the weekend: The Monsters of Death tour featuring vet Polish omnivores Vader (pictured; read my DVD review here), Decrepit Birth, The Amenta, Warbringer, Swashbuckle, Augury (read my interview here. At the Key Club, 9039 Sunset Blvd., West Hollywood 90069; doors 6:30pm; $23; 15+; www.keyclub.com; (310) 274-5800.
Sun. Nov. 29 -- For the very first time, '80s pop-metalers Dokken ("Breaking the Chains") share the stage with their old guitarist George Lynch and his Lynch Mob. At House of Blues, 8430 Sunset Blvd., West Hollywood 90069; 8:30pm; $25; (323) 848-5800; www.ticketmaster.com.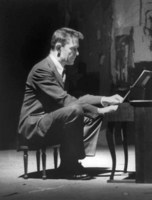 Sun. Nov. 29 -- L.A. Philharmonic's "West Coast, Left Coast" series presents Piano Spheres via keyboard artists Gloria Cheng, Vicki Ray, Mark Robson and Susan Svrcek, playing music by John Cage (pictured), Henry Cowell, Mel Powell, Arthur Jarvinen, Daniel Lentz and more. No instrument clarifies an intellectual concept like a hammerklavier. At Walt Disney Concert Hall, 111 S. Grand Ave., downtown 90012; 7:30pm; $31.75; (323) 850-2000; www.laphil.org.
Sun. Nov. 29 -- Reggaefied jazz from Thelonious Dub. Read my review of their new record here. At Pinocchio's Pizza, 1449 N. Lake Ave., Pasadena 91104; 9pm-midnight; no cover.
Wed. Dec. 2 -- You know Spot, who produced so many classic SST records by Black Flag, the Minutemen, etc.? He also messes some damn fine banjo, clarinet, etc.; he's playing solo, and he ain't visited L.A. in a coon's age. On KXLU 88.9FM's "Livation," 11:59pm-3am. Spot also defiles Harold's in San Pedro Thurs. Dec. 3, Pike Restaurant in Long Beach Fri. Dec. 4, Echo Curio Sat. Dec. 5, and Liquid Kitty Sun. Dec. 6.
Thurs. Dec. 3 -- Vibraphone wizard Nick Mancini leads a trio with organist Richard Sears and drummer Matt Mayhall. At the Foundry on Melrose, 7465 Melrose Ave., LA 90046; 8:30pm; no cover; (323) 651-0915; www.thefoundryonmelrose.com.
Thurs. Dec. 3 -- Few update the drum drive, distorted arabesques and folky interludes of '70s heavy rock the way Baroness does. At the Troubadour, 9081 Santa Monica Blvd., West Hollywood 90069; doors 8pm; $12; www.ticketmaster.com.
Thurs. Dec. 3 -- Great free RSVP-only show presented by Scion: dynamic death metal from The Black Dahlia Murder, plus chugging death from Relapse artists Revocation. At the Roxy, 9009 Sunset Blvd., West Hollywood; doors 8pm; all ages; check here for details.

Read Brick's Picks in LA Weekly here and Don Heckman's picks here.