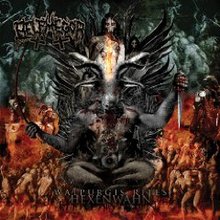 Belphegor, "Walpurgis Rites: Hexenwahn" (Nuclear Blast)
Austria's Belphegor accomplish such a pleasant combination of violence and romance. Whilst growling up a sturm, frontghoul Helmuth teases out a nearly sensitive guitar drang -- he buzz-picks his way down the Danube with weepy folk melodies, tortures himself with flaming simplicity, carves the heartstrings with a slippery knife like a gypsy violin. Yet Belphegor make an overwhelmingly metal impression with their double-kick punishment, whether heave-hoing in weary Volga labor ("Enthralled Toxic Sabbath"), coloring their intense thrash with woozy bridgework ("Reichswehr in Blood") or riffing old-school ("The Crosses Made of Bone"). Yes, the hooks of "Hexenwahn" penetrate less sharply than on last year's amazing "Bondage Goat Zombie." And compared to the wristy, flexible drumming of Torturer, that of Nefastus comes off as rather blunt. But the quartet are going for more of a groin-pounding instrumental effect this time, to counterbalance a lyric shift from juvenile sexism to medieval chant. (Helmuth says he culled much of this wordage from authentic ancient sources.) So at the end, when the bells toll and the fire crackles loudly around your skeleton, you will know that the Plague does surely rock.
Belphegor play Heathenfest with Eluveitie, Alestorm, Kivimetsan Druidi and Vreid on Saturday, November 21, at the new Ultraviolet Social Club, 2684 Lacy St., LA 90031 near the junction of the 110 and 5 freeways; doors 7pm; $25; (323) 227-0078.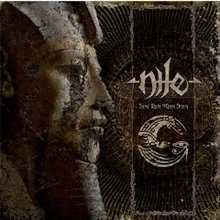 Nile, "Those Whom the Gods Detest" (Nuclear Blast)
With the thrash revival winding into high gear, every veteran metal band (Metallica, Megadeth, Slayer) seems bent on proving it can crank harder 'n' faster than ever, and Nile is no exception. Also, like the rest of the best, Nile's Karl Sanders proves he can crank BETTER than ever. Always as intense as they come, the South Carolina four keep finding ways to maintain variety and interest within a framework where nearly every song is pressure-packed with George Kollias' million-beats-per-minute kick. Of course you get Sanders' keening Arabic-influenced riffs, his Egypto-themed lyrics, yer occasional gong, and a few moody acoustic interludes on Middle Eastern instruments. But other novel stuff crops up: industrial rumble & creak, strange shivery organ, deftly integrated mosquestuous female & male guest vocal melismas -- I especially enjoy "Yezd Desert Ghul Ritual in the Abandoned Towers of Silence," two and a half minutes that show how one big drum and plenty of space can pound just as heavy as a wall of Marshalls. The title song, with all its challenging changes, manages to produce a melodic-structural effect not unlike pop! Sanders shreds and divebombs like a Stuka with high-tech mania and croaks with deep authority; as for the rhythms, there were moments on "4th Arra of Dagon" where I was forced to grind my teeth while my whole body shook. If the question is whether this constitutes fun entertainment, the answer is yes.