Fri.-Sat. Dec. 11-12 -- For fusion lineage, it's hard to beat the ever-evolving CAB, which these days stands for drummer tom breChtlein, guitarist frank gAmbale and bassist bunny Brunel, with the valuable addition of monster keyboardist otmaro ruiz. If you ever run into a discrepancy between the spellings on the B.P. web site and mine, go with mine. At the Baked Potato, 3787 Cahuenga Blvd. West, Studio City 91604; 9:30 & 11:30pm; $25; (818) 980-1615.
Sat. Dec. 12 -- Piquant vibesman-composer Nick Mancini starts a new restaurant residency every Saturday with a trio of the week, this time with bassist Eric Sittner and drummer Dan Schnelle, and Cece Bullard sitting in on vocals. At Bleecker Street, 5442 Yolanda Ave., Tarzana, 9pm onward; no cover.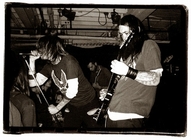 Sat. Dec. 12 -- Massive local sludgesters Eyehategod (pictured) return with the jumping, twisting metal of The Dolemite Project and four more bands. Support local music and a new venue. At Ultraviolet Social Club, 2684 Lacy St., LA 90031 near the junction of the 110 and 5 freeways; doors 7pm; $20; all ages; strict ID for alcohol; (323) 227-0078; www.8thdaytix.com.
Sat. Dec. 12 -- Mike Watt & the Missingmen. Roughshod bass riffster Watt seems to have established a regular residency here for his post-Minutemen projects. At the Redwood Bar & Grill, 316 W. Second St., downtown; cheap; (310) 245-0273; www.theredwoodbar.com.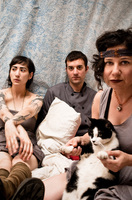 Sun. Dec. 13 -- Evangelista is just the band with the poetry and the abstractification to guide you through the holidays' dark places. Talkin' about main mind Carla Bozulich, plus bassist Tara Barnes, electroman Dominic Cramp, drummer Michael Tracy and guest stringman Jherek Bishoff, AND, for this L.A. date of the tour only, cellist Jessica Catron, violist Ezra Buchla and guitarist Jeremy Drake. Carla especially urges your attendance for this one. Great bill, too, with the enveloping bass drones of Thrones. At the EchoPlex, 1154 Glendale Blvd., Echo Park 90026; doors 8pm; $12; www.attheecho.com.
Sun. Dec. 13 -- LATE ADD: I See Hawks in L.A. spin their postmodern yet deep-rooted country with a special Xmas lineup featuring fiddler Brantley Kearns and bassist Jason Chesney. 8pm: Screening of "Heartworn Highways." 10pm: Steve Young. 11pm: Hawks. At Silent Movie Theater, 611 N. Fairfax Ave., LA 90036; $14.
Sun. Dec. 13 -- What's the heavy jam of Bombastic Meatbats without Peps drummer Chad Smith? Still a killer outfit with Kenny Aronoff on the stool, Jeff Kollman on guitar, Kevin Chown on bass and Ed Roth on keys. At the Baked Potato, 3787 Cahuenga Blvd. West, Studio City 91604; 9:30 & 11:30pm; $20; (818) 980-1615.
Tues. Dec. 15 -- Metal blowout with The Faceless, Dying Fetus, my fave vegan San Diegan deathmen Cattle Decapitation and seven more! At the Whisky, 8901 Sunset Blvd., West Hollywood 90069; doors 6pm; $18; www.whiskyagogo.com; (310) 652-4202.
Thurs. Dec. 17 -- Support SASSAS, one of our city's most precious resources for avant and electronic music, at this benefit featuring Mitchell Brown, Cryptacize, Daedelus, howardAmb, LA Fog, Lucky Dragons, Nilbog, Stephen/Steven. At the Mountain Bar, 473 Gin Ling Way, Chinatown 90012; (213) 625-7500; $20; www.themountainbar.com; www.sassas.org.
Thurs.-Sun. Dec. 17-20 -- Guitarist Mike Stern soft-pedals the melodic jazz-funk with drummer Dave Weckl and bassist Tom Kennedy -- same crew as on his current DVD, "New Morning: The Paris Concert," 'cept here the guy sharing the front line is trumpeter Randy Brecker. When Stern drifts into "Wing and a Prayer," people clap. Q: How come he still looks 20? At Catalina Bar & Grill, 6725 Sunset Blvd., Hollywood 90028; 8 & 10pm; $25-$30; (323) 466-2210; www.catalinajazzclub.com.

Read Brick's Picks in LA Weekly here and Don Heckman's picks here.