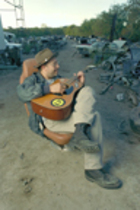 Fri. Dec. 4 -- Spot, the man at the knobs for classic SST albums by Black Flag, the Minutemen, the Dicks and so many more, hauls in his banjo, clarinet, and I dunno, glockenspiel and uillean pipes to make Celtic folk jazz -- or just call it Spotmuzik. Then he gets right up and heads over to do Stella's "Stray Pop" show on KXLU 88.9, which runs till 3am. (I also just found out Don Waller will talk about his '70s rock band the Imperial Dogs on the same show. Historic nite if you can stay up.) He also plays other local venues Saturday and Sunday (see below) on this extremely rare West Coast jaunt away from his current Austin home. At the Pike Restaurant & Bar, 1836 E. Fourth St., Long Beach; 10pm it says but get there earlier; (562) 437-4453.
Fri. Dec. 4 -- Weba Garretson, whose distinguished L.A. history includes the singing of samba, Brecht, folk, cabaret, blues, AC/DC, etc., performs originals, Hank Williams, Dead Kennedys and Hanns Eisler with the sturdy support of ex-Congress man Ralph Gorodetsky. At Stories Bookstore, 1716 Sunset Blvd., Echo Park 90026; 7pm; free.
Fri. Dec. 4 -- Brokenhearted environmental psychedelic cowboys I See Hawks in L.A. get down for real. At Cinema Bar, 3967 Sepulveda Blvd., Culver City 90036; 9:30pm; free.
Fri. Dec. 4 -- Chantey folk whalers Jeremy Drake, Jessica Catron & friends step away from their not-so-closet avantist activities for Missincinatti [sic]. At Pehrspace, 325 Glendale Blvd., Echo Park 90026; 10pm; $5.
Fri. Dec. 4 -- Crepuscule Trio (saxist Ken Kawamura, bassist Anthony Shadduck, drummer Alan Cook) put together an involving combination of adventure and swing, with strong yet not easily locatable rhythms. Good stuff; buy their CD. At the Museum of Neon Art, 136 W. Fourth St., downtown 90013; 8pm; $10; (213) 489-9918; www.neonmona.org.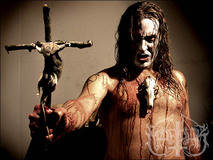 Fri. Dec. 4 -- Hey, the Key Club is closed, at least for the time being, which is a damn shame. So the U.S. Plague Tour has changed venue for its two stages of mass heaviness: Sweden's supremely evil yet musical veteran black-metallians Marduk, America's ever-growing Nachtmystium, French double-kick batterers Merrimack, thrash captains Mantic Ritual, New York's sludgy black-metalers Black Anvil, lots more, on two stages. At Salon Royal (Royal Hall), 8637 S. Alameda St., downtown 90002; doors 7pm; $27; parking through Steel and Lube entrance; www.8thdaytix.com.
Fri. Dec. 4 -- Local legends Fireball Ministry stoke up the hard-rolling stoner rock. At the Viper Room, 8852 Sunset Blvd., West Hollywood 90069; 11pm; $12; (310) 652-7869; www.viperroom.com.
Fri. Dec. 4 -- Tool's Danny Carey trips out heavy with Volto. At the Baked Potato, 3787 Cahuenga Blvd. West, Studio City 91604; 9:30 & 11:30pm; $25; (818) 980-1615.
Sat. Dec. 5 -- Spot gets together on a bill with an old SST crony: The Chuck Dukowski Sextet and others. At Echo Curio, 1519 Sunset Blvd., Echo Park 90026; at some time or another, for some price or another, but probably AT NIGHT; (213) 977-1279. And this place is very small.
Sun. Dec. 6 -- Spot. Request his famous Greg Burk impression. At Liquid Kitty, 11780 W. Pico Blvd., West L.A. 90064; from 10pm till he DROPS, like, three hours later; no cover; (310) 473-3707; www.thekitty.com.
Sun. Dec. 6 -- Bay Area bassist Lisa Mezzacappa's Grapevine Project corrals a first-rate avant septet including the likes of windmen Vinny Golia and Charles Sharp; effected guitar alchemist Jeremy Drake opens. At Center for the Arts, 2225 Colorado Blvd., Eagle Rock 90041; 7pm; $10; (626) 795-4989.
Tues. Dec. 8 -- Holy Ferlinghetti, this "Night of the Beats" sure stacks it deep. If you thought windman Charles Lloyd had some amazing groups in the past, get an earful of his New Quartet with pianist Jason Moran, drummer Eric Harland and bassist Reuben Rogers. (Read my review here.) The rest of the program includes top wordfolk Exene Cervenka, Michael McClure and David Meltzer, plus further stars of jazz John Handy, Joshua Redman, Peter Erskine, Christian McBride, Alan Broadbent and Kurt Elling. Charles might wear a beret; you can't. At Walt Disney Concert Hall, 111 S. Grand Ave., downtown 90012; 7:30pm; (323) 850-2000; www.laphil.org.
Tues. Dec. 8 -- The Villa Aurora is throwing a benefit to restore its 1929 organ, and you know they don't make 'em like that anymore. Since this is the 29th anniversary of John Lennon's shooting, you'll be bowing your head in that direction via improvisations by pianist Christoph Bull and live painting by the delightful Norton Wisdom. Slurp some wine with the organ builders at the reception beforehand. At Villa Aurora, 520 Paseo Miramar, Pacific Palisades 90272; 8pm; $75 tax deductible; shuttle service from Los Liones Drive & Sunset Blvd; (310) 454-4231.
Wed. Dec. 9 -- Time was, back in the mid-'70s, when Johnny Clarke was considered one of Jamaica's top three singers; the Dub Club DJs, who play his records every week, have been waiting a long time to get him in person. At the EchoPlex, 1154 Glendale Blvd., Echo Park 90026; doors 9pm; $10; www.attheecho.com.
Thurs. Dec. 10 -- Redline Park is a terrific online label curating the finest in extreme music; read my review of one release here. Three label artists -- Melic Sub Rosa, Bow + Arrow, The David Strayer Trio -- pack a five-act bill tonight. I just had a peek at the newly arrived Bow + Arrow video: caustic exhalations in toxic atmospheres with art damage, in adoration of a grandfather clock. At Mr. T's Bowl, 5621 1/2 Figueroa St., Highland Park 90042; cheap; (323) 256-7561; http://mrtsbowl.tripod.com.

Read Brick's Picks in LA Weekly here and Don Heckman's picks here.