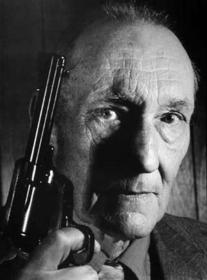 The Beats deserve to be remembered for the carefully selected gold of Jack Kerouac, William S. Burroughs, Gary Snyder and a few others. The Beats also deserve to be disremembered for the mountains of crapola excreted by many lesser city lights who preserved on paper most any thought that passed through their lobes -- kind of ironic considering their fondness for trees.
This L.A. Phil program encompassed small slices of the Beat memorable and larger swaths of the Beat crapulous, which made it representative, but not too entertaining. Part of the fault lay in undiscriminating choices from the Beat legacy, and part in the Maynard G. Krebs concept of having jazz players accompany the readings by Beat poet-playwright Michael McClure, Beat poet-musician-editor David Meltzer, punk singer-poet-artist Exene Cervenka and neobop scatman Kurt Elling.
The act of musicians accompanying readings usually boils down to a competition, which musicians win 'cause they're louder. This didn't happen so much in the case of the opening segment, because Michael McClure (playwright of "The Beard," which remains funny) had at his elbow on flute the great Charles Lloyd, a true sensitive, and Lloyd's New Quartet featuring pianist Jason Moran, drummer Eric Harland and bassist Reuben Rogers. If McClure didn't connect much while reading about Marilyn Monroe's laughing eyes etc., it wasn't that Lloyd interfered, it was more that the puffy tones of McClure's voice didn't cut through the concert hall's expanses.
Once McClure stepped off and Lloyd picked up his tenor, though, the New Quartet had a chance to do what they do, which is to excite the atoms of our auras so communion with the infinite becomes possible. They launched into a vigorous Latin number reminiscent of Charlie Parker's Mexican excursions and followed with a summery benediction from the realm of Coltrane, Rogers soloing with concentrated acuity, Moran with romantic generosity. The evening's truest moment of Beathood arrived when Lloyd sat down next to Moran at the piano, stroked delicate note selections to complement Moran's, and lifted his penetrating, resonant voice in a rapid pebblestream recitation from the Bhagavad Gita about renunciation and illumination. He danced gracefully in his soft boots, too.
The post-intermission part of the program was more erratic. Ace bassist Christian McBride had assembled an all-star house band with John Handy on alto, Joshua Redman on tenor, Peter Erskine on drums and Alan Broadbent on piano, but their improvisations often intruded on the readers. Although their intervening programmatic touches of Bird, Basie, Mingus and Miles swung crisply, they had a rote feel and sometimes clashed with the tone of the literature. ("I'm an Old Cowhand" did not fit, Sonny Rollins notwithstanding.) Gotta say, though, that Handy, at age 76, still blows with incredible bop fire and imagination.
A crutchbound David Meltzer showed likable humility when reading about the death and rebirth of his beloved Lester Young, and his voice, though not loud, was crisp enough to grab the ear. Cervenka's slatelike Midwestern throat didn't suit Kerouac or Ferlinghetti, and she chose to sing Janis Joplin's novelty blues "Mercedes Benz" (co-written by McClure), against which someone should have advised her. McClure came back for too long and read revolutionary clichés by Diane de Prima and verse by Jim Morrison the post-Beat poet (an artist much inferior to Jim Morrison the rock singer).
Elling, whose vocal gimmicks and schoolboy ego usually make me squirm, can imitate Burroughs' speaking voice, so he had the privilege of reading the Naked Lunchman's hilarious aphorisms. "If you're doing business with a religious son-of-a-bitch, get it in writing." Yeah.
Photos of Allen Ginsberg, Neal Cassady and the rest, drifting above in artistic black & white, hit the right visual note. The sight of so many elders onstage in skinny black trousers was inspiring. But the overall Beating made me like words less. And I don't think that was the idea.