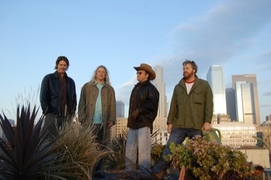 Sat. Jan. 30 -- For their new "Shoulda Been Gold," I See Hawks in L.A. have shined up nuggets from their 10-year career and lavished a few fresh numbers they hashed out with Carla Olson, and you oughta git it. Rob Waller's polished-mahogany voice has never sounded richer, the harmonies never fuller, Paul Lacques' guitars never pluckier, the high-desert country plaints never more cleanly mysterious. These SoCal old boys glow with world-class talent; you can hear 'em at a local dive for praktikly nothin. With Old Californio. At the Redwood Bar & Grill, 316 W. Second St., downtown; Hawks 10pm & 11:30pm; cheap; (310) 245-0273; www.theredwoodbar.com.
Sat.-Sun. Jan. 30-31 -- Get there early if you want to edge out all those guitarists straining to scope out what new equipment Michael Landau scored at the NAMM Show. Landau will adventurously distort the modern blues & fusion with organist Iver Erstad, bassist Per Erstad and drummer Jon Furulund. At the Baked Potato, 3787 Cahuenga Blvd. West, Studio City 91604; 9:30 & 11:30pm; $20; (818) 980-1615.
Sat. Jan. 30 -- When the star-studded Luckman Jazz Orchestra under the direction of staggering windman and universal mind Charles Owens pays tribute to Thelonious Monk . . . well, nobody's gonna do it with more insight and feel, and I really mean that. At Cal State L.A.'s Luckman Fine Arts Complex, 5151 State University Drive, L.A. 90032; 8pm; $25-$35; (323) 343-6600; www.luckmanarts.org.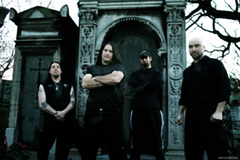 Tues. Feb. 2 -- If you're man enough to stand the venue, here's a punishing metal bill. Nile shred with max gritty intelligence and a web of Egyptian music/myth; read my review of their current album here. New York's Immolation (pictured) rock loose and human yet profoundly dark; I was just revisiting their 2007 "Shadows in the Light," which cranks like a drunk demon (clean-sounding new one coming on Nuclear Blast in March). And Krisiun -- damn, these Brazilians have now wedded double-kick hailstorms to master riffologly for a cannonball combination that can't fail to destroy. With Rose Funeral and Dreaming Dead. At House of Blues, 8430 Sunset Blvd., West Hollywood 90069; 7pm; $32.50; (323) 848-5800; www.ticketmaster.com.
Thurs. Feb. 4 -- Kneebody (Adam Benjamin, Shane Endsley, Kaveh Rastegar, Ben Wendel, Nate Wood) inhabit a rare bandwidth of jazz & funk, with an emphasis on spare melody and rhythmic slap-up. At Little Temple, 4519 Santa Monica Blvd., eastern Hollywood 90029; 10pm-ish; $5; (323) 660-4540; www.littletemple.com.

Read Brick's Picks in LA Weekly here and Don Heckman's picks here.