Stone dead. Original Los Angeles rock music, when I moved here in 1974, was deceased.
The raw mid-'60s Angeleno rock farm that had cultivated the Seeds, the Leaves and the Music Machine had dried up. The Whisky, home turf of the Byrds, Love and the Doors less than a decade previous, was host to a long-running transvestite cabaret revue called Cycle Sluts. The nearby rock institution Gazzarri's now staged almost nothing but cover bands. Eastward on the same Sunset Boulevard, Rodney Bingenheimer's tiny English Disco, where Iggy and Bowie used to sleaze around, was intermittently nailboarded, closing for good in '75. Iggy's once-and-future main Stooge, guitarist James Williamson, was employed humping the mimeo machine at the script service where I proofread. Rock mastermind Kim Fowley had not yet leveraged the Runaways, the Hollywood Stars or the Quick.
Amid the stench of worldwide corporate rot, Los Angeles music was choked in the denim noose of the Eagles, Linda Ronstadt and Jackson Browne -- a monopoly so powerful that few musicians unaffiliated with the Mellow Mafia could score L.A. gigs playing their own music, even the officially sanctioned cocaine-country brand.
L.A.'s non-heavy weather came as a severe disappointment to a Velvets/Stooges/Dolls slave such as my 23-year-old self. I craved thunderstorms, but the prevailing winds didn't start to shift till 1975, when a band called the Motels started cropping up. (More on their early incarnation in a minute.) I wish I had known about the Imperial Dogs.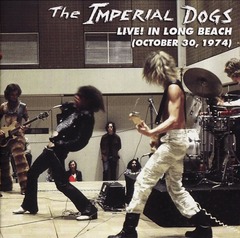 But then, not many did. Whelped in industrial Carson, 30 miles down the Harbor Freeway from glammerus Hollywood, the Imperial Dogs were singer Don Waller, guitarist Paul Therrio, bassist Tim Hilger and drummer Bill Willett, and they rocked. Waller has just issued a vintage DVD, "The Imperial Dogs: Live in Long Beach (October 30, 1974)." It's one of L.A. music's missing links.
Like any authentic archaeological specimen, the I-Dogs DVD has got its cracks and crust. It was taped on one black-and white camera, the sound derived entirely from that camera's single microphone. The scene is a boomy college auditorium lighted brighter than a basketball game. The audience, stuck in this unnatural terrarium, behaves as if attending a stump speech.
Yet the rock prevails. The Imperial Dogs rehearsed a lot, and while they're no tighter than necessary, they've coalesced into a flexible group feel -- the drums of a suspendered Willett (later of the Zippers) tumble with splattery energy; the musicianly bass of Hilger drives and centers the sound; the guitar of bushy-blond Therrio skids around with melodic alacrity on the leads while woofing out a great bloody-beef tone on the rhythm riffs. Waller fronts like a champ: semituneful yell, gallery of poses, tight ultra-low-rise pants constantly slipping down to pubes & buttcrack.
The songs -- a real consistent set -- unslavishly genuflect to the Stooges, the MC5, the New York Dolls and even Black Sabbath. "This Ain't the Summer of Love," for instance, distantly related to the later Blue Oyster Cult tune, makes an ambitious transition from arpeggiated heavy ballad to sludge epic. Or take note of the military rhythm and Transylvanian riffs of "Lizard Love," which signals a truly original direction the Imperial Dogs might have pursued. Hyped-up covers of the Kinks, the Velvet Underground and Mott the Hoople demonstrate connoisseur taste and an appropriate absence of reverence. Bad attitude. No holding back. Good night.
The Imperial Dogs' time had come, but the band itself was soon gone, breaking up five months later. Waller became one of L.A.'s funniest and most skillful rock critics (for Back Door Man, the Los Angeles Times and Billboard), authored a book on Motown, and never sang again.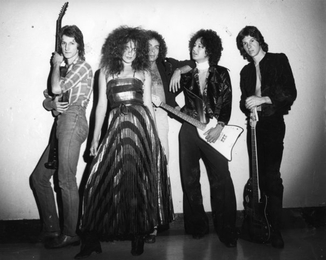 As the Imperial Dogs hit the road, the Motels were just checking into Los Angeles from Berkeley, where singer Martha Davis had been trying to put something together for a few years already. Here I was, tramping around Hollywood, when I started spotting these fliers on phone poles: real stark images, featuring, like, a lipstick kiss or a high-contrast face of this beautiful chick with big hair. Everything about the art screamed the holy grail -- Original Rock Music; later I got a bit acquainted with some guys in this wonderfully named band, one of whom was guitarist Dean Chamberlain, designer of the fliers.
And of course I caught their act several times, getting my head correspondingly expanded. See, this was not the lineup that eventually landed pop mega-hits with "Only the Lonely" and "Suddenly Last Summer" in '82 and '83. Nothing wrong with those songs, but the Motels from 1975 to 1978 were a ROCK band, a hard-rock band even. Though Martha Davis ended up trading on the vulnerable side of her persona, in those days she ran vulnerable AND tough, her voice purring and barking in the same song. Thanks to the contributions of Chuck Wada, an aggressive rhythm guitarist and street-surly vocalist of Asian descent, the band slammed out a few nasty Velvet Undergroundish numbers in the mode of "White Light/White Heat." Tall, skinny Chamberlain brought wild-ass solo skills and a predilection for heavy Bowie riffs, which sounded funky because of the way gruff Robert Newman accented them with his elemental pounding of the skins. Richie d'Andrea was the most cohesive and tasteful bassist I had ever seen.
Flash forward to 2009, at an outdoor music party thrown by Dean. Chuck is there, we're slugging beers, jawing about the '70s, and Chuck says Richie has dubbed a CD of a show from that time. I beg a copy.
It turns out to be another one of those L.A. missing links. And I happened to be at that very gig, on August 24, 1976. Sick of clubland's resistance to original music (Brendan Mullen's Masque dive was still a year away), three rock bands rented an Tinseltown box on La Brea Avenue called Troupers Hall where the Grateful Dead had played in 1966; the concert was dubbed "Radio Free Hollywood" by critman Gene Sculatti. The Dogs were a blasting, elemental trio from Michigan led by helmet-haired Loren Molinare. The Pop were a hooky unit with pretty David Swanson on vocals & bass and archetypal sloucher Roger Prescott on guitar. And the Motels were the rocking Motels.
The show felt important to me, and it was clearly a landmark for the bands. Between Motels songs, Davis rapped about her crew nearly getting arrested several times for putting up fliers. But although they'd done a bang-up job of promotion, the shabby old hall, which could hold around 200, was maybe half full. The Frankensteinian Fowley (who had pushed the Imperial Dogs, I now learn) was present in his signature red-leather jacket.
D'Andrea's tape of the Motels' set was made in the usual way for the time: a cassette recorder plunked on the stage. So the loudest thing is the drums, but you can hear Davis pretty well, and the group's overall edge cuts right through. Wada owns a couple of my favorite moments: fanning a blur of barre chords on "What Ever Happened to the Modern Lovers?" (while Newman bellows out soulful bridge vox like Grand Funk's Don Brewer), and fronting the revved-up encore, "Bend Over," a most disgusting tale of urban abuse. Chamberlain is all over the place with riffs, obbligatos and improvisations, including on a mostly instrumental Yardbirds-style rave-up. And Davis' melodic gifts shine on the wistfully swaying "Counting" (which landed on the Motels' first album in 1979) and the hustlin' "Boys," a brilliantly structured piece of songcraft that never saw a properly recorded release. "I want to be with the boys," sings Davis, "'cause the boys have more fun."
At the end, the crowd lifts up sustained cheers -- for the music, for the momentousness. So I'm hearing me in there, somewhere, too.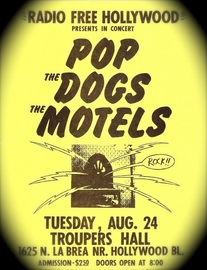 The Imperial Dogs DVD, which features plentiful pix and extensive Waller notes, is available for purchase and preview at www.theimperialdogs.com.
Motels band shot, Radio Free Hollywood poster and Martha Davis/Motels Starwood poster contributed by Robert Newman.