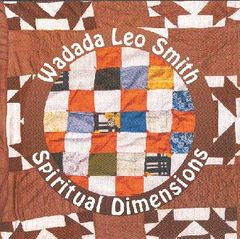 Wadada Leo Smith, "Spiritual Dimensions" (Cuneiform)
The word magic keeps coming to mind. If we knew exactly where the magic came from, it wouldn't be magic. But it has something to do with the way the toms of Pheeroan AkLaff and Art Ensemblist Don Moye rub against each other, creating not so much a beat as an incantation. And it has something to do with the sparkly piano powder that Vijay Iyer tosses out of his bag. It's in Wadada Leo Smith's concentrated trumpet tone, and in the dark recesses of John Lindberg's bass. Together. The cover photo of a patchwork quilt, with diverse elements coming together in appealing symmetry, sends the right message.
Talkin' about the first disc of "Spiritual Dimensions," featuring Smith's Golden Quintet, the latest in a changing lineup of Golden ensembles that has included the likes of Jack DeJohnette, Malachi Favors and Ronald Shannon Jackson. The Golden designation is an extra-special one, denoting the value of a truly sympathetic group; the deep AACM roots of Smith and Moye provide a source from which the younger members can extend family branches, making this live New York recording one of the few that resonates on the same wavelength as '60s productions by Bill Dixon, Albert Ayler or Cecil Taylor.
The album awakens and stretches, then sends up gale warnings, engages in animal festivities, conjures up spirits that appear and disappear. The drums establish a physical heart massage; the musicians pair off or solo with natural confidence, inspiration and skill, showing off the rapport they've developed over the years. Over the first four tracks, this brilliant abstract mood dominates. Then Smith shifts gears for the final 16-minute epic, "South Central L.A. Kulture" -- and ohmygod. Lindberg adopts a stalking wah bass riff to seize the center as the drums jostle him like a street crowd; Iyer switches to dweebly synthesizer before adopting grandiose Cuban acoustic flourishes; Smith finishes with electronified grit. And you have just FELT the song's title.
"Kulture" puts Smith's individualized slant on early-'70s Miles Davis. For a more literal "Live/Evil"-style Miles tribute, proceed (if you're still not dusted enough) directly to Disc 2 for an entirely different take on "Kulture" by Smith's Organic ensemble. This ad hoc nonet founded on Smith, AkLaff and Lindberg spends the first half-hour getting acquainted, as four guitarists -- Michael Gregory, Brandon Ross, Nels Cline and Lamar Smith -- stake out electronic territory for lazy, cloudy jams. But they don't quite put it all together till the eponymous "Organic," whose slop-funky groove is organ-ized into coherent parts, including a melancholy bridge. The concluding track sandwiches the scary glass towers of "Spiritual Fire" between the two beautiful exhalations of "Joy" to leave you a satisfied customer.
Throughout his fearless career, Wadada Leo Smith has shot arrows in many different directions. This time, he's crowding the bullseye.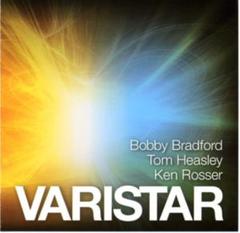 Bobby Bradford, Tom Heasley, Ken Rosser, "Varistar" (Full Bleed)
It's always a pleasure to absorb the soulful bleed of Bobby Bradford's cornet, which seems to arrive from about 1934, when he was born -- Ornette Coleman might've been thinking in ironic terms when he featured Bradford on a 1972 album called "Science Fiction." The sessions of "Varistar" do represent a bit of time travel (1999), but there's no expiration date on this kind of well-balanced improvisation.
Mostly it's a circular journey, with Bradford and tuba player Tom Heasley leisurely chasing each other's lines while Ken Rosser comments via stinging, skidding, twangling electric guitar. The twice-removed abstractions on blues and carnival fugue are pleasant if overlong until the last two tracks, where the music gains dimension from Rosser's freak boxes. Now Bradford and Heasley subside into calm, open seas, and you can hear Rosser's aurora borealis stretching across the sky, with high howls moving radically across your brain pan, and Heasley imitating the vibration in his own low register -- quite amazing. On the final "Elegy for John Carter," the ancient electric voices of the spirit world declare themselves, balanced here on earth by Heasley's sympathetic channeling, as Bradford uses his horn to address his old friend in simple, intimate terms. Lovely sadness, a fitting end to a tuned-in communion.