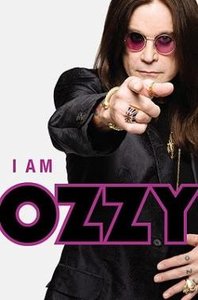 It's hilarious that Ozzy Osbourne ever claimed the title Prince of Darkness; he's about as scary as Count Chocula. It's like when they call a big guy Tiny. More than anything -- as Osbourne emphasizes repeatedly in his autobiography, "I Am Ozzy" -- he's a clown. A sad, sad clown. And what a rock singer.
But "I Am Ozzy" is not about singing. Hardly mentions it, actually. No, it's a collection of music-biz war stories, which makes British celebrity journalist and Iraq correspondent Chris Ayres the perfect co-writer.
The whole book rolls along in rhythmic Ozzy argot, every other word "fucking" or "bollocks," so we get the genuine flavor of Osbourne the barstool raconteur, a bloke accustomed to working out and re-remembering every story for maximum impact. He's not exactly fabricating, though he erects bold disclaimers to clarify that with his drug-addled memory, his recollections shouldn't be taken as Scripture. Ozzy doesn't want to whitewash himself -- quite the reverse, in the successful tradition of rock bios about Led Zeppelin, Aerosmith and Motley Crue. We meet a walking disaster, a man who can't control his substance intake, his career, his family life or even his bowels. He knows that a public's ability to feel superior acts as its revenge for his success.
While Ozzy's embarrassed about a lot of things, he plays it pretty straight. He finally admits that when he looked so youthful in the pictures for 1991's "No More Tears," it wasn't because he'd cleaned up, it was because "I went to a plastic surgeon to get forty-four of my forty-five chins removed." Though in the past he has dumped on his doctors for overdoping him, he now cops to milking scrips from multiple medics, each of whom thought himself Ozzy's only love. He's been known to act the kicked puppy over his 1979 firing from Black Sabbath; here he reveals that his blotto lifestyle led him not only to unreliable behavior, but to slagging off his own band in the press. Would you keep him?
It's no surprise that many gray areas blanket the bio. I tend to believe Ozzy when he debits his savior wife and keeper, Sharon Osbourne, for the indefensible act of recording over original classic performances by bassist Bob Daisley and drummer Lee Kerslake because they sued for a bigger share of royalties. I believe him less when he denies Daisley credit for composing the lyrics to the controversial anti-alcohol anthem "Suicide Solution," which Daisley says he wrote not just for but about a certain Ozzy Osbourne.
The slaughterhouse labor, the prison term, the dyslexia, the guns, the blackouts, the Randy Rhoads airplane crash, the televised dogshit, the tremor, the mumbling, the bike accident, the repeated brushes with death -- they're all here, and comic or tragic, Ozzy/Ayres make the narrative go down like a Hollywood movie, pure entertainment. As a conceptual bonus, "I Am Ozzy" is also designed and color-coded to make a perfect bookshelf companion for Sharon Osbourne's nearly as amusing "Extreme."
One concern lurks in the background without receiving direct address, although Ozzy has previously fixated on it, he has nightmares about it, he's written songs about it. The question: What is the message of his life?
In that old Hollywood movie, Ozzy would die for his sins of irresponsibility, betrayal, self-indulgence and satanic flirtation. When parents sued Osbourne in 1986 for causing their children's suicide, they were legally obtuse and personally oblivious of their own failure, but they weren't quite wrong. Here's a guy who broke every rule but ended up rich and famous, now even bragging to the world, "My heart's in great shape, and my liver's like brand new." My hero!
Karmic justice remains an elusive concept. But forget the bluff clowning and simply run down the sleepless nights, the emotional and physical trauma, the guilt and self-doubt, and nobody sane would want to switch places with Ozzy. He's suffered enough. He never asked to be the Prince of Darkness.