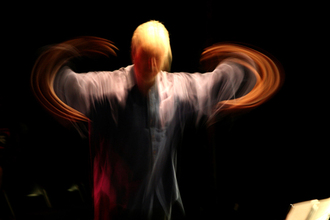 Fri.-Sat. Feb. 12-13 -- Line yerself up for Go: Organic Orchestra. Hand drummer Adam Rudolph has been working this breakthrough concept for quite a while now: He gathers 20-30 musicians, old to young, sets 'em up in a crescent, gives them general chord blockings, and spontaneously conducts an improvised modern-jazz symphony. The result flows and grows, different each time, with a pronounced African groove and flourishing harmonic entanglements -- the most exciting jazz development in decades. Rudolph has moved from L.A. to New York, where the orchestra's been grabbing substantial attention; these are its first shows in four years at the old stomping grounds. Many of our best players have signed on, including Bennie Maupin, Matt Zebley, Tracy Wannomae, Ellen Burr, Emily Hay, Munyungo Jackson, Miguel Atwood-Ferguson and Peter Jacobson. Reserve now; a sellout is likely. At the Electric Lodge, 1416 Electric Ave., Venice 90291; 8pm; $25; get tickets here.
Fri. Feb. 12 -- One of the improv outland''s broadest minds, cornetist Rob Mazurek makes his techiest, spaciest music with drummer Chad Taylor in Chicago Underground Duo. These dudes don't get out here often; show we care. At Bootleg Theater, 2220 Beverly Blvd., LA 90057; 11pm; $12; (213) 389-3856; www.bootlegtheater.com.
Fri. Feb. 12 -- Screamster Dez Farfara has made the world forget his previous band (Coal Chamber) with DevilDriver, the most intense, original and hard-working band out there. New York vets Suffocation made one of 2009's top death-metal albums; read my review here. And the steely angularity of Goatwhore really shines live behind tall wraith Ben Falgoust's rasp. At House of Blues, 8430 Sunset Blvd., West Hollywood 90069; 8:30pm; $19; (323) 848-5800; www.ticketmaster.com.
Fri. Feb. 12 -- I See Hawks in L.A. are really working it behind their "Shoulda Been Gold" compilation; grab the poetic country breezers before they get a yen for the highway. At Cinema Bar, 3967 Sepulveda Blvd., Culver City 90036; 9pm; pass the hat.
Sat. Feb. 13 -- When Jerry Cantrell decided to re-form Alice in Chains, he was not messing around. Read my review of their current album here. At Hollywood Palladium, 6215 Sunset Blvd., Hollywood 90028; 8pm; (323) 962-7600; www.livenation.com. Apparently sold out, but try the box office Saturday between 10am and 2pm.
Sat. Feb. 13 -- Punk reunion time, as Rick Wilder gets first-generation Dolls/Iggy disciples The Mau Maus back together, and Axxel G. Reese and Kidd Spike are revving the hard-drivin' Gears once again. Hell musta friz. At the Redwood Bar & Grill, 316 W. Second St., downtown; 10pm; (310) 245-0273; www.theredwoodbar.com.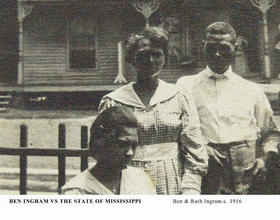 Sun., Mon., Wed., Feb. 14, 15, 17 -- Saxist Charles Lloyd and artist Dorothy Darr have been partners for a long time, not least in film. The Pan African Film Fest presents a couple of excellent Lloyd-Darr collaborations. On Sunday at 1pm, it's "Ben Ingram vs. the State of Mississippi," a fascinating Darr documentary about Lloyd's grandfather; a rare example of a prosperous black landowner, he was accused of murdering a white neighbor (soundtrack by Lloyd). There's confusion over how to get tickets for "Ingram," but you might be able to score them if you just show up. On Monday at 2pm and Wednesday at 4:30pm, check out Giuseppi DeVecchi's thoughtful and sometimes funny "The Monk and the Mermaid: The Song of Charles Lloyd," which follows Lloyd and Darr around Europe with commentary from Ornette Coleman, Herbie Hancock, Billy Higgins, et al. Lloyd and Darr will be on hand for comment Sunday and Monday. At Culver Plaza Theaters, 9919 Washington Blvd., LA 90232; (310) 836-5516; www.paff.org.
Tues. Feb. 16 -- Rickie Lee Jones is pretty damn charming and talented, y'know. Seeing her is like being in her kitchen while she cooks dinner. At the Vista Theater, 4473 Sunset Drive, Los Feliz 90027; 8pm; $30; $75 meet-&-greet; buy tickets here.
Thurs. Feb. 18 -- More great improv from the edgiest box in town. You got melodic & swinging semi-avant jazz from The Taylor Ho Bynum Quartet, featuring cornetists/trumpeters Bynum, Kris Tiner, Dan Clucas and Jeff Kaiser. You got the unreal linear explosions of pianist Thollem McDonas, accompanied by spirit-worldly percussion from Alex Cline. And you got the avant duo of saxist Marco Eneidi and highly abstract yet readable drummer Peter Valsamis. ResBox at Steve Allen Theater, 4773 Hollywood Blvd., Hollywood 90027; 8pm; $10; BYO.
Thurs. Feb. 18 -- Simone Simons and Epica lay on the operatic metal jollies thick as ketchup. At House of Blues, 8430 Sunset Blvd., West Hollywood 90069; 8:30pm; $23.50; (323) 848-5800; www.ticketmaster.com.
Read Brick's jazz picks in LA Weekly here, Don Heckman's jazz picks here and MoshKing's metal listings here.